Irene Maksymjuk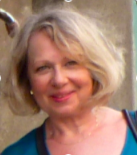 Irene Maksymjuk received a B.A. in History from Georgetown University, an M.S. in Applied Linguistics/TESOL from the University of Pennsylvania, and a Ph.D. in Sociology of Communication from Boston University. Her research focused on how cultural and functional differences affect communication in organizations. She remains interested in those issues and, more generally, in the practical challenges of conducting global careers and business in English as an International Language. These interests are both intellectual and pragmatic.
Irene grew up bilingual, identifies with Third Culture Kids, studied for a year in French at the University of Fribourg, and is involved in a multicultural community and network. So, using her experience and training to facilitate effective learning and communication across linguistic and cultural boundaries is not just a professional but also a personal commitment for her. Irene has worked with international students and professionals from many backgrounds and disciplines, trained teachers in the US and abroad, and developed orientation and training programs for native as well as non-native speakers of English.
Her extensive experience with English for Specific Purposes began at Wharton's US/Japan Management Center, and includes managing academic support programs at Moore College of Art & Design, as well as coaching public sector managers at Harvard's Kennedy School of Government and Korean executives at BU's School of Management. Irene also co-taught an introductory Environmental Studies course for Japanese exchange students with a biologist, worked for many years with international MBA students, and currently coordinates CELOP's contribution to BU Orientation as well as English for Design, an orientation program for incoming Harvard Graduate School of Design students.
She has been a Senior Lecturer at CELOP since 1996. Irene loves movies and volunteers at her favorite retreat in Boston, the Gardner Museum.