Jacqueline Lo Conte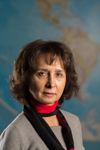 Growing up in a bilingual home and traveling abroad were powerful childhood experiences that were the impetus for Jacquie's lifelong career in international education.
Studying Italian, French and Linguistics at Georgetown University and Vassar College as an undergrad and at Georgetown for a Master's degree helped to fuel the fire. From there, Jacquie went on to teach ESL and Italian at Georgetown and Bilingual French and Italian and ESL in several public schools.
Since 1981, Jacquie has been teaching at CELOP.  Jacquie has presented at TESOL and MATSOL predominantly on topics related to creating reading assessments. Although Jacquie has taught all levels, she has recently tended to concentrate on upper intermediate and advanced English for International Business and on CELOP's Pre MBA summer course. In addition to her CELOP courses, Jacquie taught Global Communications to foreign executives in degree and certificate programs at BU's School of Management for seven years including a program taught in Kobe, Japan. Jacquie taught in and helped develop several teacher training programs including one in St Petersburg, Russia.
In terms of administrative work, Jacquie has worked on committees in order to develop CELOP's Curriculum. As chair of that committee, she has also sat on CELOP's Operating Committee. Jacquie has coordinated CELOP's Core Program, the Pre-MBA Program and the Fulbright Pre-Academic Program.  She is currently a Faculty Evaluator. Jacquie believes that the ESL classroom is a powerful instrument in promoting a profound appreciation of other cultures and ultimately, in promoting peace.  Jacquie loves cooking, eating and taking care of her pets.