Gina Giamei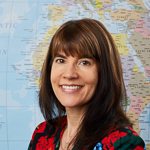 Office

Room 210

Email

Phone

617-353-7951
Website:                           Gina's Blog
Gina Giamei enjoys teaching a wide variety of courses at CELOP, and she specializes in teaching beginners. She has a Bachelor of Science in Communication from State University of New York at Fredonia, a Master of Education from Lesley University, and a Graduate Certificate in Teaching English to Speakers of Other Languages (TESOL) from Boston University. Her teaching career started in Japan in 1993. During her time there, she traveled to South Korea, Indonesia, France, and Australia. In 2003, she returned to the U.S. to study at Lesley University in Cambridge, Massachusetts. She has been helping students at CELOP achieve their goals since 2006.
Gina's teaching philosophy is based on her teaching experience and her professional training, as well as theories and research in TESOL. In the multicultural classroom, she encourages the expression of diverse views, and she fosters intercultural understanding. She adapts her teaching style to meet the needs and learning styles of her students. Overall, her teaching methodology is communicative and student-centered. She strives to make language learning memorable and meaningful by designing activities in which students communicate about their lives and interests. Additionally, she uses the creative arts, such as music and drama, in her lessons to provide a wide variety of avenues for learning. The effectiveness of teaching methods and techniques varies with each student, so she remains flexible in her teaching style and responsive to student needs.
In her free time, Gina continues to study Japanese. Studying another language places her in the role of a student, and this experience informs her teaching practice. She also enjoys knitting, exercising, spending time in nature, listening to music, and watching films.