Tim Doyle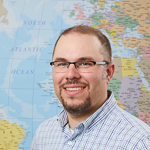 Tim Doyle graduated from the University of Washington (Seattle, WA) with BAs in English and Slavic Languages and Literatures (Croatian/Serbian) in 2002. After graduating, he knew he wanted to begin a career teaching English and moved to Europe. After taking a TEFL training course in the Czech Republic and a summer working in Austria, Tim moved to Minsk, Belarus, where he taught EFL with International House from 2002-2007. Since 2005, he has spent summers at TASIS The American School in England Summer School near London, serving as Director of Studies for the EFL program since 2009. In 2007, Tim returned to the U.S. to earn an MA in TESOL from the School for International Training (SIT) in Brattleboro, Vermont. This included a three-month teaching internship in Gliwice, Poland. Tim has taught at CELOP since 2010, predominately teaching lower-level academic writing electives, helping students better understand the organizational patterns and structure of English writing. In addition to CELOP, he teaches ESL at other universities in Boston as well.
Tim is committed to continue learning through the experience of teaching, and he values building good rapport with students and creating a positive learning environment. Tim's personal teaching philosophy embraces many aspects of ESOL teaching ideologies; student-centered learning and social interaction help form the basis of any language lesson he teaches. Additionally, his teaching experience has given him a strong understanding of how important knowledge of intercultural communication aids the language classroom.
Tim is a keen follower of international soccer, often seen celebrating or complaining about recent results with his students. Additionally, he keeps working on his proficiency in Russian, which he does his best to speak at home with his Russian-speaking spouse. Tim enjoys learning languages, which has additionally had a strong impact on his development as an instructor of his mother tongue. He also enjoys reading, particularly travel memoirs, historical fiction, and current events. Recently, he has grown an interest in cooking, trying (with increasing success) to prepare dishes from all corners of the globe.