Chris Antonellis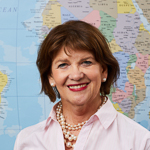 Christel Antonellis is a Senior Lecturer at Boston University's Center for English Language and Orientation Program where she has taught all levels, ranging from very low level students to students in Professional Programs.
She has also taught American culture, English for academic purposes, English for Science and Technology as well as English to health and medical professionals. Her overseas teaching experience includes being a Foreign Expert in Shanghai, an exchange professor at Kei Sen Women's University in Tokyo, as well as a Language Consultant in Buenos Aires. In addition to her foreign teaching experience, she received her Masters degree in la linguistique appliquée from the Universite de Paris III, la Sorbonne Nouvelle, and has travelled in Egypt, Turkey, China, Japan, Argentina and Uruguay.
She often tutors students privately in oral communication, pronunciation, reading and writing.