Category: Student Life
The Center for English Language and Orientation Programs (CELOP) has been a part of Boston University for over 40 years. In that time, CELOP has welcomed thousands of students from around the world who wanted to improve their English and strive towards a degree program or advance in their professional career.
The president of Boston University, Robert Brown, recently published a letter addressing the recent Executive Order that impacts entry into the United States by individuals from Iran, Iraq, Libya, Somalia, Sudan, Syria, and Yemen.
To quote President Brown:
"The new administration's executive order to temporarily ban people from seven Muslim nations from entering the United States is fundamentally inconsistent with the values that are the bedrock of higher education, and indeed, of our pluralistic, welcoming society."
We advise students to read this announcement by BU's International Student and Scholar's Office (ISSO) about the Executive Order. If you are a student or scholar from one of the above countries and currently in the United States in any non-immigrant status, (e.g., B, F, J, H, O, TN, etc.) the ISSO would advise against travel outside the United States.
CELOP fully supports President Brown and upholds the University's long-standing commitment to international education and to the promotion of global understanding and goodwill.
CELOP will continue to welcome, educate, and support students from around the world.
If you have any questions or concerns about applying to CELOP, please email us at celop@bu.edu
Boston University students express their concerns about the Executive Order.
This May, CELOP admitted hundreds of students to our summer 1 programs.
We asked students during summer check-in how they heard about CELOP and their future plans. Watch the video below to meet students from Venezuela, Thailand, China, Japan, and Saudi Arabia and how they learned about CELOP.
"The people here (at CELOP) are really friendly and very kind. It's very nice to be here!"
Boston University Global Programs recently announced the winners of its 4th annual photo contest. CELOP was delighted to see that one of its own students, Shuo Wang, was named a runner up.
It's no accident that Shuo can take a sophisticated photo. He studied art at a special high school that is affiliated with the Central Academy of Fine Art in Beijing. Not only is Shuo interested in photography, but he also draws, paints, does typography, art installations and graphic design. He is currently studying in CELOP's 12 week program in order to improve his English and be accepted to universities in the U.S. Shuo is sending his portfolio to some of the top art schools in the country: Rhode Island School of Design, The School of the Art Institute of Chicago, and California College of the Arts.
Shuo's photo, with its clean lines and simple design, seemed that it might have been taken in his home country of China. As a matter of fact, it was taken here in Boston near Symphony Hall. Shuo likes to explore the relationship between people and the spaces they inhabit, and most often shoots in black and white. With his camera always close at hand, he created a very compelling personal photo.
We congratulate Shuo on being a runner up in the photo contest and wish him all the best in pursuing his art degree!
CELOP students, faculty, and staff were treated to a delightful cultural experience when 17 students from the Nazerbayev Intellectual School in Kazakhstan visited to perform a dombra concert. Attired in traditional costumes from their country, the visiting high-schoolers performed a selection of traditional and modern pieces on the dombra, a long-necked, two-string lute that has a 1000-year history.
"The individual players surprised us with their virtuosity, and the sound of all the dombras being played together was just beautiful," said Kim Beqari, CELOP Admissions Manager, who worked with colleagues from Kazakhstan to bring the group to CELOP.
Before the concert, the Kazakh students observed a CELOP class, and were treated to a delicious lunch at the University's West Village dining hall.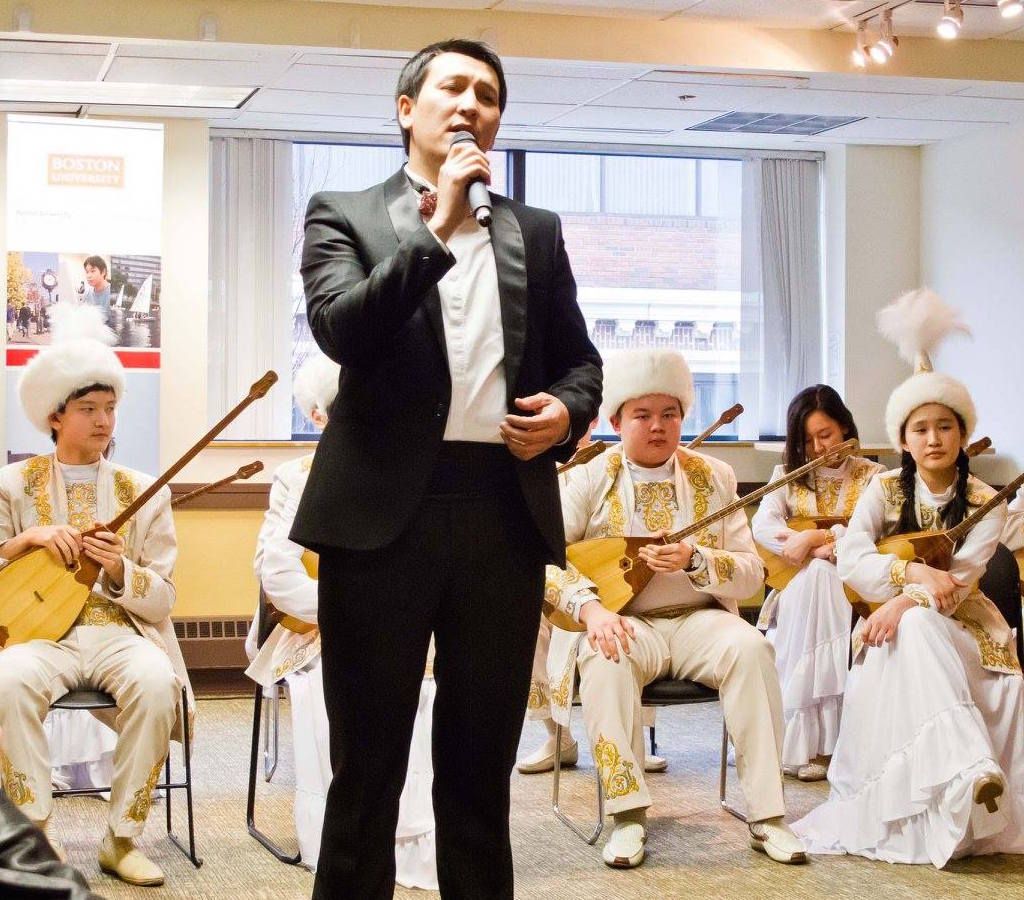 Students were hosted by many Boston area American families who have adopted children born in Kazakhstan. "We want our kids to have connections with their country of birth", said Lisa LeRoy, one of the adoptive parents. Jerry Urdang, another adoptive parent, joyfully remarked "the recital was simply remarkable."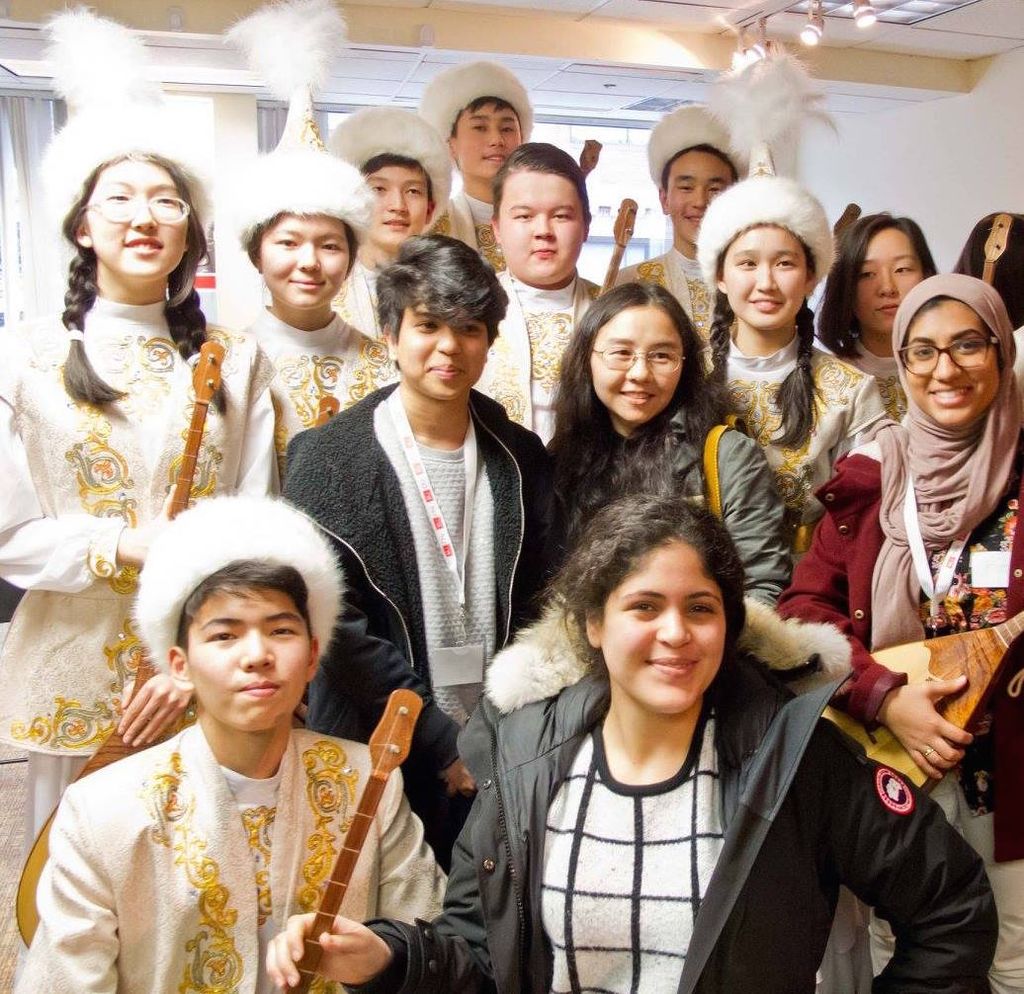 You can see all photos of the event on the CELOP Facebook page.
Eva Haoa is the daughter of Nicolas Haoa, an alumnus of CELOP who studied here 35 years ago. We recently posted an interview of the father-daughter duo on our CELOP YouTube channel.
We caught up with Eva Haoa in week 6 of her 12-week Spring program, right before the spring break and asked her a few questions:
Q: What do you like the most about being at CELOP?
Eva: The teachers. They are very kind.  I learn a lot because of them.
Q: Your father gave you advice to make friends from all over the world. Have you done that?
Eva: Yes! I have made friends from Colombia and Venezuela. And I met one friend from China too. It is good because I speak English with her.
Q: Where are you going for spring break?
Eva: I will stay here in Boston.  There is a lot to do in Boston!
Eva plans to continue studying at CELOP this summer semester.
Right: Eva poses for a photo with her friend Shuning Yin from China.  Eva joined Student Life Coordinator Shelley Bertolino and 14 other CELOP students to volunteer at the local Cradles to Crayons organization.
Below: Eva has a conversation with John Kopec, her father's teacher at CELOP 35 years ago. She was surprised to learn that her father was placed in the same level as her. John tells Eva about the day Nicolas and his classmates celebrated John's birthday. As seen in the old photos in the video, they got him a birthday cake, and took a class photo outside the CAS building.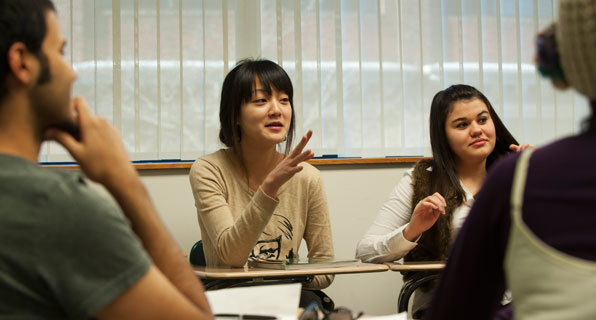 CELOP launched two exciting new programs this week, designed to prepare students for success in their academic and professional careers: the University Readiness Program and the English for Engineering Program.
The 3-week University Readiness program is designed to help students adapt to life in the U.S. and to develop skills for academic and social interactions. There are three start dates in August to choose from so that students can enroll in the program that ends right before their university or college coursework begins.
The English for Engineering program is a 4-week program that develops the English language skills of aspiring engineers, and prepares them to enter the engineering job market. This program starts on July 25th and ends on August 19th.
Alan Broomhead, Managing Director of CELOP, explained the reason for launching these two new programs:
"Many international students are coming to the U.S. to study for degrees in the STEM (science, technology, engineering, math) fields, and need to be able to communicate their ideas clearly in English. And many international students find that even though they have attained a good score on the TOEFL, they are not fully prepared for the demands of degree-level studies here in the U.S. Our new programs address these students' needs."
You can learn more about each program by visiting their webpages:
Last week, hundreds of students from around the world checked in for the CELOP Spring 2016 semester. In addition to learning and improving their English, many come with goals of applying and being admitted to undergraduate and graduate degree programs. Others wish to equip themselves with better confidence and vocabulary for the workplace.  And still others come for the experience of immersion in English language and American culture.
Whatever their goals, BU CELOP has the faculty and staff, and the resources and facilities to help. One fun example of this happened last Friday when Shelley Bertolino, the Student Life Coordinator, brought a group of new students to the Fitness and Recreation Center (FitRec) for a tour and a climbing lesson.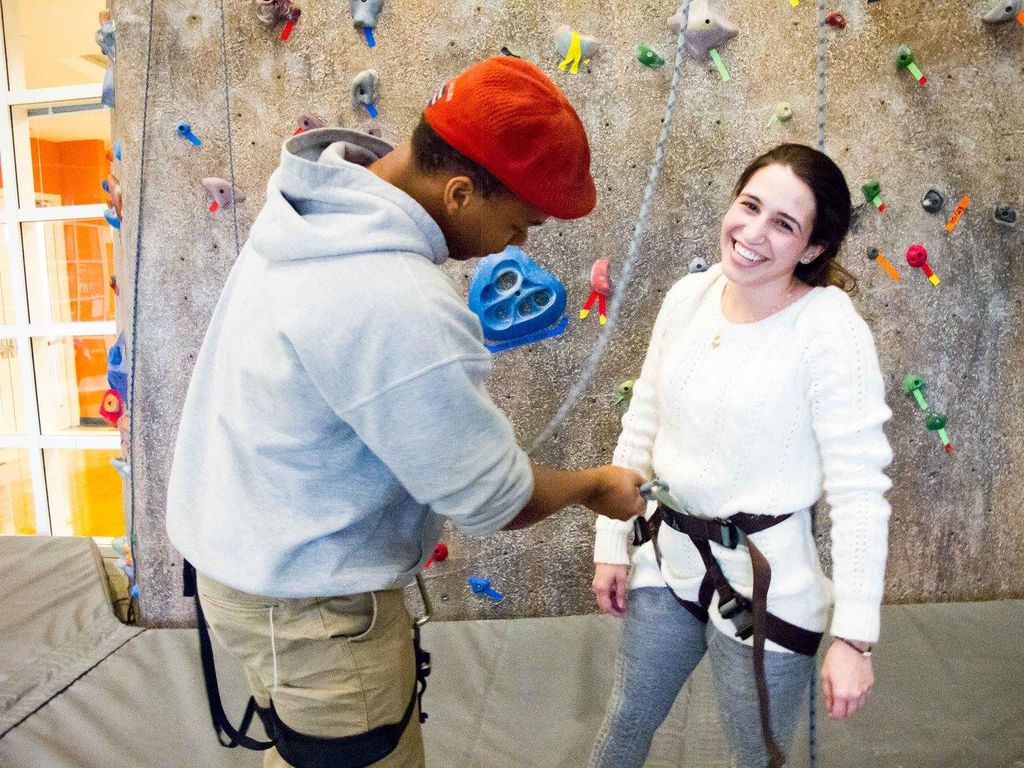 The instructors were Boston University students hired and certified by the FitRec to belay and instruct climbers. They were on hand to explain safe and proper climbing technique, to coach students at every challenging turn, and to encourage and push students to realize their potential. Nancy, a new CELOP student from China, said "When I got to the top, I felt like I'm the best in the world! But it's a challenge. I did it three times. The last time, I almost couldn't finish. I didn't have power anymore.  But my teacher, Gabby, she encouraged me: 'keep working, you can do it!' So after I did it, I was very appreciative!"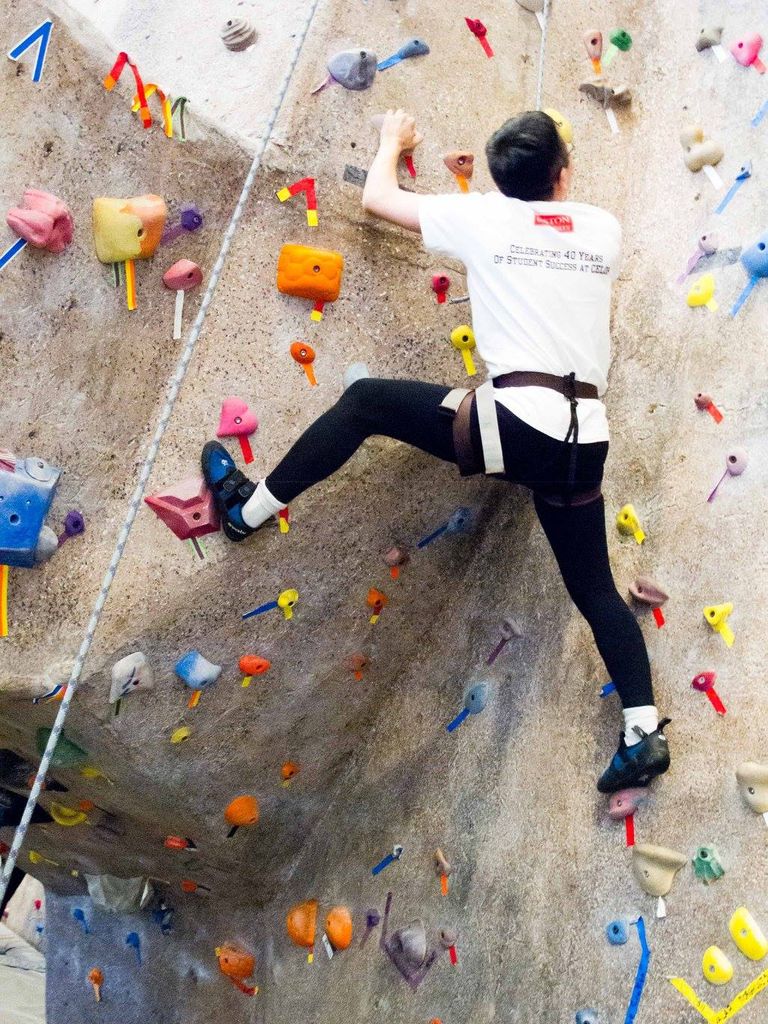 Other students agreed. When asked if he was glad we included this activity in our orientation activities, Roland, a student from Hong Kong, responded "Yes, definitely, because I think we had better arrange more out of classroom activities to have more fun with each other, especially with people out there in Boston University."
Roland won't be disappointed.  There are plenty of out of classroom activities at CELOP, and at Boston University.  CELOP activities are published on the CELOP Calendar.  As for Boston University, there are plenty of student groups and clubs to get involved in!
On November 12th, Japanese students at CELOP held an event called "Matsuri: Experience Japan". The event featured some of the most popular aspects of Japanese art and culture including calligraphy, origami, martial arts, and Japanese food such as yakisoba, chirashi sushi, and karaage (fried chicken).
There were over 30 CELOP students who helped make the event happen, with some assistance from the BU Japanese Students Association. The event was the brainchild of three CELOP students: Miharu Katsuragi, Marino Shimofurutachi, and Megumi Takaku. Cultural events and festivals like this are proposed, planned, and executed by students with the the help of staff. CELOP supports students who want to celebrate their culture and heritage and events like this are held throughout the year.
We interviewed the student organizers and asked them about organizing festival:
Q: Why did you organize this Matsuri event?
Miharu: I wanted to introduce Japanese culture to foreigners. That's why I came here to Boston. I'm interested in why foreigners like Japanese culture, and animation. I want to know why they are interested in them.
Megumi: I'm interested in cross-cultural communication, and then Miharu asked me if I can join to organize the event, and I helped her.
Marino: Since I came here, I have been impressed by different cultures more than different languages. And I feel Japanese culture is very original and introducing it to others. Besides, I wanted to have a different experience, not just study English here, but something more.
Q: What was your experience like organizing this event?
Marino: At first I was worrying if it would work or not, but finally, the event was very good, so I felt very satisfied.
Megumi: It was so fun, but it was sometimes so difficult for me to collect some Japanese cultural things like calligraphy tools, or origami, or Japanese ingredients.
Miharu: It was difficult to organize all the members. Fortunately or unfortunately there were 33 members. Of course each person has their opinions, we had conflict about some things. I think it is difficult to gather up their opinions, and make conclusions.
Q: What have you learned from this experience?
Marino: We first wondered what to introduce to other people. We don't know what's interesting for foreigners. I didn't expect that calligraphy and origami were popular. So I think Japanese culture is more interesting than I thought. I learned more about Japanese culture.
Megumi: We had difficulty deciding how the survey is done. Japanese people always answer surveys out of kindness.
Megumi: I learned the difficulty in cultural difference and how to overcome it. I thought it was so interesting and we learned a lot from it.
Miharu: Actually, I found how much foreigners like Japanese culture, but I didn't find out why. We introduced Japanese culture, like how to fold origami, or the taste of Japanese food. But next time, I want to introduce why origami is famous for Japan, or why Japanese taste is good, or how it's different from American taste.
Qais Akbar Omar, an Afghan-American writer and alumnus of Boston University, came to CELOP on November 10th to give a talk about his book: A Fort of Nine Towers. The book takes its name from the home Omar grew up in as a child. In his talk at CELOP, Omar showed photos of Kabul and his family as he elaborated on the story told in the book. Expressions of delight and surprise filled the room as they connected each photo with a character or place in his story.
Students were clearly captivated by his talk. "The book he wrote was fabulous. I really enjoyed it," said Khalid, from Saudi Arabia. "Before I read the book, the only thing I knew about Afghanistan was from the news, and the only thing they mention in the news is the war. So when I read the book, I learned Afghanistan, many years ago, they were living a safe life." When asked about what it was like to meet the author of a book he had read, Khalid said, "I really want to thank Qais. I've never felt like this in my whole life."
Classmates echoed this sentiment. "It is very inspiring, funny, and sweet," said Janice, a student from China. "I didn't know a lot about Afghanistan because I'm from China. I read the book and when I Googled Afghanistan, I learned a lot. It let me know more about what matters in the world, and peace is more important."
Cheryl Pavlik, one of the teachers who assigned this book in her class for pleasure reading, shared her thoughts about the book and Qais' talk. "This is an incredible opportunity for all of these students, I mean, for me too: to read a memoir that is so personal, and so hair-raising in places, and then meet the person who went through those experiences, is quite incredible. I think for everyone, this will be something they remember. It really does tell you a lot about the depths to which human beings can fall, and the heights to which they can soar."
If you would like to read the book, you can find it here.
This semester, CELOP launched a new lunchtime series for students called "Tournament Tuesdays". As part of the series, three competitions have been planned; "Spelling Bee", "Math Minds", and "Public Speaking Contest". The Spelling Bee took place on November 11th.
A Spelling Bee is a competition in which contestants are asked to spell a broad selection of words, usually with a varying degree of difficulty.
Twenty-five students from all levels participated and spelled vocabulary words used in their classes. The competition was very exciting, and students, faculty and staff came to support all of the contestants. In the end, Zhannat Bubekbayeva from level E and Minjin Jargalsaikhan from level B tied for first place. Congratulations to Zhannat, Minjin, and to all of the participants.