Social Experiences and Early Development Study (SEED)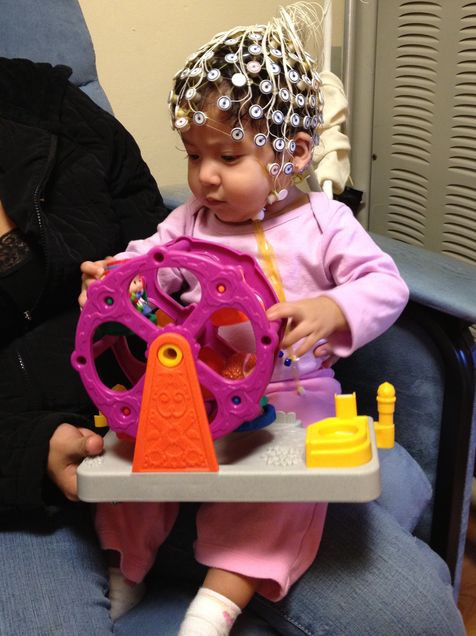 Infants are hard-wired to be interested in people and social interaction. They love to look at faces, and from early infancy they recognize and prefer the sound of their mother's voice. Over the first year of life, they take an increasingly active role in social relationships, beginning to initiate social interactions and to direct their parents' attention to objects that interest them. In the SEED Study, we are looking at social and brain development from 6 to 10 months of age. We are particularly interested in how a child's early social experiences help to develop brain networks for processing social information like faces and voices. Another question we want to answer in the SEED Study is how moms help their infants to manage stress and maintain healthy biological rhythms. Infants' stress hormone systems are not mature yet, and they need their moms to help them cope. To understand how this process works, we will be measuring stress hormone levels in moms and infants.
In the SEED Study, we visit 6-month-old infants at home. During the home visit, infants play with different toys with their moms, and the moms fill out some questionnaires. With the mom's permission, we collect saliva samples and a few strands of hair from both infant and mom to measure hormone levels. We also look at how infants react to some new and interesting toys.
When the same infants are 10 months old, they are invited to the BEE Lab for a follow-up visit. Once again, they check out some fun new toys at our lab and play with their mom. We will also record EEG, a measure of brain activity, using a cap made of soft sponges. Infants will watch a video while wearing the cap, seated on their mom's lap. Participants in the SEED Study will help us learn more about how the social brain develops.
To find out more about the SEED Study, please contact us!
Mapping Intelligence and Neural Development Study (MIND)
Children need to develop self-control skills, like paying attention and resisting impulsive behavior, in order to succeed academically, socially, and emotionally. Children sometimes are asked to use their attention skills while they are feeling calm, such as paying attention to a series of images flashing on a screen. In other situations, children need to use self-control when they are feeling more excited and emotionally invested in the outcome of a task, such as when good performance will lead to a reward. The purpose of this study is to explore how family context and biological factors influence the development of these self-control skills in preschool children.
In the MIND Study, we ask preschool children to come into the BEE Lab. During the visit, children and parents are asked to play some computer games that measure memory and concentration. We will also record EEG, a measure of brain activity, using a stretching cap made of soft sponges while children play a computer game sorting pictures by color and shape and earn sticker prizes. This allows us to see what parts of the brain children are using to succeed at the game. With parents' permission, we would also take a sample of a few strands of hair from both parents and children to measure hormone levels. Participants in the MIND Study will help us learn more about how preschool children develop self-control and attention skills.
To find out more about the MIND Study, please email us at bumindstudy@gmail.com.
The MIND Study is a collaboration with Dr. Stacey Doan and the ACEI Lab.
Word Learning in Early Childhood Study (WORD)
This study investigates how children learn the meanings of words. We are interested in how parents talk to their children about objects and events in the world, and in how children come to understand the meanings of the new words that they hear.
In the WORD study, we visit the toddlers around 2 years of age in their home and ask their parents to fill out some questionnaires about family characteristics and the toddler's language knowledge (e.g., whether he or she knows the meanings of certain words). We provide the mother's with a set of toys to keep at home, as well as a recording device. After the visit, we ask the mother to play with the toys with her child every day for a few days while recording what they say.
Around two weeks after the home visit, the mother and child come to the BEE Lab to view videos and pictures on a monitor, such as a person bouncing a ball, or small animals while hearing familiar and nonsense words describing the videos and objects. Then, we will record EEG, a measure of brain activity, using a cap made of soft sponges. While wearing the cap, the toddler looks at videos and pictures on a monitor and listens to familiar and nonsense words. Participants in the WORD study will help us learn more about how children learn new words.
To find out more about the Word Learning in Early Childhood Study, please contact us!
The Word Learning in Early Childhood Study is a collaboration with Dr. Sudha Arunachalam and the Child Language Lab.
Neonatal Follow-Up Study
Newborn infants are surprisingly skilled at processing the world around them and learning associations between stimuli, even while they are asleep. But does newborn brain activity give us any insights into the infant's future cognitive abilities? In this study, we recorded EEG from sleeping newborn infants in the first few days of life, while they were still in the hospital. The infants and their families came back to visit us when the infants were 9 months old, and again at 15 months old. On each of these follow-up visits, we tested infants' global cognitive abilities, language skills, and memory skills. We also recorded EEG at the follow-up visits, to see how patterns of brain activity change from birth through late infancy as babies are growing and changing. Our last few 15-month-old participants will be coming in for their visits this summer, and then we will analyze the data to see if newborn brain activity predicts an infant's learning, language, and memory development. Stay tuned for the results!
The Neonatal Follow-Up Study is being conducted at Columbia University Medical Center, in collaboration with Dr. Bill Fifer, Dr. Phil Grieve, and Dr. Kimberly Noble.