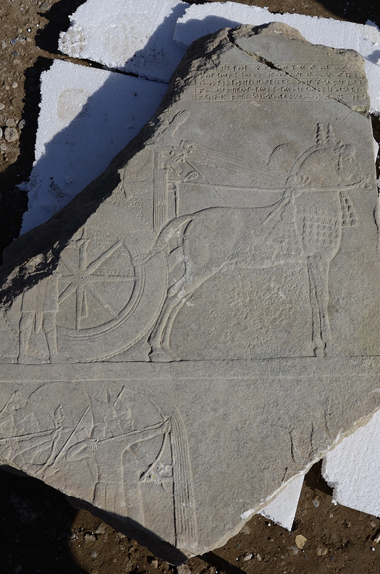 Following the American invasion in 2003, the University of Mosul in northern Iraq was in shambles. Its buildings were damaged during chaos that followed the toppling of Saddam Hussein's regime. Its library collection was looted, and the only books remaining were hidden by resourceful employees to keep them out of the looters' hands.
Fast-forward 10 years, and the university is experiencing a renaissance. Sitting near the ruins of the ancient Assyrian cities of Calah and Nineveh, the university has a modern new teaching facility, and a new library is being built. The university is particularly interested in revamping its archaeology program, headed by Dean of the College of Archaeology Ali al-Jabouri.
That is where Boston University comes in. Last year, the U.S. Department of State chose the Arts & Sciences Department of Archaeology to lead a partnership with the University of Mosul to develop the Iraqi institution's archaeology department. Other partners include the University of Pennsylvania and the University of Delaware.
"The region has a huge potential for archaeology, but things have been at a standstill for the last 20 to 25 years, for obvious reasons," notes CAS Assistant Professor of Archaeology Michael Danti, who is heading the partnership. A decade of sanctions against Iraq and years of war and insecurity have reduced the University of Mosul's capacity to educate talented young Iraqis. But for Iraq's aspiring archaeologists, numerous dig sites beckon in what is known as the Fertile Crescent, an agriculturally productive region between the Persian Gulf and the Nile Valley that was home to numerous civilizations including the Assyrians, Phoenicians, and Egyptians. Mosul also boasts renewed excavations at the site of Nineveh.
The BU–University of Mosul partnership will include curriculum development, the creation of online courses and videoconferencing, a lecture series, visits from Iraqi scholars to the United States, and visits to Iraq from students at the partner institutions.
BU is the only U.S. institution of higher education with a stand-alone archaeology department. The State Department chose BU to spearhead the new initiative due to the University's decades of experience in the Middle East, including Danti's 20 years of work in Syria.
"We can come in and really improve how archaeology is being done," says Danti. "Hopefully, we will be able in the future to send our students for training in Iraq. Ultimately, we will know if we are successful when we are sending our students to the Middle East to get a degree in Near Eastern archaeology and to learn the ancient languages of the region there."