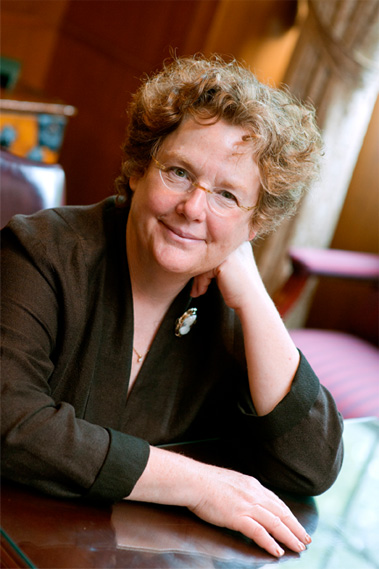 "Only connect!" This great mid-book punch line in E. M. Forster's Howards End has been quoted repeatedly in the century since the book was published. "Live in fragments no longer," he wrote. Forster was arguing we must connect the "prose with the passion," or, as some might say, the head and the heart, the mind and the body, the grounded and the flights of fancy, or whatever other dichotomies we use to describe the elements of our lives and character that are all partial without the others.
"Only connect!" This phrase was appropriated about 15 years ago by the great environmental historian William Cronon to summarize the goals of a liberal education, which, he said, must be designed to create an "educated person [who is] able to see connections that allow one to make sense of the world and act within it in creative ways." At CAS we live by this view. Our undergraduates get a full and rigorous liberal education, including not only depth in their majors, but breadth across multiple fields of knowledge and ways of knowing, so they can make sense of the world and act within it in creative ways. The accomplishments of the diverse alumni we feature in this issue of arts&sciences testify to the success of this approach.
"Only connect!" is also a watchword of research. CAS faculty are well trained in their particular disciplines, but interdisciplinary research is also key to many of their best efforts. A great example is "systems biology," an integrated approach to the life sciences that brings together biology, chemistry, computation, and many other basic and applied fields to prove once again that Aristotle was right: the whole is greater than the sum of its parts. The connections among these fields are fundamental to the discoveries these scholars can make. For researchers faced with solving some of today's most intractable problems—from the effects of climate change to the spread of new, drug-resistant diseases—systems biology offers the promise that the older, separate disciplines could not hope to achieve.
This issue of arts&sciences showcases the world-changing systems biology contributions of three CAS biology professors: Les Kaufman's work in Cambodia on the Tonle Sap ecosystem; Sean Mullen's gene research with the Red-spotted Purple butterfly; and Trevor Siggers's innovative search for better treatments for inflammatory diseases.
Boston University's great success in research and education led to a notable milestone of achievement earlier this academic year: an invitation to join the Association of American Universities (AAU), an organization of the now 62 leading research universities in the United States and Canada. Needless to say, we accepted.
Sustaining this rising level of excellence in education and research in the current budget climate is daunting. I am grateful to the many alumni and other friends who have ensured that the Campaign for Arts & Sciences is moving forward successfully. You can make a real impact by joining them and investing in the BU College of Arts & Sciences. Only connect!
As we launch this issue of arts&sciences, the entire Boston University and City of Boston communities mourn the tragic death of Lu Lingzi, an Arts & Sciences graduate student, and the other victims of the Boston Marathon bombings on April 15, 2013. Lu had been earning a master's degree in the Department of Mathematics & Statistics. To read further details about Lu's life, a letter from her parents, and an announcement of a scholarship established at BU in her memory, please go to www.bu.edu/cas/lu-lingzi.