When Gary Dennis (CAS'72) was a medical intern at Johns Hopkins Hospital some 35 years ago, he became aware of the disparity in the quality of care provided to the haves and the have-nots. "The postgraduate residents were in charge of the patients in the public sector," he says. "People would pull at your clothes, saying, 'Please help me.' They weren't getting the attention they needed; it felt as if they were being detained there. Then I would go to the private side, and it was like walking into a fabulous hotel. I thought, 'There's something wrong with this picture.' I had this overwhelming desire to help people who were really in need of help."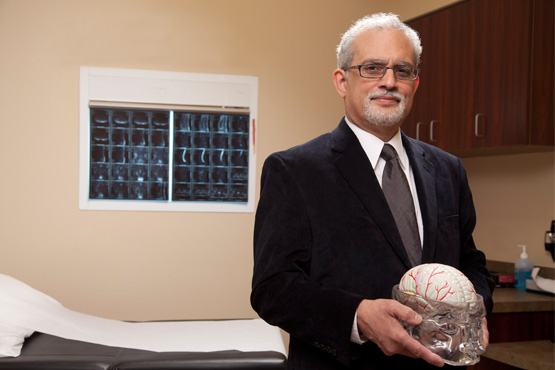 And so he has. Dennis, a 2011 recipient of a CAS Distinguished Alumni Award, has used his gifts as a neurosurgeon to serve the underserved, and has used his leadership skills to become a prominent health care advocate on behalf of the African American community, shining a light on inequality and racism. He has testified before Congress, the Food and Drug Administration, and the National Institutes of Health, among other government agencies, and was influential in getting the Association of American Medical Colleges to include such issues as antidiscrimination, health care disparities, and equal treatment of patients in the training of medical students. He was also a driving force in persuading Congress to fund a study by the Institute of Medicine, which resulted in the 2002 publication of Unequal Treatment: Confronting Racial and Ethnic Disparities in Health Care.
"The situation is really no different today from what it was when the book was published," he says. "America has the best health care in the world—and the worst. We've made all these advances, but they aren't being applied equally. The number of uninsured patients has increased. There is a significant health care disparity for minority populations. It's about poverty and lack of education and lack of access. Even those who have health insurance often don't have the kind that will get them an appointment with a private-sector doctor."
"I would recognize a disparity in the way certain patients were treated, and when i would point it out, the people responsible would look at me like i was crazy. they didn't even recognize that they were treating people differently." —Gary Dennis
A Washington, D.C., native, Dennis attended Howard University College of Medicine, for which, he says, he was "exceptionally prepared" by the "multiplicity of exposures"; he'd had as a BU student. In 1984 he became chief of neurosurgery at Howard, where he served for 23 years. He left in 2007 and headed for a hospital in Baton Rouge to help with a backlog of patients who needed surgery in the wake of Hurricane Katrina. But after a few years, he found he was fighting a losing battle.
"Racism is ingrained there," he says. "I would recognize a disparity in the way certain patients were treated, and when I would point it out, the people responsible would look at me like I was crazy. They didn't even recognize that they were treating people differently. At the time, I was the only doctor in private practice in Louisiana who would see Medicaid patients. When the state's financial situation deteriorated after 2008, the Medicaid dollars started drying up. Eventually, the hospital stopped taking Medicaid patients. I couldn't get enough support from the institution to address the problem, so there was no reason for me to stay."
Last September, Dennis joined the staff of Frisco Spine in Frisco, Texas, an affluent suburb of Dallas. He sees patients from all income strata, including those without insurance. He is also contemplating what he can do next to continue the battle against inequality in health care. "I'm taking seminars in ethics because I now believe that I can get more done focusing on ethics instead of racism," he says. "Ethics deals with all the issues that create those disparities. Health care is something that has to be considered not only part of the welfare of all Americans, but the safety of all Americans. We're entitled to live in a safe environment, and that includes protection from microbes and bacteria. And all Americans should be entitled to have the same quality of health care, regardless of their race, ethnicity, or socioeconomic status."