Afghanistan's constitution is filled with the familiar trappings of democracy: three branches of government, codified liberties for all, elections. It is, like the United States, one nation under God. But democracy doesn't seem to be working in Afghanistan. In 2011, it was ranked fourth from the bottom on Transparency International's Corruption Perceptions Index, while NATO's top civilian in the country, Sir Simon Gass, has speculated it might take the nation 30 years to "push back corruption, establish democratic values, rule of law, and so on."
With Afghanistan still stumbling from decades of war, it might appear as if democracy as we know it will never take hold. And, perhaps, according to two new books, it shouldn't.
In Noah Coburn's Bazaar Politics: Power & Pottery in an Afghan Market Town (Stanford University Press, 2011) and Thomas Barfield's Afghanistan: A Cultural and Political History (Princeton University Press, 2010), the West is encouraged to revisit its approach to restoring order in the Islamic republic. Afghans, both authors assert, are governable. With lessons drawn from everyday life and centuries of history, they aim to show how.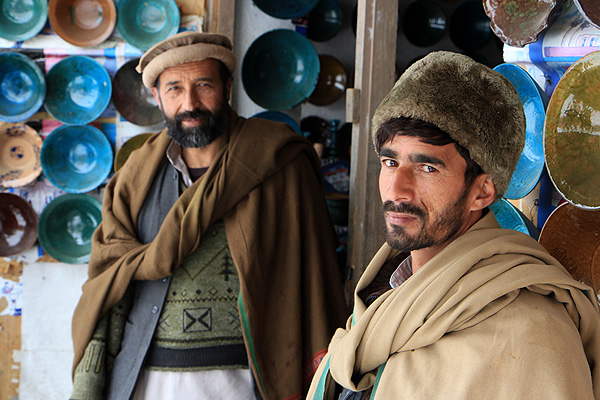 Power and Pottery
There's money for a real road—ten miles of paved highway to connect the economy of the small village of Istalif to the markets of its southern neighbor, the Afghan capital, Kabul. A team of engineers is ready to design it; they've even surveyed a proposed route. Everyone in Istalif agrees it would be a financial boon to the town's famed pottery industry. But there's still no road. Local elders, meeting in the basement of a former Taliban post, can't agree on a route. They don't fight, they don't fuss; they just let the moment slip, bow politely, and leave.
"The entire program crumbled in what was a fairly undramatic way," says Coburn (GRS'10), an anthropologist who lived in Istalif for 18 months as part of his BU doctoral studies. By the time he'd discovered why the road was destined to fail, Coburn had enough material for a book, Bazaar Politics, and had generated a series of insights that have since found favor among those charged with turning the country around.
Coburn, now a visiting professor of anthropology at Skidmore College, in New York, says the book represents his frustration with mainstream approaches to discussing the country, which "all talk about these waves of history flowing over Afghanistan with the individuals essentially left out." In Bazaar Politics, part journal of everyday life, part ethnographic handbook, Coburn introduces readers to one group of individuals—the potters of Istalif. Through their seemingly mundane decisions about business, marriage, and roads, he shines a light on how the country works at a local level.
Despite the battles raging on the streets of the country's capital, Istalif has remained largely peaceful since the fall of the Taliban. Coburn concludes that in "Istalif, and much of the north of the country during this period, most political actors agreed they had more to lose than to gain from disrupting the current system." The road didn't get built because it would have shifted power in the town, bringing progress to some sections, but not to others. Although Istalif was filled with rivals—including former warlords—they all tacitly agreed to preserve the status quo that had ensured years of relative calm. Were a central authority to come in and build a road, it follows that delicately poised local tensions might be inflamed, bringing not progress, but regression.
American vs. Swiss cheese
Coburn's focus follows that of Barfield, an Arts & Sciences professor of anthropology, in Afghanistan. Introducing his history of the country, Barfield laments the relegation of Afghans to an "unchanging, turbaned chorus" in a "long-running international drama." He promises instead to view "the Afghans themselves as the main players to understand the country and its political dynamics." His history isn't, therefore, just about the big names—Genghis Khan, Mohammad Najibullah—it's about the marginal groups that instigated rebellion against the British in the 1800s and the Pashtun tribes that resisted sixteenth-­century Mughal rulers.
Barfield emerges from this people's history with recommendations for today's Afghans, and for the Western powers seeking to influence their fate. He cautions Afghans against "believing that people or cultures are forever prisoners of their past"; instead, they can "take the lead in breaking the cycle of violence." The advice for the West and the government of President Hamid Karzai (Hon.'05) is less warm. According to Barfield, who has been studying the country since the 1970s, Afghanistan has been stuck with an American-cheese model of democracy—tough, unbending, "uniform in texture and the same as any other." What the country really needs is a model with spaces in it, a Swiss-cheese government in which leaders don't "assume uniformity across the landscape or their control of it." In history, writes Barfield, the most successful Afghan rulers "expected their writs to run completely only in the most populated and economically prosperous parts of the country. The peoples in the poorer mountains, steppes, and deserts were left to fend for themselves as long as they did not challenge state authority"; the current attempt to use "direct-rule remains at odds with the realities of Afghanistan."
As with Coburn's insights, that message is finding a wider currency. Barfield's book has been celebrated for being an "ambitious history" (New York Times) that provides the "context necessary for good policymaking" (Washington Times), while toward the end of his term as U.S. commander in Afghanistan, CIA Director David Petraeus told Reuters that the book was his favored bedtime reading.
If Afghan politicians or NATO commanders start talking about Swiss cheese and pottery, you'll know why.