arts&sciences | Spring 2011
Mac's First House, East River, 1992, gelatin silver print. From Fragile Dwelling (Aperture: 2000).
Photos of houses by Margaret Morton © OmbraLuce LLC

Ideas to Write Home About
Art historian explores what makes a house a home.
By Annie Laurie Sánchez
Homestead, homecoming, homesick, homemade. These words may evoke familiar rooms, faces, fragrances, and much more. For Kim Sichel, such terms, and all they conjure, are part of an extended conversation about the meaning of domestic space in the United States. That conversation's forum is a roundtable series called House & Home in American Culture. "We want to bring students and faculty together around the table and give them a chance to talk about ideas," says Sichel, an associate professor of art history and director of BU's American & New England Studies Program (AMNESP), which hosts the series throughout this academic year. Those ideas center on what defines the role of the house or home today, from log cabins to tenement housing, suburban McMansions to the White House.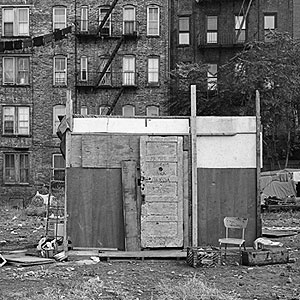 Wanda and Juice's House, 1991, gelatin silver print. From Fragile Dwelling (Aperture: 2000).
Funded by the BU Humanities Foundation and the College of Arts & Sciences, House & Home is the 2010–11 incarnation of AMNESP's annual presentation series. Past years have forgone a unifying topic, but often that meant members of the different affiliated disciplines—art history, anthropology, literature, history, historic preservation, etc.—went to events related to their particular fields and interacted little. "I thought if we had a kind of series structured around this idea of house and home in American culture, we could get these different disciplines talking to each other," says Sichel.
Though two of the speakers—photographer Margaret Morton and scholar Alan Trachtenberg—tie in with Sichel's specialization in photography, presentations run the gamut, from history and literature to art and architecture. "I really like the interdisciplinary aspect of it," says Jessica Roscio (GRS'11), an art history doctoral student of Sichel's who handles many of House & Home's logistics. She adds that participating alleviates the sense that she's "not doing enough outside of my area."
While Sichel kicked off the series in September by leading a discussion of Gaston Bachelard's The Poetics of Space, a 1958 philosophical treatise on the significance of architectural elements, subsequent sessions addressed contemporary issues or delved further into the past. In October, Morton, the second speaker, shared her poignant documentation of temporary dwellings built by the homeless of New York City. BU professors Hunt Howell (English) and Charles Capper (history) followed in November, drawing the discussion back in time—through the works of Harriet Beecher Stowe and Henry David Thoreau—to examine nineteenth-century understandings of domestic space. The 2010 sessions concluded in December with Trachtenberg, Neil Grey Professor Emeritus of English and American Studies at Yale, who presented on the domicile-centric work of photographer and poet Wright Morris (1910–98).
Sichel's thematic organization has successfully appealed to a broad group. Attendees have represented all of the disparate American studies fields, as well as the College of Fine Arts and beyond. "I've been really pleased with people coming from all over campus," says Sichel. She adds that students are not the only ones intrigued: Faculty, she notes, "don't get a chance to hear each other's work very often, so it's really been a treat."
In the end, Sichel hopes to sow the seeds of further exploration. "The conversations are continuing outside of the events themselves. People have been saying, 'We went home and we were still thinking about this, and it really had us thinking in different ways.' So that's been very satisfying—it's what I hoped would happen." The spring sessions promise nuances in the conversation, with visits from New York Architectural League Executive Director Rosalie Genevro and Assistant Professor of History Ella Howard of Armstrong Atlantic State University, who will discuss homelessness and tenement living, as well as a session led by two BU professors. Attendees are sure to wind up with an idea or two to take home.