Annie Rupani (CAS'11) is a former United Nations intern, an outreach officer for the Islamic Society of Boston, and a student ambassador at the Howard Thurman Center (BU's multicultural center). Last summer she added another title to her remarkable résumé: Miss Pakistan World.
Rupani, a native of Texas whose parents hail from Karachi, Pakistan, won the Miss Pakistan World crown and sash at a competition in Toronto, Canada, in August 2010. ("Due to the political and religious unrest in Pakistan," she explains, "the competition is held in Canada, giving Pakistani girls living abroad a chance to compete and represent Pakistan in the international pageant world.") She's now preparing to represent Pakistan in the Miss Asia Pacific World 2011 pageant to be held in Seoul, South Korea, in June.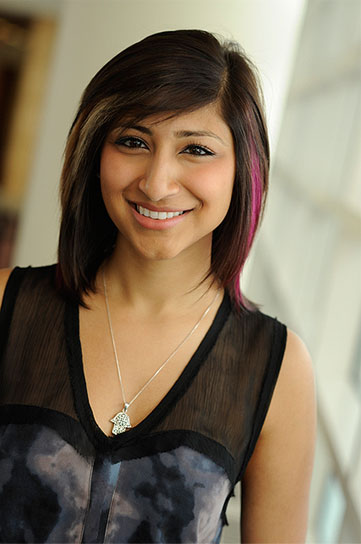 Photo by Vernon Doucette
Entering a beauty contest wasn't something Rupani had ever considered, until as an intern with the United Nations she met Natasha Paracha, Miss Pakistan World 2008. "I started exploring the pageant further online," says Rupani, "and thought this could be a great platform to create more awareness about Pakistan—a country that's often neglected."
The pageant judges chose Rupani from a group of five finalists, and it's easy to see why they were impressed. She's not only a beautiful young woman, she's also bright, poised, and articulate. The Dean's List student is enrolled in a dual degree program in anthropology and religion, and she brings a range of life experiences to the classroom, says Assistant Professor of Religion Kecia Ali. Though Rupani is not the most outspoken student in the room, Ali says, "When she does enter the conversation, it's invariably useful and thoughtful and interesting."
Rupani has taken on five internships while at BU, most recently last summer working in the Washington, D.C., office of Texas congressman Ted Poe. Reflecting her commitment to public service, she participated in BU's First-Year Student Outreach Project (a community service program for incoming students), helped run an after-school program for Boston-area Girl Scouts, and has logged hundreds of volunteer hours with the Rupani Foundation, which her father founded in 2006 to reduce poverty and promote social entrepreneurship within the mountain communities of Pakistan, Afghanistan, and surrounding countries.
Her work with the foundation has included several trips to Pakistan. In 2006, she traveled to northern Pakistan to survey women's development centers, orphanages, and cooperatives. On another visit, she assisted in inaugurating five gem-cutting and -polishing centers the foundation helped create to provide jobs for Pakistani women.
As a sophomore, Rupani spent a semester studying in London, and this fall she kicked off her senior year with a study abroad program in Jordan, where she spent a semester soaking up the country's religious history, exploring its "beautiful canyons," and practicing speaking Arabic with her Jordanian host family. (Rupani is also fluent in Urdu, an official language of Pakistan.) She describes her overall experience in Jordan as "unbelievable."
Rupani hopes to land a job after graduation with the U.S. Foreign Service. "I'd like to work in the public diplomacy sector of the Foreign Service so I can help in building bridges between the U.S. and the Muslim world," she says. The Department of State refers to its public diplomacy officers as "cross-cultural relationship experts" and often calls on them to be America's voice to foreign media. With her language skills and international experience—and her growing comfort in the spotlight—Rupani seems well suited to be such a liaison. ■