arts&sciences | Spring 2010
From Bay State to Rainbow Nation
The BU African Studies Center is kicking off a new era.
By Andrew Thurston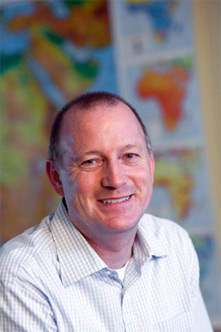 Tim Longman
Beginning June 6, the most watched sports event on the planet will be played on African soil for the first time. For host nation South Africa, the soccer World Cup will be a chance to party in front of hundreds of millions of TV viewers and three million spectators.
The potential of those numbers isn't lost on tourism officials, big name sponsors, or Tim Longman of the BU African Studies Center. Since joining as director in 2009, Longman has been taking small steps to raise the profile of the well-respected but little-known center. The World Cup gives him the chance to pick up the pace—BU is sponsoring a cultural event at Boston Children's Museum, which will feature local restaurateurs, drumming groups, and African storytellers, to celebrate the beginning of the soccer festivities in June.
"What we're trying to do is not just focus on South Africa, but the whole continent, so we're using this opportunity to get people to learn more about Africa," says Longman. "It's one of the ways we're hoping to play a role of not just interacting with local African communities, but building bridges between African communities and other people in Boston."
Joining the Community
According to Longman, it's a new approach for a center that, since its foundation in 1953, has had a formidable reputation in academic circles, but failed to fully share its expertise with the outside world. The center brings together some 80 faculty from across BU to offer a postgraduate certificate in African Studies and two minors for undergraduates. It also houses the field's leading scholarly journal, The International Journal of African Historical Studies, and an outreach library for K–12 educators.
But Longman is pushing for more. His early initiatives include reviewing the potential for expanded undergraduate programs, exploring study abroad options with universities in Africa (BU currently has just one on the continent), and inviting local community groups to use the center for events and study.
He's also starting to develop an alumni network: "One of my very high priorities," he says, "is to more systematically reach out to alumni." As well as encouraging people to add their name to a new mailing list and check for upcoming events—many of which are free and open to alums—Longman hopes graduates can get something out of reconnecting with the center.
"Education doesn't stop when you get your degree," says Longman, who's also a visiting professor of political science at CAS. "It's important to continue to see what's happening in your field, to learn about new topics and issues.
"As we bring in new faculty, we develop new strengths: My own interest is in human rights, so I might get some programs in that going here—that's the kind of thing that might interest a number of alums."
Global Connections
With many alumni occupying top posts domestically and overseas, Longman says alums can play a role in helping their successors' achieve a deeper knowledge of African countries.
"I think it's important to help our students have those connections," he says. "As students go abroad for research, for example, it's great to know that they're going to a country where we have BU graduates."
Longman has spent many years in Rwanda, including as head of Human Rights Watch's field office, and extols the benefits of an intimate understanding of a country: "When Africa becomes something that people look at briefly, I think they often make major misunderstandings," he warns.
The Legacy of Rwanda's Genocide
Tim Longman offers his perspective on present-day Rwanda to BU Today.
Confessing he's no fan of Rwanda's current administration, he laments the "very, very biased" accounts of those who've made flying visits to the central African state. He's seen visitors head back west to share the message of a country on the mend, without meeting Hutus or uttering a word of French. "Almost all the people who have that perspective," says Longman, "are people whose understanding of the society is pretty shallow."
And that's what he wants the African Studies Center to continue to guard against. The coming soccer World Cup is just one chance to deepen understanding—South African President Jacob Zuma says it's "an opportunity to tackle stereotypes and preconceptions about the continent"—and celebrate Africa with millions of others.