Jacked into the Future
The crowd roars and sways to your rendition of Guns N' Roses' "Sweet Child O' Mine." Sweating, shredding hot licks, you nail every note of the guitar solo. Your spouse croons the outro. Thundering away on bass is your 10-year-old cousin. And bashing the drums, your Mom.
Together, you've played your way up from small clubs to stadiums—all without leaving your living room. Or, for that matter, knowing how to play music.
Of course, you've been playing Rock Band—the home video game that allows non-musicians to vicariously don spiked leather jackets and live out their dreams of rock stardom, using guitar-shaped controllers, a microphone, and drum pads. The game (along with its related titles, including the original smash hit Guitar Hero) has become a popular pastime everywhere, from family gatherings to hip bars, where patrons now play Rock Band as easily as they do trivia, foosball, and billiards.
Bryan Biniak (CAS'90) was there when Harmonix, the games' maker, consisted of two guys in a dorm room at MIT. Guitar Hero's ancestor was "on a Macintosh computer, on a gray-and-white screen, and the mechanism for making music was a mouse," Biniak recalls. He met the young Harmonix founders in 1995 after receiving a tip from Shelley Moore (CAS'92, GSM'96), who then worked in what was known as the Community Technology Fund at BU (now Technology Development). Becoming Harmonix's vice president for business development, Biniak set about "helping to figure out how to 'productize' the software," he says. With five years of international business experience and contact-building already under his belt, Biniak began securing investors for this new start-up. Moreover, he worked with Walt Disney Imagineering to create a theme park attraction based on the technology. He developed prototypes of music toys with Mattel and Intel, an arcade game with Sega, and karaoke products with Japanese companies. Thanks to the tireless efforts of Biniak and his colleagues, Harmonix eventually sold to MTV Networks, and Rock Band became the social phenomenon that it is today.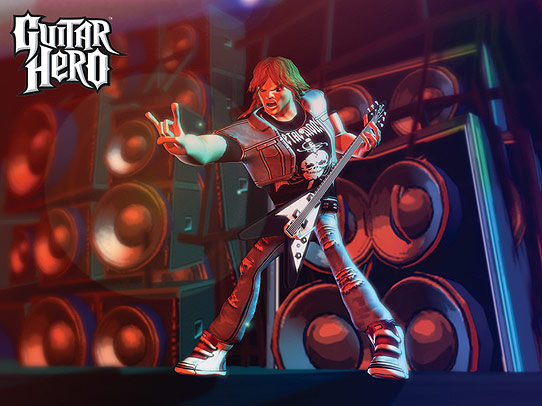 That wouldn't be the first or last time Biniak helped turn an idea into a success. As chief operating officer of YourMobile in 2001, he was instrumental in bringing the first ring tones to cell phones across North America. When the business sold to Vivendi Universal and became Moviso, Biniak stayed on and worked to bring music, videos, and even Match.com to phones.
From there, Biniak was recruited by American Greetings, the world's second-largest greeting-card company, to start its wireless division. Managing 150 executives in eight offices around the globe, he grew the business from zero to $28 million in revenues. "I partnered with Univision and we created Univision Mobile, offering wireless content to the Hispanic market in the U.S. We partnered with [rap producer] Russell Simmons and created Def Jam Mobile, and worked with Sports Illustrated to create SI Mobile."
Biniak's most recent venture, Jacked, might change the way we watch TV. "The idea is to reinvent television from a theatrical or linear, passive experience, to an interactive, participatory, social experience," says Biniak. A California resident, he started the company in 2006 in the Santa Monica Library before moving it to an office next to a repair shop at the city's airport.
The Jacked technology offers viewers a suite of automatically updating applications, such as link suggestions, photos, news feeds, and live chat, that complement their chosen TV programming. According to research Biniak follows, many Americans (especially young ones) watch television while simultaneously using their laptop computers to look up information, or converse with friends, about the broadcast they're watching.
"There's a huge percentage of people in this country who stopped waiting for interactive television and, with the proliferation of wireless devices and networks in-home, basically started creating their own interactive television experiences. But they have to go look for this stuff manually. What we're doing is automating that."

Biniak's goal is to make Jacked the standard "second screen" application, the way Google is the standard search engine. Jacked's first product, launched in December 2007, is the SPORTSTOP. The company has deals with broadcasters and sports leagues to provide fans with the service during games—for example, Jacked runs on NBCSports.com during Sunday night football. Revenues come from targeted advertising.
Jacked began as an application for laptops, but that is changing, Biniak says. "Now, with connected TVs, internet-enabled televisions, we can actually bring Jacked to the television as an overlay for the live broadcast."
"The idea is to reinvent television from a
theatrical or linear,
passive experience,
to an interactive,
participatory, social experience."
Biniak also envisions a near future in which viewers use Jacked to accompany not only sports but also current events coverage, in which alternative sources of information and images would pop up alongside staid network anchors. "We don't see the reality of what's happening in a lot of places around the world," says Biniak, whose work has taken him all over South and Central America as well as Asia. "Imagine what would happen if people really saw what was going on in Darfur, unsanitized, while they were watching the news."
That vision, Biniak says, is "one of the reasons we are selling to a bigger company with greater resources." With the sale, announced this spring, Jacked will reach a wider audience faster, "and then we don't have to work so hard with our two nickels to get it to where we want it to go."
Biniak remains managing director of Provenance Ventures, a seed and early-stage venture capital firm he founded to support what he calls socially forward investments in media and communications.
He also frequently crosses paths with fellow entrepreneurs who attended BU—some of them his classmates and co-founders of the Kappa Sigma fraternity or the Homecoming committee. "The University encouraged that kind of creative, entrepreneurial approach," says the onetime Scarlet Key winner.
BU also gave Biniak "the opportunity to explore and find out what shoe fits," he adds, recounting his early career interests—psychology, psychiatry—and part-time jobs at Perkins School for the Blind and as a nursing assistant in various hospitals. "Then somehow I navigated into international business and economics!"
"I really look at my experience at Boston University as giving me the confidence to do what I've been able to do today," Biniak says. "I always felt that I had that kind of energy and passion and I just hadn't figured out a way to access it. All those different things at BU allowed me to tap into it, and that ultimately, I think, has been my greatest success."