But the curators had to make decisions. Some objects, for instance, seemed too intimate for public exhibition (love letters and diary confidences).
Ramirez navigated the quagmire by informing donors from the beginning that the museum could not promise objects would be on view at specific times, or in perpetuity. "We are professional caretakers," she says. "When families take something very personal and make it publicly accessible, they are giving up their own stewardship of it and consigning those responsibilities to us. They had to be ready to do that."
Not all families were. To date, about half of the victims' families have donated objects, although Ramirez regularly receives packages from those who "most likely waited until they felt ready to see the museum so they would understand the kinds of things on view," she says. "And then they went home and thought hard and decided it was time."
GROUND ZERO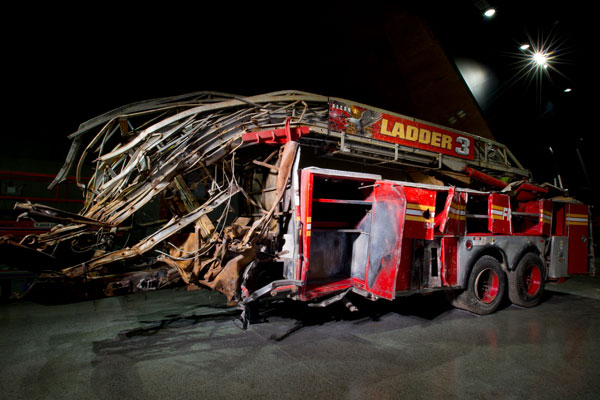 Eleven firefighters from Ladder 3 died when the North Tower collapsed; the front of their truck was torn off. Photo by Jin Lee
The 9/11 Memorial Museum opened in May 2014. Constructed on half of the 16-acre World Trade Center site, it adjoins the repository for the unidentified remains of 9/11 victims, a separate space operated by the New York City Medical Examiner exclusively for the victims' families. In inheriting a location in "the heart of the wound," Ramirez confronted the challenge of devising a narrative for the museum that would reflect its dual purpose: investigating the complexities of 9/11 and commemorating the dead.
"The emotion of the site continues to clutch at you," Ramirez says. "It's a hugely powerful, raw space." When designing the route visitors would take through the museum, the architects and curators collaborated to preserve that power and "let the site convey its own sense of rupture and loss."
Visitors to the 9/11 Memorial Museum enter through a pavilion and descend into Ground Zero on ramps reminiscent of those used in constructing the World Trade Center in the 1960s and '70s, and in clearing the site after 9/11. The ramps lead to Foundation Hall, a cavernous space with 40- to 60-foot ceilings, bolstered by the original slurry wall that held back the Hudson River when the towers collapsed. Visitors then journey to the museum's lowest level alongside the Survivors' Stairs, the remnants of the Vesey Street stairs used by hundreds to escape from the North Tower. In these exhibitions—and as they progress through the museum—visitors experience the story of 9/11 through audio, video, photographs, architectural salvage, personal items, and other objects, from a fire truck torn in half to an airplane fragment.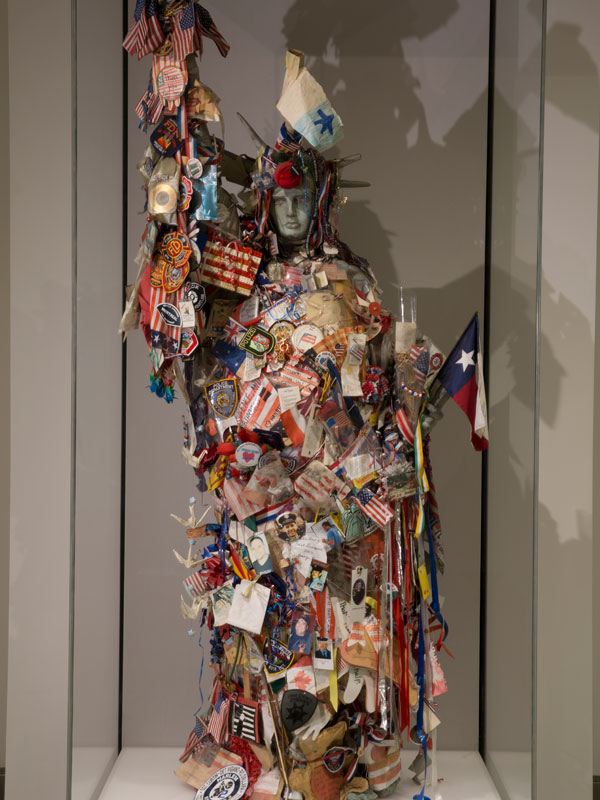 In the aftermath of the attacks, a replica Statue of Liberty outside a Manhattan firehouse was adorned with tributes. Photo by Jin Lee
As the collection expanded (it now includes more than 10,300 artifacts), the curators considered how to integrate each object into the museum space when Ground Zero, too, was a relic. One striking piece of infrastructure, an approximately 22-foot-tall pillar of torn steel from the spot where Flight 11 crashed into the North Tower, "is extraordinarily powerful as a tortured witness object," Ramirez says, but like many other artifacts, it posed a curatorial challenge. "Do you put it on a pedestal? Is that too aestheticized? Do you leave it on the floor? Is that perceived as too disrespectful?"
Ramirez and her colleagues had long deliberations about whether to present the "indelible, horrific images of people falling to their deaths, which were certainly part of the catastrophic makeup of that horror," Ramirez says. The curatorial team ultimately displayed the images as projections behind a wall marked with an advisory label. While Ramirez acknowledges that including the photographs was controversial, "if you edited out those images, what else would you be accused of sanitizing?"
There were limits, however. The curators were also the keepers of graphic photographs. "Did a memorial museum that had the repository of human remains actually then show pictures of those remains on the sidewalks of New York?" she says. "We decided that although the archive would collect and hold such documentary evidence, we would not present it in the museum."
Ramirez and her team showed the same care as they weighed the ethics of displaying even the most intimate of items donated by families. Artifacts like Patricia Fagan's pocketbook "should not be displayed in a forensic style, flattened like on an autopsy table," she says. "These objects are the bridge to an irreplaceable human being. They need to be conveyed to the public in a more protected, reverent form."
When determining the presentation of such emotion-fraught relics, Ramirez, who earned her doctorate in BU's American & New England Studies program, had to set boundaries. "There were certainly families, survivors, and donors who had ideas about how their things should be displayed," she says. To address such input, the curators were clear with donors that they were "key informants to the story we were going to tell, but they were not the editors and publishers of it." That role belonged to the museum and exhibit design professionals like Ramirez who were hired for their experience in presenting complex historical stories in public form, and "I think that engendered real confidence over time," she says.
The curators displayed Patricia Fagan's pocketbook on charcoal gray fabric with its contents thoughtfully arranged beside it. Ramirez says Eileen Fagan is touched that her sister's belongings rest adjacent to a 17-foot steel crossbeam that stood tall among the wreckage, an icon of hope that rescue workers baptized the Ground Zero Cross.
RESET, RENEW, REBUILD— AND LIVE
Ramirez intends for the majority of objects to contribute to a message of hope. September 11, she says, "isn't specifically an event about 19 hijackers who managed to pull off this catastrophic plot. It's about how we as Americans are wired to respond to an assault on our core identity. We honor life here; we don't venerate death. That's the first huge shift from being a graveyard."
Before they leave, visitors are invited to further this message of resilience by sharing their own stories in recording booths; they also see a 35-foot projected timeline that continuously updates with related stories of breaking news events around the globe, including other acts of violence against innocent people. Almost every day, Ramirez says, there is an event somewhere in the world that recalls 9/11.
"What we can do is to remind people through the example of what happened here that there is a collective will to not let the bad guys win. To reset, renew, rebuild, and live our lives enlarged because of what we have learned about ourselves and the people we care about, our community, and our country."

JAN SEIDLER RAMIREZ
"People are too sophisticated to expect a fairy-tale ending from a traumatic event in history—but they're looking for some kind of affirmative statement" as they leave the museum, Ramirez says. "And the problem with our core subject matter, which is really terrorism, is that the world is not much better off.
"But what we can do is to remind people through the example of what happened here that there is a collective will to not let the bad guys win. To reset, renew, rebuild, and live our lives enlarged because of what we have learned about ourselves and the people we care about, our community, and our country.
"Nobody would be standing in Lower Manhattan today, looking at a transformed skyline and moving memorial, had people just become frozen with hate or inertia, or with the fear that if we build, then somebody will tear it down again. That's not what we do. We construct."