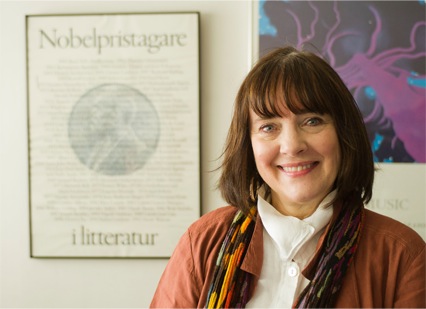 In her more than 20 years with the Boston Playwrights' Theatre, Artistic Director Kate Snodgrass had observed that something was missing from the education of new playwrights. "In order to go the distance, they need to collaborate with other artists," she says, and the former yearlong Master of Fine Arts based in the Graduate School of Arts & Sciences Creative Writing Program offered limited opportunity for those interactions. To develop a fuller, three-year MFA in playwriting, Snodgrass (GRS'90) has worked closely with Jim Petosa, director of the School of Theatre at the College of Fine Arts. Beginning this fall, a new program at GRS offers a Master of Fine Arts in playwriting that gives aspiring playwrights the chance to work with artists connected with every aspect of a play, including directors, actors, and set and lighting designers. Students will do a full play production and go through an entire rehearsal process, says Snodgrass, "and that's where playwrights learn everything, working with other people."
Snodgrass, who is director of the new playwriting program, says, "Traditionally playwrights have been in an ivory tower writing their own work and separated from the other artists. I want our playwrights to be able to connect to the other artists so that everybody in that rehearsal room is meant to be there and add something to the process, to the play itself. It's really all about the play; it's not about the egos involved. That's our goal: to get rid of the ego and make art."
Although student playwrights are taking most of their classes in the English department in literature and drama, they also take a number of credits at CFA in, for example, design. Playwrights, directors, and designers all design sets and lights; "Even if it's out of your purview, you learn how other artists think," says Snodgrass. "I want to retain the scholarly aspect of the degree," she stresses. "I think that's really important so that our playwrights are not only professionals who can live in the theater world, but also academicians who will be able to teach."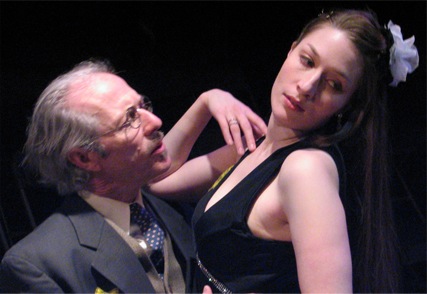 The highly selective graduate program admits only a small number of students every other year, with the first class enrolled this September, and immerses them in a collaborative process. GRS playwrights work with CFA graduate student directors and designers and undergrad actors, as well as actors from the community. In a skills lab, short plays written by MFA playwrights are workshopped by acting and directing students in a brief but intensive session. Snodgrass describes this process as "a lot of people asking questions: the directors ask of the playwrights, the playwrights ask of the actors, and the actors ask of the playwrights—it's just a big circle of a lot of questions that people then make choices about and find the road they want to head down." Such collaboration is "where things start to boil and bubble," she says. By the time a student playwright's work is produced onstage at the end of the program, everyone involved will be in a familiar working relationship, says Snodgrass.
Master of the Theater
Snodgrass earned a Master of Arts in fiction and playwriting in the Creative Writing Program in 1990 and then stayed on to assist Derek Walcott (Hon.'93), the founder of Boston Playwrights' Theatre, which celebrated its thirtieth anniversary in 2011. She taught, directed plays, and—when Walcott won a Nobel Prize in Literature in 1992 and had to travel extensively—took on the artistic directorship. "I wear a lot of hats," she says. She not only directs the graduate playwriting program, but also teaches in it, along with being a playwright and artistic director of the Playwrights' Theatre.
Playwrights' produces only original plays by alumni of the graduate playwriting program and occasionally by faculty members. Snodgrass, who "loves new plays," is the winner of the 2012 Elliot Norton Prize for Sustained Excellence. Given by the Boston Theater Critics Association and named after a revered Boston theater critic, the honor has special meaning for Snodgrass: "Elliot Norton was a really smart man and loved new work. And I think that's what made me the proudest, to have my name associated with his."