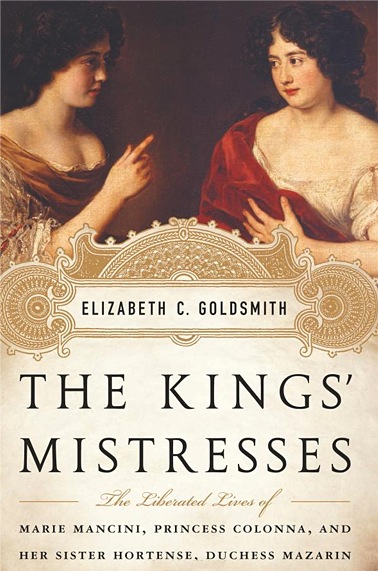 Native Italians, Marie and Hortense Mancini grew up in the glamorous court of France's King Louis XIV. Mid-seventeenth century, when the sisters were young girls, their family had been summoned to Paris by their powerful uncle, Cardinal Jules Mazarin, who rose to become a French prime minister. Schooled at court and in the ways of the Paris salons, they became highly educated and cultured. Marie eventually was to be the Sun King's first mistress, and later, the sisters were married off to serve their uncle's ambition—Marie to a jealous Roman prince and Hortense to a fanatically religious French duke. After a time, they boldly rebelled.
In her new book The Kings' Mistresses (Public Affairs, 2012), Professor of French Elizabeth Goldsmith weaves the intriguing tales of the free-spirited sisters—Marie, Princess Colonna, and Hortense, Duchess Mazarin—based on their numerous memoirs and correspondence. Fleeing unhappy marriages, they abandoned their families and took to the road. Sometimes dressed as men, they traveled circuitous routes throughout Europe by mail coach on an odyssey filled with adventure and peril. They were tracked by spies and their unconventional behavior became fodder for the public news gazettes of the day. The Mancini sisters were notorious throughout Europe.
Goldsmith comments, "Despite the fact that these women had a very difficult time on the road, there's a kind of exuberance to their stories that I find fascinating and uplifting." She adds, "People are surprised to learn that progress in the area of women's independence does not move steadily from a dark period of the past toward a bright and open period of modernity. There are different moments in history when you see examples of women being able to defy convention in interesting ways."
Read more at BU Today.