Noah Britton isn't afraid of putting himself out there. After all, he's the guy who started a punk music and performance art group, The Best Thing Ever, and performed nationwide—unannounced—in bathrooms from Waffle House to the Prudential Center. Now he's on his next adventure as one of the founders of Asperger's Are Us, a comedy troupe in which all members have been diagnosed with the syndrome.
Britton (CAS'05) met the other members—Ethan Finlan, New-Michael Ingemi, and Jack Hanke—when they were 12 years old while he was a counselor at an acting camp for aspies, as they call themselves. He says they had him laughing so hard most days he cried. That got him thinking: Why not take this show on the road? So two years ago, he called his former campers and the group started writing and producing sketches out of their homes.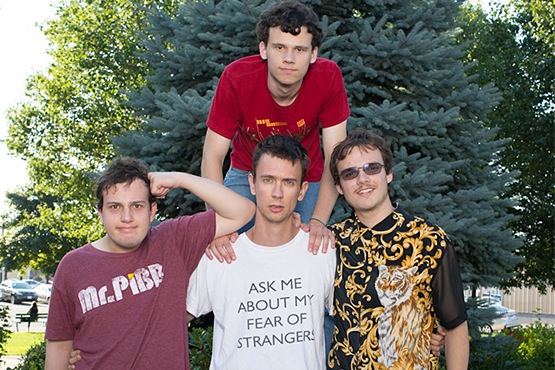 Asperger's Are Us has since performed their silly, satirical, and punny-funny comedy in Salem, Massachusetts, restaurants, the Somerville Theatre, and at several schools—including Gordon College, UMass Lowell, and MIT—with more venues lined up for the fall. (Catch their sketches, "I'm Pregnant" and "Blind Man Standup Act," on YouTube.) They recently launched an Asperger's lecture series and consulting service on their Facebook page. And they just finished writing a pilot they plan to pitch to television production companies.
Their comedy does broach the topic of Asperger's syndrome—defined by the Mayo Clinic as a developmental disorder that affects a person's ability to socialize and communicate effectively with others—but is more about making people laugh than educating others.
"We don't want to be thought of as a group of people who are overcoming adversity," says Britton, sitting shoulder-to-shoulder with other troupe members on a well-loved couch in Salem's Hawthorne Hotel. "The original kings of comedy talked about being black all the time, 'cause that's their lives and that's where they get their material. We're the same way."
"Wait, we're not black?" Finlan asks.
"We are," Britton deadpans, not missing a beat. "All our jokes are about how we're black." But seriously, he adds, "I really want the world to start seeing Asperger's the way that they see homosexuality."
"That it's a sin and I want to be cured?" Ingemi quips.
"Forty years ago, homosexuality was in the DSM's [Diagnostic and Statistical Manual of Mental Disorders] list," says Britton, ignoring Ingemi and slipping on his psychology professor hat. "Asperger's is right now and in 30 years it shouldn't be. It's mostly genetic. There's some environmental component. It makes your life different. It makes some things impossible, and you need to adjust based on this. And that's the extent of it. It definitely doesn't need to be cured."
Britton was 19 when he discovered he had Asperger's. At the time, he was taking a Boston University School of Education course on children with exceptionalities and read an article about the syndrome. "This explains every single thing that's ever happened to me," he remembers thinking. That realization launched him into his psychology studies and later propelled him into a master's degree at Hunter College.
"All of us grew up with horrible misconceptions about who we are," Britton says. "I got into this field 'cause I don't want anyone else to have to do that."