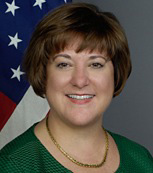 U.S. Ambassador to Mali
Mary Beth Leonard. Photo courtesy of the Department of State
The U.S. to Mali
Envoy During a Coup d'État
It's early summer 2012 and Mali is in trouble. The once-stable West African nation has been torn in two by a coup d'état and the declaration of an independent Islamic state in its northern territories. As summer temperatures rise, so does the prospect of United Nations–backed armed intervention.
Stuck in the middle—and charged with helping restore democracy—is United States Ambassador Mary Beth Leonard (CAS'84).
And she doesn't seem to mind.
"It was a delicious gift to come to Mali as ambassador," says Leonard, a longtime State Department employee who was sworn in in November 2011, four months before the coup. She'd previously served as deputy chief of mission in the country, and sees reason for hope in its historical identity as a meeting place on the gold and salt trading routes. Because Mali has been a "bridge of cultures" since the fourteenth century, believes Leonard, "you sort of retain this fundamental confidence that if there's anyone who can sort themselves out of a disagreement, it should be a country with that kind of history."
Despite that statement of exquisite diplomacy, the dire situation in Mali has meant big changes to Leonard's job. When she speaks with arts&sciences in summer 2012, the country is under a U.S. Department of State travel warning; families of embassy staff and nonemergency personnel have been flown home. The restive atmosphere has meant the shuttering of embassy-led economic and social development programs, such as an airport improvement project.
"Lots of nonhumanitarian assistance cannot continue until there is a return of a democratically elected government," says Leonard, whose role has been to support regional efforts to draft a road map to elections. "In the absence of a duly constituted government, Mali is unable to face the serious security threats of terrorism and trafficking at its doors."
Leonard's expertise is in development economics, but after 20-plus years at the State Department, she understands that being an ambassador requires more than an in-depth knowledge of a country's GDP. "Diplomacy is all about personal relationships and interactions; it is a conscious skill, a skill of integrating priorities and personalities and clarifying objectives."
In formal terms, Leonard is in Bamako, Mali's capital, because one important person can't be. "The job description is essentially the personal representative of the President of the United States." Whatever the troubles raging around her, that's still an honor worth having. "I'm an American for a living. I represent the United States and, therefore, there's a certain core to what it is that you are expected to represent and that you are presenting to people overseas."
Despite being an American for a living, Leonard hasn't spent much of her career in America; she's served in Cameroon, Namibia, Togo, South Africa, and Suriname. That can be tough for big and small reasons: "If you're planning on making a good stuffing for a bird, for me, you need celery; it's something you don't find everywhere." But it has its perks, too. No tourists get to scout presidential residences as potential meeting locations or tour Namibian game reserves with the country's director of conservation.
Of course, no tourists have to hang around after a coup and rebellion, but that's only because of people like Leonard, ready to offer a route to safety—and a path to peace.
Ambassador Michael
Moussa-Adamo of the
Embassy of the
Gabonese Republic. Kevin Allen Photo, courtesy of the Gabonese Republic, United States of America
Gabon to the U.S.
Searching for the American Dream
Hollywood just makes things harder. The ambassador from Gabon to the United States would like to chat about his country, but first he has to talk about what it is not. Like many African diplomats, he battles the sweeping silver screen images of his continent: bloodthirsty warlords, murderous dictators, and corrupt officials. (Check out African Men. Hollywood Stereotypes. for a witty Kenyan take on the subject.)
"It's not an easy thing to fight against," says Ambassador Michael Moussa-Adamo (GRS'91). "Also, all American companies will say to you, 'Is there a bilateral treaty? How do we know our investment is safe? How will we make sure that our investment is not going to be nationalized?'
"None of those things happen; Gabon has been one of the most stable countries in Africa for the past 50 years."
It's been one of the most prosperous, too, with an economy fueled first by logging, then by oil. But the oil is running low—it could be gone as soon as 2025, according to some of the bleaker estimates—and the government is pushing to diversify. As the West African nation's ambassador to the world's biggest economy, Moussa is a central figure in helping to make it happen. It's what he calls his "development diplomacy" brief from Gabonese President Ali Bongo Ondimba.
"You have to go out and seek partnerships, direct involvement, and investment; engage people in changing your country's image, in attracting business." — Michael Moussa-Adamo
"There's the protocol side of it," says Moussa of the steady round of Washington, D.C., receptions and meetings with heads of state. "But you have to go out and seek partnerships, direct involvement, and investment; engage people in changing your country's image, in attracting business."
Gabon has decided on a three-point plan to break "the oil curse," as Moussa puts it. The first step involves developing a green economy and promoting ecotourism. The country, which is almost 80 percent forest and home to 8,000 plant species, now has some 10 percent of its interior preserved as national parks; Lonely Planet predicts travelers will be "stunned by what is shaping up to be Africa's next best ecotourism destination." The second and third pillars are more conventional: boost domestic industrial output by stopping the exportation of raw materials and develop a more robust service sector. "We think we should make of Gabon a safe house and a platform for American direct investment in Africa," says Moussa.
He acknowledges that means his position carries "a lot, a lot of pressure," but adds that after spending his formative years in the United States and at BU in the late eighties and early nineties, it's a privilege to be back here.
"I came to America as a young adult; I came to Boston barely speaking English," he says. "I had so many helping hands from the African Studies Center. People were so helpful, so generous, and that really helped me through college, helped me to grow, to become modest, humble."
Another American institution helped shape him, too: The Cosby Show. "I wanted to be just like that—to have the ideal middle-class family."
After first returning to Gabon to serve in a range of government roles and win election to the country's national assembly, Moussa is enjoying his second taste of the American dream. He describes a long-lasting affection for the "feeling that tomorrow can always be better if you work hard enough; the freedom to become whatever you want to be." Sounds like a sentiment he and Hollywood can agree upon.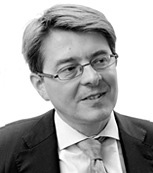 British Ambassador to
Belgium Jonathan
Brenton. Photo courtesy of Ambassador Jonathan Brenton
The U.K. to Belgium
Hope, Glory, and Prison
"Your Excellence." It probably feels a bit like addressing royalty. Maybe you should drop a quick bow or curtsy, too. According to Debrett's, the self-proclaimed "authority on all matters etiquette, taste, and achievement," the correct title for a British ambassador is His or Her Excellency. It's all a little too stuffily aristocratic for American sensibilities—and the United Kingdom's ambassador to Belgium, Jonathan Brenton (GRS'92), seems inclined to agree.
"Just call me Ambassador," says Brenton, from his Brussels office. "Your Excellency, though it's correct in protocol terms, seems slightly old-fashioned; the great advantage of Ambassador is that it tells you exactly what job I do—and you don't have to remember what my name is."
Brenton's down-to-business attitude reflects the reality of the modern ambassador: part diplomat, part agent for native industry. Even in this year of pomp and circumstance for the United Kingdom—Queen Elizabeth II's Diamond Jubilee, then the London 2012 Olympics—Brenton has mixed high society shindigs with serious diplomatic business and sales pitches.
"You have to be conscious, without being pompous, that you represent your country. It's also quite difficult to be anonymous, because when people say to me, 'What do you do?' I have to say, 'Well, I'm the British Ambassador,' and already that brings with it certain expectations." —Jonathan Brenton
During the Jubilee, he threw parties for expats and locals—with pork pies, beer, bunting, and sponsorship from British brands, such as car manufacturer Mini. He also attended a dinner on a Royal Navy destroyer, officially docked in Antwerp to mark the Jubilee, but doubling, reveals Brenton, as host to "a private discussion about drawing the lessons learnt from the Libya campaign, the way forward on Afghanistan, and NATO's capabilities" with the Belgian defense minister and NATO and European Union officials.
Although he's the public face of one country in another, Brenton admits he had to learn to be an extrovert: "I think my natural preference is to be quite shy," he reveals. It was at BU, where he came in pursuit of a career in literature and academia, that he first found himself serving as spokesman for a nation.
"One of the things I got from BU was the diplomacy bug. It was an absolute privilege to be a British person in the U.S.; when you're a foreigner, you're always, to a degree, representing your country, and I came away thinking, actually, I would quite like to do this for a living.
"What you learn from being abroad is to see your own country through the prism of another country, and that was an invaluable lesson."
Brenton was born in Uganda, studied in Boston, and has held posts in Russia and Germany in an 18-year civil service career, but 20 years after he extoled Britain's charms to BU, he still enjoys showing off about his homeland.
"You're always on duty," he says. "You have to be conscious, without being pompous, that you represent your country. It's also quite difficult to be anonymous, because when people say to me, 'What do you do?' I have to say, 'Well, I'm the British ambassador,' and already that brings with it certain expectations."
And, while the Jubilee might have added a dash of extra charm to his job in 2012, a lot of Brenton's work precludes pomposity, too: next on his calendar is a meeting with a waste water treatment company to discuss investment opportunities, while he recently visited a prison to confer on "a difficult consular case" and "our cooperation in areas of counterterrorism, because there's always a question about radicalization in prisons."
They're the kind of trips that make his insistence on being called simply, "Ambassador," seem an especially wise one; it's hard to picture an Excellency sitting through a presentation on sewage.