arts&sciences | Fall 2010
A view of the Charles River Campus.
Photo by Kalman Zabarsky

The Advocate and the Activist
By Jeremy Schwab
Although only a T ride away, the Ashmont/Lower Mills section of Dorchester, the mainly working-class Irish enclave where Alex MacDonald (CAS'72) grew up in the 1950s and 1960s, was far removed from the ivory towers of Harvard, MIT, and BU. MacDonald describes the neighborhood of his youth as "preposterously homogeneous. None of our fathers went to college; they were police officers, house painters or, like my dad, union organizers. Our purview of the world was, in retrospect, very limited. We had the sense that everybody lived the way we did."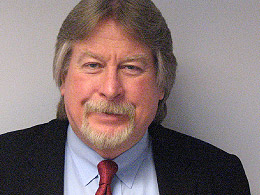 Alex MacDonald
Photo courtesy of Denise Nearis
But MacDonald wanted something different. He decided early on that he would aim to become a trial lawyer, so he saved up $5,000 by working on construction sites—enough to cover his first year or two of college. In September 1968, he matriculated at BU. His first week on campus was an exercise in culture shock.
"I remember being at the George Sherman Union for freshman orientation and overhearing two young women talking about their summers in Europe," he says. "I felt as if I was listening to people talking about being on Mars."
He threw himself into his studies, and into the left-wing politics that pervaded campus at that time. Like many other student activists, he idolized Political Science Professor Howard Zinn, a prominent force in the antiwar movement, and took all of Zinn's large lecture hall courses. Selected to do a Senior Year Distinction Work Project, MacDonald asked Zinn to be his faculty advisor. The two formed a close relationship that would be rekindled over 30 years later.
After graduating from BU and Harvard Law School, MacDonald reached his goal of becoming a trial lawyer representing catastrophically injured individuals and families. In November of 1996, the parents of 30-year-old Mary Linnen of Quincy, Massachusetts, came into the Boston offices of Robinson & Cole, LLP, where MacDonald was a partner. Linnen had been diagnosed with a rare disease called primary pulmonary hypertension (PPH), which causes the veins and capillaries in the lungs to thicken. This forces the right side of the heart to pump harder and harder until the victim's heart gives out. There is no cure.
That evening, MacDonald came home and told his wife, Maureen Strafford (MED'76), about the case. "She looked up from the magazine she was reading and asked, 'Did she take diet pills?'" he recalls. It turned out that Linnen had recently taken a diet pill popularly known as fen-phen, a potent mix of pre-existing drugs fenfluramine and phentermine, in order to lose weight for her wedding. In medical school, Strafford had heard about an epidemic of PPH in Europe that was traced to the diet pill Aminorex, a similar drug to fen-phen.
MacDonald and his staff set to work, going through over six million pieces of paper in warehouses across the country over the course of two and a half years. They demonstrated that use of the drug for more than three months increased one's likelihood of getting PPH by roughly 50 times. They also showed that fen-phen manufacturer Wyeth-Ayerst had known about the increased risk, but failed to put that information on the drug's labels. Mary Linnen died in February 1997. In September 1997, the Food and Drug Administration took the drug off the market. In January 2000, the Linnen trial resulted in the largest wrongful death recovery in the history of Massachusetts.
Following the ensuing media firestorm, MacDonald was besieged with requests to represent individuals suing the drug manufacturer. Since then, he has spent much of his time prosecuting those cases—60 in all—making more money than he ever imagined.
Looking back on his career, MacDonald kept finding himself thinking about Howard Zinn's influence on his life's trajectory. "I kept saying to my wife, 'Someday I'm going to pick up The Boston Globe and it will say that Howard has died, and I won't have taken the time to thank him.'" So MacDonald sent Zinn a letter, and MacDonald and Strafford offered to create and endow an annual Howard Zinn Lecture Series at CAS.
Zinn and MacDonald began a weekly correspondence of phone calls, dinners, and emails. The main topics of conversation? Politics and world events, of course. "We didn't reminisce much about the past," says MacDonald. "He was a man who lived his life in the present tense."
On October 22 of last year, Zinn delivered the second lecture in the series—a critical analysis of President Barack Obama's promise of change. (View at BUToday.) "None of us understood that it was going to be the last night Howard would address an audience on a BU stage," says MacDonald.
On January 27, at age 87, Zinn died of a heart attack while swimming in a hotel pool in Santa Monica, California. On March 27, the BU community held a service in Marsh Chapel to celebrate Zinn's life. While Zinn is gone, the conversations that he helped foster—about war, democracy, and individual rights—continue at BU and around the world.
Howard Zinn, with James Carroll, at the Howard Zinn Lecture Series in October 2009. Photo by Frank Curran
To honor Zinn's memory, CAS has established the Howard Zinn Graduate Fund for Studies of Democracy. The fund will support graduate students in the political science PhD program who are researching all aspects of democracy. Contributions may be sent to Stephen Kean, chief advancement officer, Boston University College and Graduate School of Arts & Sciences, 595 Commonwealth Ave., West Entrance, Suite 700, Boston, MA 02115, or made online at bu.edu/giving. Donors are asked to enter the name of the fund in the gift designation box.