arts&sciences | Fall 2010

Architectural rendering by Bruner/Cott & Associates, Inc.
Location, Vocation
On Bay State Road, a new hub for student support services is in the works.
By Patrick L. Kennedy

Starting in fall 2012, College of Arts & Sciences students, along with students from BU's other schools and colleges, will get help in a centralized facility on deciding whether to major in English or economics, whether to pursue a career in finance or law, and whether to dine on burritos or salad, all in the same building, the East Campus Center for Student Services.
Among the ten goals the University has set for itself in its strategic plan is the expansion and enrichment of the residential campus and its programmatic experiences for students, including improved dining facilities, community spaces, and career counseling.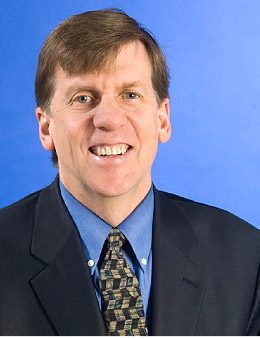 Steve Jarvi, the new College of Arts & Sciences Associate Dean for Student Academic Life
Photo courtesy of Steve Jarvi
To that end, the planned center at the corner of Bay State Road and Deerfield Street (now the site of a parking lot) will pull together the University's existing student services into one intuitive central location.
"The building is going to be a natural combination of student support services: everything from advising on majors to tutoring in a specific course," says Steve Jarvi, the College's new Associate Dean for Student Academic Life. "That's the neat thing about it, that students can explore interests and majors and careers, and work on their chemistry problems in the same setting."
Joining the University last June, Jarvi oversees the CAS Dean Ralph W. Taylor Academic Advising Center, familiarly known as "CAS 105," where faculty advisors and full-time academic counselors help first- and second-year students plan their degree programs, select majors, register for courses, and address academic difficulties. His new neighbors in the six-story, 106,000-square-foot edifice will be Career Services, which provides students with résumé help, career counseling, and job fairs; and the Educational Resource Center (ERC), which offers tutoring, language group discussions, and writing and reading workshops. While the three departments do collaborate today as best they're able from their current locations scattered between the Student Union and Kenmore Square, once they're housed in the same building—which begins construction this winter—synergies will abound. When students are struggling with their coursework, the CAS academic advising staff can refer them to the ERC for tutoring, or work in tandem with Career Services to help them reconsider their major, and perhaps choose one that better suits their strengths and interests.
"I think it allows us to look at students from a more holistic point of view," says Jarvi. "Just the architecture allows you to do that—it almost forces you to do that. As professionals, you can't not work with one another when you bump into one another on the elevator, in the hallway, when you share a space. The collaboration happens naturally."
Jarvi speaks from experience: he was instrumental in creating a similarly centralized student services center at the University of Connecticut, where he worked for two decades previously. (He's no stranger to BU, however; Jarvi earned a master's degree in guidance and counseling from Boston University's School of Education in 1981.)
The building will also feature state-of-the-art dining services, convenient for students who live in Bay State Road and Kenmore Square residences such as Shelton Hall and Myles Standish Hall. The structure itself will bridge two neighborhoods—the Bay State Road side will be built of brick and sit only three stories tall, in keeping with that street's Back Bay character; the six-story Kenmore side will have a modern facade.
Jarvi says that as students pass through the center's doors regularly for their meals, as well as to visit the records office, they'll be drawn more easily to the resources the University offers, and they'll get a head start on planning their future. "This is a great opportunity to expose first- and second-year students to Career Services," he says. "Frankly, preparing for a professional career should start before your senior year!"
The new East Campus Center for Student Services will offer BU students academic advising, career counseling, and dining facilities under one roof just outside of Kenmore Square.