Stories Under Glasss
Who doesn't love a good story? Whether chanted around a fire, inked over creamy pages, or flickering on a screen, a well-told tale sparks curiosity through the generations—the ability to tell it is a gift. Such a gift belonged to Jane Austen, whose works are more read today than she ever anticipated. But who tells her story?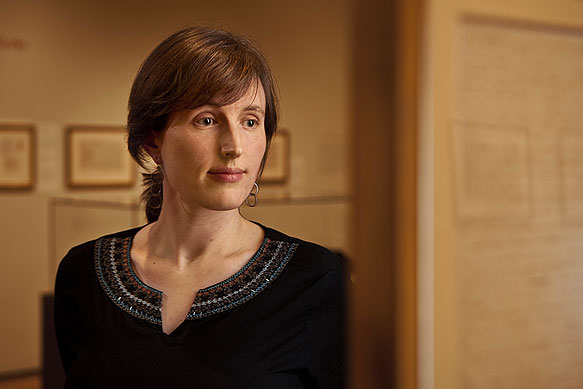 Photo by Tony Cenicola/
The New York Times
/Redux
S
cholars, admirers and fans ("Janeites," they're often called), and film directors tell pieces of it. Objects tell tales, too. In a recent show at The Morgan Library & Museum in New York, Assistant Curator Clara Drummond (GRS'02, '04) had Austen's story ringing out from the pages of manuscripts, letters, and documents that once belonged to the author herself.
"To let the objects tell the story," Drummond says, was her aim in becoming a curator. The prospect of working on A Woman's Wit: Jane Austen's Life and Legacy (November 6, 2009–March 14, 2010) gave her just such an exciting and challenging opportunity. Drawn from the Morgan's impressive Austen holdings—almost a third of her remaining letters, the only complete manuscript of one of her novels (Lady Susan), and other documents not seen by the public in a generation—the show had a guaranteed audience of Janeites. "People who love Austen would come to see the actual remnant of her hand on the paper," Drummond notes. "But it has to appeal to a general audience, not just specialists."
To attract a broader audience, Drummond and cocurator Declan Kiely needed to present a story about Austen as engrossing and colorful as her novels. No small feat. Although the subject is popular, the medium is a harder sell: manuscript exhibitions have a reputation for being sleepy. "The real challenge for a manuscript show," says Drummond, "is how to make manuscripts visually interesting." Drummond first developed her own zeal for manuscripts at BU's Editorial Institute, researching author Elizabeth Barrett Browning. "They're one-of-a-kind objects," she points out. However rare the documents, the curators needed more to entice the public.
Click on above image to zoom
Austen's cross-written letter reveals her economy and consideration of the recipient, who would owe postage for an additional sheet.
Photo by Schecter Lee, courtesy of The Morgan Library & Museum
"It came down to that idea of wit," Drummond recalls. "Austen is so funny; it's a very sharp humor." It wasn't Austen's wit alone. The show got a needed splash of color when the curators selected satirical prints by the author's contemporary James Gillray—brightly hued commentaries on themes of cultural standards, social traditions, and fashion—as a flashy echo to Austen's epistolary witticisms on the same subjects. Drummond notes that these pairings were a fresh surprise even to Austen experts.
"The real challenge for a manuscript show is how to make manuscripts visually interesting."
New displays helped bring viewers up close to these witticisms. Manuscripts and letters were framed and hung at eye level rather than encased less accessibly. That arrangement let patrons get nose-to-nose with the author through the Lady Susan manuscript (a "fair copy," meaning largely clean), as well as marked-up sections of The Watsons, a novel Austen abandoned. These pages offered a rare glimpse of Austen revising her story. "Austen's novels are so perfectly conceived that you could think everything came out perfectly from her pen," says Drummond. "But she struggled, as all writers struggle."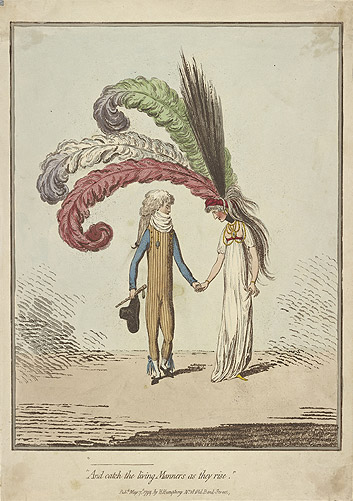 This satirical Gillray print dovetails with Jane Austen's quips on fashion.
Photo by Schecter Lee, courtesy of The Morgan Library & Museum
Other items told of Austen's social life: a letter to Austen's sister Cassandra featured cross-writing—writing at a 90-degree angle across what's already written for a longer letter on a single sheet of paper.
The Morgan also commissioned a new chapter to Austen's story: a short documentary film reflecting on Austen's legacy and the experience of interacting with her manuscripts. Drummond explains, "The idea was to pick surprising people in the more public sphere: Who would think Cornel West was a huge fan of Austen?" Along with West's poignant reflections on Austen's impact on him as a civil rights activist and philosopher, the documentary features remarks from actress Harriet Walter, Urban Decay Cosmetics founder Sandy Lerner, and authors Colm Tóibín, Fran Lebowitz, and Siri Hustvedt, who thrilled at interacting with Austen's pages.
"This reaching beyond the museum walls, which I think all younger curators take as part of their mission, that's what a film like that can really achieve," Drummond says. The film has a permanent home as part of the online exhibition, which also includes images of works featured in the exhibition, historical and technical information, and more clips of the documentary's commentators. Reaching further, a strong presence on Facebook and Twitter—as well as some consistent Janeite blogging—spread word of the show to a broader, and younger, audience.
Relatively new to the museum world, the use of social media is still being explored for its capacity to extend the impact of exhibitions and collections. It's difficult to track just how much it drives visitation, but an overwhelming turnout for opening gallery talks and high numbers at related events were strong indicators of the Morgan's success. "It's very rare that so many people are interested in something you've had a hand in," says Drummond. "People came and then said, 'Now I want to reread Austen,' or 'I want to read Austen for the first time.' It's a spark of curiosity."
"This reaching beyond the museum walls, which I think all younger curators take as part of their mission, that's what a film like that can really achieve."
With the book on Austen closed for the time being, Drummond is organizing the next story she'll tell. It, too, began at BU, as the proposal for a course Drummond once planned for the Writing Center. Her topic: animals in the imagination. Although she'll need to refine her criteria, such a universal topic will give her the chance to draw on all the Morgan's collections—from illuminated medieval bestiaries to Aesop's fables to Poe's The Raven and the works of Lewis Carroll. It also begs for the incorporation of contemporary counterpoints, from animated children's tales and popular movies to wildlife conservation and family pets.
Slated to take place in Winter/Spring 2012, the show is sure to attract audiences young and old with a subject that has such continuity throughout human society. From the time they were pigmented onto cave walls to their depiction as political quadrupeds in Animal Farm, animals occupy nearly as major a role in human culture as fictional Homo sapiens like Mr. Darcy and Miss Bennett. Whatever its evolution, Drummond promises it will be another ripping-good tale. "There are endless possibilities," she says. ■