Literature and Culture Beyond Our Borders
Overseer Robert Hildreth Advances Creative Writing Internationally
By Tricia Brick
Along a lonely stretch of road that slices through an impoverished swath of the Argentine Pampas, a fictional cattle truck overturns, setting off a chain of events that will end in violence. News of the accident spreads quickly, and hungry people from the surrounding community begin to gather in hopes of scavenging meat from the wreckage to feed their families. But a standoff between the locals and the police defending the ruined meat soon escalates, with the officers opening fire on the hungry poor.
As Jordan Coriza (GRS'09) continued to read aloud from his short story "Skinned" in Leslie Epstein's Graduate Creative Writing Program fiction workshop, one listener was moved by more than Coriza's considerable literary gifts. Robert Hildreth, the vice chair of Boston University's Board of Overseers and founder and president of International Bank Services (IBS), Inc., was sitting in on Epstein's workshop that day. A philanthropist with a deep and multifaceted interest in Latin America, Hildreth was struck by the eye-opening perspective brought to the class by Coriza, who is himself Argentine.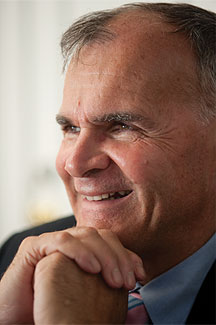 Overseer Robert Hildreth
"There's a magic in Leslie's workshops that really draws the students out, and this story had such a unique topic and a unique sensibility," recalls Hildreth. "And it got me daydreaming: What would it be like if every writer here could know what this student knows, could share that experience?"
"I was intrigued by the idea that different literary traditions, from different countries, could learn from one another and influence one another."
Now the program's students will have just such an opportunity. In the spring, Hildreth presented the Graduate Creative Writing Program with a $2 million gift to create two new, globally focused initiatives. The Robert Pinsky Global Fellowship in Creative Writing, honoring the professor and past U.S. Poet Laureate, will send MFA students to the international locales of their choice to write, study, and experience life abroad. The Leslie Epstein International Visiting Professorship, named in honor of the celebrated novelist who has directed the Graduate Creative Writing Program for more than 30 years, will bring prominent writers from other countries to lead workshops and other courses on campus.
"Since everything about my career has been international, I was intrigued by the idea that different literary traditions, from different countries, could learn from one another and influence one another," says Hildreth. "I'm trying to break down some barriers, and I have two battering rams: to send our students there, and to bring their best here."
The gift was the culmination of a serendipitous match between a philanthropic businessman with a dual passion for education and international and immigration issues and a historically distinguished writing program with a growing global focus.
"Because of Bob's interests and his thinking, the gift will bring another unique emphasis to our program: international awareness," Pinsky says. "The very existence of these imaginative and substantial new programs should inspire all of our students to enrich their work with an awareness of other languages, other cultures, other possibilities."
Hildreth knows firsthand the potentially life-changing power of immersion in a foreign culture. The seeds of his philanthropic and career focus on international issues were planted by his father, Richard (SMG'37, SED'49), a history teacher who first piqued his son's interest in the world outside the U.S. International issues were common topics of conversation in the Hildreth household, and by the time young Robert reached his freshman year of college, he was eager to travel abroad.
Joining a Spanish-language immersion program, he traveled to Zacatecas, Mexico. During the four months he spent living with a family there, he found himself powerfully drawn to the people, who were open and friendly and interested in hearing about life in the U.S., and to the region's culture. After graduating from Harvard University and earning master's degrees from the Johns Hopkins School of Advanced International Studies and George Washington University, he returned to the region—this time to La Paz, Bolivia—where he worked for several years as an economist specializing in Latin America for the International Monetary Fund.
"I'm trying to break down some barriers, and I have two battering rams: to send our students there,
and to bring their best here."
The love for the region that arose from his time abroad has put Hildreth at the forefront of immigration advocacy in this country. He made headlines in 2007 after he gave over $100,000 in bail money for illegal immigrant laborers who were arrested following a federal raid on a garment factory in New Bedford, Massachusetts, flown to Texas for detainment, and threatened with deportation. He expanded on his work in this area by creating the Foundation for an Open America, an organization devoted to immigrant education and advocacy, including funding research and helping immigrant parents save money to send their children to college.
"My interest in international issues, and in immigrant issues in particular, flowed directly out of my experience in Latin America," he says. "Once I got back to the States, I very much wanted to help the people I knew. My philosophy is that immigration is critical to our country. And of course like most Americans I believe that education is something—is the thing—that can advance you, something that you own and nobody else owns. But I am not a philosopher; I am a doer."
After returning to his home state of Massachusetts, Hildreth became a supporter of the Boston University/Chelsea Partnership in the immigrant-populous Chelsea Public Schools, beginning a strong relationship with his father's alma mater that culminated in his election to the Board of Overseers. His evolving role as a member of the BU community, coinciding with a lifelong fascination with poetry, soon led him to Robert Pinsky's Favorite Poem Project (www.favoritepoem.org) and, in turn, to the Creative Writing Program.
The academic home of the historic workshops where Robert Lowell once taught Sylvia Plath, Anne Sexton, and George Starbuck had grown into a program with a global focus, drawing writers from across the U.S. and around the world to study in a community of distinguished fiction writers, poets, and playwrights. The faculty includes Chinese-born novelist Ha Jin (GRS'94) and Irish-born playwright Ronan Noone (GRS'01), and past writer-teachers have included the poets Derek Walcott, born in St. Lucia, and Charles Simic, from the former Yugoslavia; British novelists Penelope Mortimer and Margot Livesey; and Russian translator Victor Golyshev.
Hildreth's gift will broaden the program's reputation as an international literary force while providing student writers with a rare opportunity to expand their personal and literary world views. "There is no other gift of this kind in any other program we are aware of," says program director Epstein. "Our students can go anywhere in the world they like and do whatever they want when away. They don't have to write, because we have every faith that having to be on their own, drawing on what they see and hear as well as their own wits, will in the not-very-long run enhance their skills as poets and novelists and playwrights. Things that shake you up, that break the routine, that give you a new pair of eyes tend to do that."
Support the Leslie Epstein Professorship
Robert Hildreth has challenged all supporters, admirers, and friends of Professor Leslie Epstein to join him in building the endowment for the Leslie Epstein International Visiting Professorship. Hildreth will match each gift, dollar for dollar, up to a total of $1 million. For more information, contact Steve Kean, chief advancement officer for Arts & Sciences, at skean@bu.edu or 617 358 1214.
make a gift online
Enter "Leslie Epstein Professorship" in the space provided in the "your gift designation" section.