From the Dean: Excellence and Access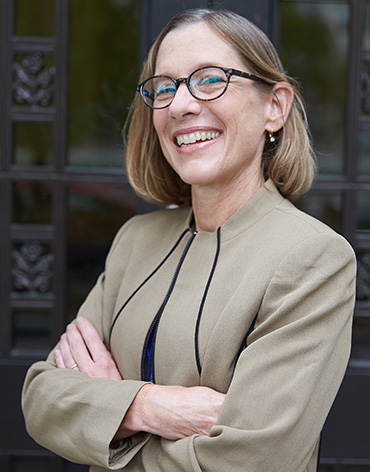 ANN E. CUDD

, Dean of Arts & Sciences
A year ago, I set about moving CAS toward a vision of excellence and inclusivity that will, I believe, continue to build BU and the college's reputation as a global leader in academic and research quality. In the year since, I have probably learned more—from our alumni, faculty, staff, and students—than I have in any other year of my professional life. As I crisscrossed the country getting to know our alums, and traversed campus, meeting with faculty, staff, and students, the goals I have for BU Arts & Sciences were clarified and strengthened, becoming truly a shared vision.
This document represents the year-one status report on that vision. In the report, you will learn how we are making progress on key goals—enhancing areas of research excellence, building faculty diversity, funding new undergraduate scholarships, developing new ways of teaching through experiential education, and generally making sure we adapt to changing times in order to remain a vital educational institution serving individuals and society.
Highlights of this past year include the CAS On-Campus Internship Program and Senior Year 101, new programs for undergraduates that expose them to the workplace and help them plot out their careers; the opening of the Earth House living and learning community for students committed to sustainability; and the creation of a new undergraduate minor in sustainability.
During the past year, I spoke to many alumni and supporters about the critical necessity to endow more need-based scholarships for CAS students, so that our world-class education is available to talented students from all economic backgrounds. Our donors responded by endowing new scholarships through the Century Challenge and with many smaller contributions to our scholarship fund.
We saw continued growth in our master's enrollment, thanks to innovative new programs and enhancements to existing ones. And PhD acceptances remained highly competitive, with only 11% of applicants offered admission. In the humanities and social sciences, over half of PhD applicants offered admission accepted their offers—speaking to the broad strength of our programs. Our growing international reputation was underscored when BU moved up from 37th to 32nd in U.S. News & World Report's Fall 2015 ranking of global universities—thanks in large part to research done at CAS—and then held steady at 32nd in the U.S. News fall 2016 list.
We continued to build a world-class faculty with 28 new hires, including mid-career professors who are leaders in their fields. Three of the new faculty hires were in computer science and two were senior hires in statistics, enhancing an area (data science) where there has been strong student interest and where we are aiming to become global leaders with a robust, ongoing faculty expansion. Three new hires were in Earth & environment, another area of strength where we aim to further advance. Meanwhile, senior hires included professors and associate professors in the departments of chemistry, statistics, English, history, and history of art & architecture. BU's Task Force on Faculty Diversity & Inclusion, co-chaired by CAS Associate Dean for the Humanities Gene Jarrett, held town hall meetings and issued its report highlighting the need for improvements in that area, which we intend to work toward in the year ahead.
In the coming year, we will continue to work hard to reach our goals, and we will create new opportunities for CAS students and faculty. We will take concrete steps to hire a more diverse faculty and open a new, state-of-the-art student collaboration space on the first floor of the CAS main building, complete with glass-walled team rooms and plentiful study space—addressing a critical infrastructure need. BU's newest research facility, the Center for Integrated Life Sciences & Engineering (CILSE), will open its doors on Commonwealth Avenue this spring, giving some of our premier faculty and graduate student researchers in psychological & brain sciences, neuroscience, and other disciplines a place of collaboration and synergy, with the resources they need to conduct world-leading research.
The past year wasn't without sadness, however. The entire BU community mourned the passing of Professor Emeritus Elie Wiesel, a Nobel Peace Prize laureate and Holocaust survivor who inspired generations of students and alumni, as well as people all around the world.
Annual Report 2015/2016
The Difference a Year Makes
From enhancing research excellence to recruiting ever-better faculty and students, academic year 2015/16—the first under Dean Ann Cudd's leadership—saw CAS continue to grow its capacities.
Improving Undergraduate Education
Providing a world-class undergraduate education is the core of what we do at CAS. In 2015/16, we made curricular improvements, launched new career preparation programs, and welcomed a tremendous class of 2019 that will benefit from our ongoing efforts.
Strengthening Graduate Education
The Graduate School of Arts & Sciences' continued evolution in and out of the classroom has resulted in a 5.6% increase in master's applications in 2015/16, as well as an affirmation of the strength of its humanities and social science PhD programs, with more than half of students accepting their offers.
Enhancing a World-Class Faculty
The quality of CAS' academics and research depends on the quality of its faculty, and so we work hard to hire the best and brightest. In 2015/16, CAS hired 28 new professors across the humanities, mathematics, and the social, natural, and computational sciences.
Conducting Pathbreaking Research
Discoveries and innovations at CAS helped make BU one of U.S. News & World Report's top 35 research universities in the world. Faculty received nearly $61 million in funding this past year, advancing understanding in the fields of subatomic physics, Alzheimer's disease, and classical studies, to name a few.
Building Our Future Together
In 2015/16, the sixth year of the Campaign for Boston University, we achieved our initial goal of raising $100 million for CAS—and we reached that goal a year early. More than 26,000 alumni, friends, and parents have generously made gifts of $106,636,751 to the college via the ongoing campaign.
Appendix