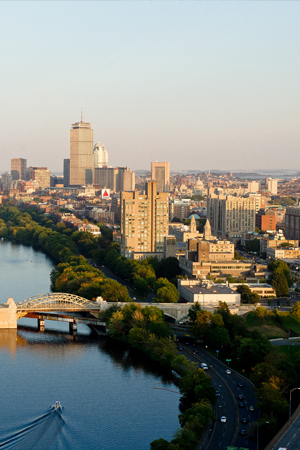 In 2010, the College of Arts & Sciences crafted a bold ten-year plan to enhance all aspects of what we do: undergraduate education, graduate education, research, global partnerships, and the College's relationships with its alumni. Having reached the halfway mark of that strategic plan, we are taking the opportunity to look both at the accomplishments of the past five years and the challenges and opportunities of the next five.
The CAS Strategic Plan commits the College to a wide range of important goals: increasing financial support for doctoral programs, providing undergraduate students with greater opportunities for research and experiential learning, increasing undergraduate student engagement, increasing the size of the faculty and financial support for faculty, sustaining and developing high-quality master's programs, improving interdisciplinary studies, better utilizing Boston and New England as a "learning lab," enhancing language learning and global studies, and strengthening ties to alumni.
Over the past five years, we have made great strides toward these goals. BU's new five-year funding formula for PhD candidates has dramatically increased the rate at which applicants accept our offers of admission to GRS doctoral programs. We developed a new internship-based course for CAS undergraduates and built a First-Year Experience program that helps students adjust to social and academic life at CAS, with around half of first-year students participating. Our generous alumni and supporters endowed the Virginia Sapiro Academic Enhancement Fund to allow professors to take students to educational and cultural resources in Boston and New England.
Over the past five years, we have added new tenure-track faculty positions at CAS, bolstering critical areas to enhance our teaching and research mission. We have added new undergraduate majors and developed new master's programs to meet rising needs in computer science, statistics, and other areas. Thanks to a generous gift from Frederick S. Pardee, we launched the Pardee School of Global Studies within CAS to bolster our global studies and regional studies programs. Finally, we have enjoyed tremendous support from alumni and supporters in CAS' first-ever capital campaign, nearing our initial goal of raising $100 million.
The CAS Strategic Plan is an extension of the BU Strategic Plan, and both have helped guide our progress by keeping leadership focused on our larger goals beyond the year-to-year work of running a college of liberal arts. Both BU and CAS have enjoyed increasing recognition for this hard work and planning, in the form of a rise in the U.S. News & World Report rankings, acceptance into the exclusive Association of American Universities (an acknowledgment of our research prowess), and the increased number of high-achieving high school students who apply to and accept admission into the College of Arts & Sciences.
Academic Programs' Strategic Planning
This past year, each academic department, school, and program within CAS conducted a thorough self-analysis and five-year plan to continue improvements in line with the goals outlined in the CAS Strategic Plan. This process helped departments bring their challenges and opportunities into focus, and led to some very productive analysis and discussions. Some departments also conducted thorough Academic Program Reviews, a process done in conjunction with the Provost's Office. Below are some highlights of programs that used the process to rethink and improve how they do things:
The Graduate Division of Religious Studies developed a plan to work with the School of Public Health and the Medical Anthropology Program to develop a distinctive BU approach to PhD education in religion and health.
The Women's, Gender, & Sexuality Studies Program plans to expand its affiliated faculty group, particularly in the natural and social sciences, leading to new cross-listed courses and enhanced awareness of issues related to women, gender, and sexuality among BU students. The program also hopes to expand its new internship program (initiated in 2015) to offer more students practical experience in local politics and enhance the program's undergraduate opportunities.
The departments of Modern Languages & Comparative Literature and Romance Studies outlined steps to cultivate an environment in which lecturers and tenure-line faculty can better work together to advance innovative curriculum on language and literature.
The Department of Astronomy developed a plan to focus its faculty recruiting efforts in the areas of astrophysics and space physics in order to maximize their research strengths in both and maximize the value of any funds invested in new faculty.
Following an analysis of the needs of incoming students and the direction of the profession, the Department of Chemistry decided to focus its faculty recruitment and hiring in the areas of chemistry for human health and chemistry for sustainability.
Annual Report 2014/2015