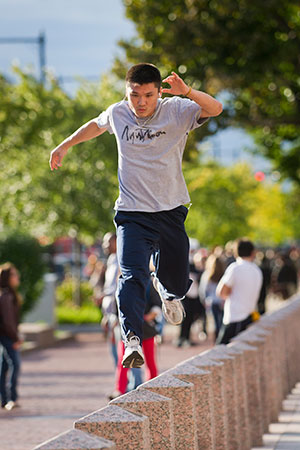 Despite the continuing challenges of a sluggish economy, the economic health of the College of Arts & Sciences is robust. The College achieved a balanced, unrestricted expense budget of $103,158,556 at the close of the 2012 fiscal year that is devoted to funding salaries and finding innovative and effective ways to attract and retain the best undergraduate and graduate students, recruit outstanding academics, and better support our research initiatives.
To support research objectives, the College received $326,000 of indirect cost-recovery funds. These funds were used to underwrite cost-share commitments, laboratory renovations, and shared core-facility equipment—supporting the College's efforts to provide its researchers the technology and facilities needed to effectively compete for new, more substantial grants and other funding.
The best evidence of the positive influence the College has on its students, faculty, and staff are the gifts and other contributions from alumni and friends. Giving during FY 2011/12 was impressive: CAS received cash gifts totaling $7.78 million and pledges for another $4.55 million. These contributions are a critical resource to the College, bringing additional support to our undergraduate and graduate students, our educational goals, and our research initiatives. These gifts mean all the more because they come from contributors who know firsthand the value of a CAS education.
The end of FY 2011/12 marked the completion of the quiet phase of BU's inaugural capital campaign. As part of the University's billion-dollar "Choose to be Great" campaign, CAS has set its goal at $100 million. As of June 30, 2012, CAS had in place commitments totaling $36.7 million, putting the College ahead of schedule for meeting its campaign goal by September 2017.
Annual Report 2011/12
From the Dean
Thanks to the commitment of CAS faculty and staff, great strides were made during academic year 2011/12 toward achieving the College's fundamental strategic goals.
New Structures for Organizing Discovery and Education
Three new programmatic developments have been introduced to leverage the special strengths of the research and educational expertise of the CAS faculty.
Strengthening the Quality of the Faculty
The College reaches the halfway point in its goal to increase the faculty by 100 new positions, while the latest cohort of faculty members continues to demonstrate superb research and teaching skills.
Strengthening the Quality of Undergraduate Education
This year, the College focused on making sure CAS undergraduates had the best possible start to their academic careers through the First-Year Experience (FYE).
Strengthening the Quality of Graduate Education
Work conducted this year to change the structure of funding for PhD programs will have a major impact on the future of the Graduate School of Arts & Sciences.
Strengthening Our Research and Scholarship
Thanks to strong support from the University and public and private sponsors, BU researchers continue to break new ground—literally and figuratively—at the frontiers of knowledge.
Finances and Development
In academic year 2011/12, the College of Arts & Sciences effectively managed its fiscal resources to attract and retain the best undergraduate and graduate students, recruit outstanding academics, and support its research initiatives.
The Class of 2012
After encouraging words from Google executive chairman Eric Schmidt, the College and Graduate School of Arts & Sciences confers more than 2,000 hard-earned diplomas to this year's graduates.
Appendix