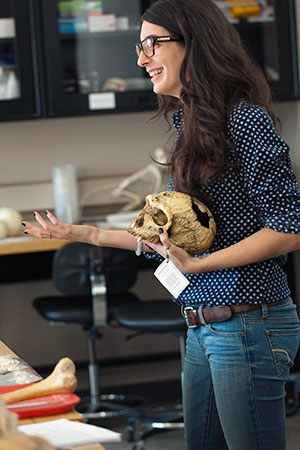 Graduate teaching assistant
Ilaria Patania

(GRS'16) monitors an archaeology lab study.
This year, the Graduate School of Arts & Sciences (GRS) received the largest number of applications for admission to graduate programs in its history. The total number of applications—7,878—included 4,955 applications to PhD programs and 2,923 applications to the various master's programs (MA, MS, and MFA). The result is that these programs have become increasingly selective in offering admission.
The most important new developments in graduate education involved the intensive background work and deliberation to prepare for a much-anticipated change in the structure of funding for PhD programs, as promised by the provost. The outcome of these deliberations will have a major impact on the future of the Graduate School of Arts & Sciences.
One of the most exciting developments this year was the creation of a new and unique MFA in Playwriting, which evolved out of a long tradition of excellence in this field. That tradition dates back 30 years, when the great poet, playwright, and Nobel Laureate Derek Walcott founded Boston Playwrights' Theatre, building what would become a nationally recognized playwriting track in the Creative Writing Program. Kate Snodgrass, an award-winning playwright who took over the direction of the theater and program after Walcott's retirement, has led the development of the new MFA program.
Affiliated with the Department of English and physically located in Boston Playwrights' Theatre, the MFA in Playwriting is a three-year collaborative program with CAS and the School of Theatre in BU's College of Fine Arts. This collaboration—the only one of its kind in the nation—weaves together the scholarly and professional practices of playwriting, literary play reading, and professional play production, giving the graduates of this program advantages they could not find anywhere else. Just as Professor Snodgrass was launching this program, she received additional good news: the Boston Theater Critics Association awarded her the Elliot Norton Prize for Sustained Excellence.
Annual Report 2011/12
From the Dean
Thanks to the commitment of CAS faculty and staff, great strides were made during academic year 2011/12 toward achieving the College's fundamental strategic goals.
New Structures for Organizing Discovery and Education
Three new programmatic developments have been introduced to leverage the special strengths of the research and educational expertise of the CAS faculty.
Strengthening the Quality of the Faculty
The College reaches the halfway point in its goal to increase the faculty by 100 new positions, while the latest cohort of faculty members continues to demonstrate superb research and teaching skills.
Strengthening the Quality of Undergraduate Education
This year, the College focused on making sure CAS undergraduates had the best possible start to their academic careers through the First-Year Experience (FYE).
Strengthening the Quality of Graduate Education
Work conducted this year to change the structure of funding for PhD programs will have a major impact on the future of the Graduate School of Arts & Sciences.
Strengthening Our Research and Scholarship
Thanks to strong support from the University and public and private sponsors, BU researchers continue to break new ground—literally and figuratively—at the frontiers of knowledge.
Finances and Development
In academic year 2011/12, the College of Arts & Sciences effectively managed its fiscal resources to attract and retain the best undergraduate and graduate students, recruit outstanding academics, and support its research initiatives.
The Class of 2012
After encouraging words from Google executive chairman Eric Schmidt, the College and Graduate School of Arts & Sciences confers more than 2,000 hard-earned diplomas to this year's graduates.
Appendix