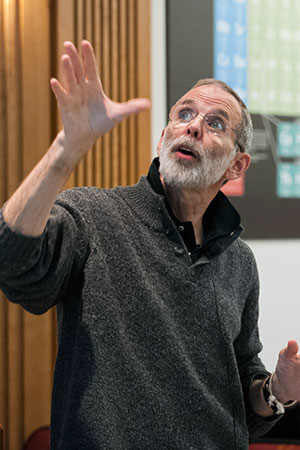 CAS Chemistry Professor
Dan Dill

lectures in his General Chemistry CH 101 class.
One of our chief goals is to improve the academic experience and success of all CAS undergraduates. This year, we focused special attention on improving the infrastructure to make sure that CAS students had the best possible start to their academic careers at BU. These efforts followed through on goals and designs that were proposed earlier by the CAS Task Force on the First-Year Experience (FYE).
To help ensure student success, the College is committed to making the CAS advising system more comprehensive, proactive, and responsive. Beginning in 2011/12, all CAS students are assigned individual advisors as soon as they enroll. The College also has instituted other programs to enrich the experience of students during their first year, such as FY101, a one-credit, pass/fail course designed to facilitate the transition to college life and the BU community. FY101 also helps students develop the skills and habits they will need to be successful at BU.
An important goal of the CAS First-Year Experience is not just to help students become well-integrated into Boston University, but to become active participants in the Boston community as well. The CAS Writing Program, which serves all BU undergraduates, developed two related initiatives as part of this FYE goal. One of them is a set of writing seminars whose topics focus on Boston or New England and include opportunities to use local sites and experiences as their classroom. The other, known as Theater Now!, specifically integrates local theater experiences into the writing seminar, thereby encouraging new students to develop their writing skills and their knowledge of both Boston and theater in a coordinated way.
Once again in 2011/12, the College of Arts & Sciences attracted record applicants and admitted a class that is more qualified by every measure.
Of the 1,823 students who entered CAS as the Class of 2015, 37.9 percent (691) are male, and 62.1 percent (1,132) are female. The class is ethnically diverse and decidedly international, with students coming from 40 countries. The Class of 2015 is the strongest class academically to date, with an average SAT composite score of 1949 (the middle 50 percent range is 1850–2050). The five most popular majors are pre-medicine (224), economics (127), biology (119), international relations (103), and psychology (102).
Once we've attracted these great students, it is critical that we retain and promote their success. Despite the financial challenges many families face these days, our retention rate continues to improve. The latest first-year-to-sophomore retention rate is 91.8 percent, up from 88.7 percent from the year before.
Annual Report 2011/12
From the Dean
Thanks to the commitment of CAS faculty and staff, great strides were made during academic year 2011/12 toward achieving the College's fundamental strategic goals.
New Structures for Organizing Discovery and Education
Three new programmatic developments have been introduced to leverage the special strengths of the research and educational expertise of the CAS faculty.
Strengthening the Quality of the Faculty
The College reaches the halfway point in its goal to increase the faculty by 100 new positions, while the latest cohort of faculty members continues to demonstrate superb research and teaching skills.
Strengthening the Quality of Undergraduate Education
This year, the College focused on making sure CAS undergraduates had the best possible start to their academic careers through the First-Year Experience (FYE).
Strengthening the Quality of Graduate Education
Work conducted this year to change the structure of funding for PhD programs will have a major impact on the future of the Graduate School of Arts & Sciences.
Strengthening Our Research and Scholarship
Thanks to strong support from the University and public and private sponsors, BU researchers continue to break new ground—literally and figuratively—at the frontiers of knowledge.
Finances and Development
In academic year 2011/12, the College of Arts & Sciences effectively managed its fiscal resources to attract and retain the best undergraduate and graduate students, recruit outstanding academics, and support its research initiatives.
The Class of 2012
After encouraging words from Google executive chairman Eric Schmidt, the College and Graduate School of Arts & Sciences confers more than 2,000 hard-earned diplomas to this year's graduates.
Appendix