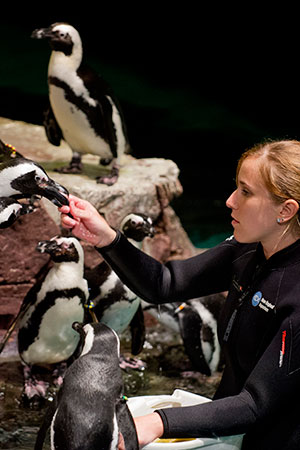 Nicole Gosselin

(CAS'14) feeds the penguins sardines as part of her summer internship at the New England Aquarium.
This year witnessed the launch of three new programmatic units that take advantage of the special strengths of the research and educational expertise of the CAS faculty, positioning us for advances in the future that could not be achieved without abandoning old structures and reaching for broader scope. Each of these new structures demonstrates the importance of interdisciplinary research and education in the life of the CAS community.
Created this year, the BU Center for the Study of Europe (BUCSE) joins the complement of area studies centers housed at CAS that forms the academic centerpiece of Boston University's commitment to being a global institution. BUCSE joins the centers and programs already focused on Africa, Asia, Latin America, and America. BUCSE links together faculty and students engaged in the study of Europe across the arts and humanities, social and policy sciences, and science and technology. Under the leadership of founding director Vivien Schmidt, Jean Monnet Chair of European Integration and professor of international relations and political science, the center has already begun to forge new relationships with European governmental and nongovernmental organizations and fellow scholars.
The Center for Computational Neuroscience & Neural Technology (CompNet) is built on the foundation of energy and resources long part of the interdisciplinary CAS approach to neuroscience using computational and technological solutions. While many of the new center's founding members were formerly part of the Department of Cognitive & Neural Systems (closed last year), CompNet's strength derives from attracting scientists from across CAS, the College of Engineering, and the College of Health & Rehabilitation Sciences: Sargent College. CompNet is the home of the Center of Excellence for Learning in Education, Science & Technology, a National Science Foundation Science of Learning Center. With strong linkages to the BU Graduate Neuroscience Program and under the direction of Barbara G. Cunningham, professor of biomedical engineering, CompNet will foster major new research.
One of the most important developments of the year is the founding of the Department of Earth & Environment. This new CAS department—uniquely composed of natural, social, and policy scientists—integrates and builds on the strengths of the former Earth Sciences and Geography & Environment departments, each highly ranked in the latest National Research Council (NRC) assessment. With its complement of award-winning faculty members and home to the nationally recognized Center for Remote Sensing, the new department forges relationships with complementary CAS departments and schools and colleges across the University. By combining these resources, the Department of Earth & Environment provides a foundation that ensures BU will be a leader in critical research and education in the fields of earth and environmental sciences and earth systems.
Annual Report 2011/12
From the Dean
Thanks to the commitment of CAS faculty and staff, great strides were made during academic year 2011/12 toward achieving the College's fundamental strategic goals.
New Structures for Organizing Discovery and Education
Three new programmatic developments have been introduced to leverage the special strengths of the research and educational expertise of the CAS faculty.
Strengthening the Quality of the Faculty
The College reaches the halfway point in its goal to increase the faculty by 100 new positions, while the latest cohort of faculty members continues to demonstrate superb research and teaching skills.
Strengthening the Quality of Undergraduate Education
This year, the College focused on making sure CAS undergraduates had the best possible start to their academic careers through the First-Year Experience (FYE).
Strengthening the Quality of Graduate Education
Work conducted this year to change the structure of funding for PhD programs will have a major impact on the future of the Graduate School of Arts & Sciences.
Strengthening Our Research and Scholarship
Thanks to strong support from the University and public and private sponsors, BU researchers continue to break new ground—literally and figuratively—at the frontiers of knowledge.
Finances and Development
In academic year 2011/12, the College of Arts & Sciences effectively managed its fiscal resources to attract and retain the best undergraduate and graduate students, recruit outstanding academics, and support its research initiatives.
The Class of 2012
After encouraging words from Google executive chairman Eric Schmidt, the College and Graduate School of Arts & Sciences confers more than 2,000 hard-earned diplomas to this year's graduates.
Appendix