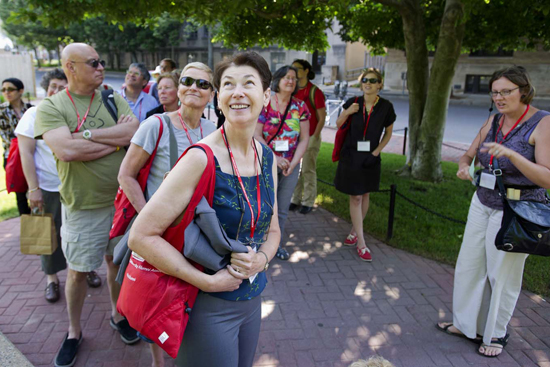 CAS' Lucy Hutyra (right)

led a class of alums, among them

Nancy Leveille (GRS'74) (center),

at the Alumni College, a three-day educational experience hosted by the BUAA.
The College and Graduate School of Arts & Sciences enjoys strong, ongoing relationships with an ever-growing number of alumni. Strong, vital connections with alumni are critical to the College's ability to fulfill its commitment to the future success of its graduates. By the same token, the College is constantly looking for new ways to involve its alumni in the life of the CAS and Boston University communities through the efforts of the Alumni Relations office.
During FY 2010/11, Alumni Relations sponsored a number of events, some tried and true, others new and original. The year's key alumni-focused events are listed below.
Alumni Relations FY 2010/11 Event Highlights
Discoveries Lectures
The New Deal: 75 Years Later – October 7, 2010
Bruce Schulman, Professor, Department of History
Lessons to be Learned from Cells: From Molecular Basis to Disease – December 1, 2010
Karen Allen, Professor, Department of Chemistry
Adrian Whitty, Associate Professor, Department of Chemistry
Political Humor throughout the Ages – February 17, 2011
Jeff Henderson, Professor and Director of Graduate Studies, Department of Classical Studies
We Are What We Eat: Issues of Food Supply – April 28, 2011
Nathan Phillips, Associate Professor, Department of Geography & Environment
Arts, Culture & Ideas/Humanities Foundation Events:
Gender in the Civil War at the Union Club of Boston – February 8, 2011
Nina Silber, Professor, Department of History
Art of the Americas—Exploring the MFA's New Wing – May 13, 2011
Pat Hills, Professor, Department of the History of Art & Architecture
Distinguished Alumni Awards
The Arts & Sciences Distinguished Alumni Awards recognized Noreen Grice, CAS'85; Katherine French, GRS'81; Carole Heilman, CAS'72 over Alumni Weekend.
Howard Zinn Memorial Lecture
The Howard Zinn Memorial Lecture over Alumni Weekend featured speaker Bill Moyers, and was once again made possible through the generosity of Alex MacDonald, CAS'72, and Maureen Stafford, MED'76.
Alumni Weekend
Over Alumni Weekend, faculty, alumni, and current students from the CAS Honors Program were brought together for a small reception at the Castle.
Alumni College
In June 2011, the Boston University College of Arts & Sciences and the Alumni Association kicked off its new multi-day learning program: Alumni College. From its roots as a vital component of Alumni Weekend, Alumni College emerges as a robust program designed to empower alumni through immersive educational experiences. With access to faculty and a residential experience, Alumni College is the premier lifelong learning opportunity for our alumni and friends.
Sustainability in the City
June 10–12, 2011

College of Arts & Sciences Faculty:
James Baldwin, Visiting Professor, Geography & Environment
Robinson Fulweiler, Assistant Professor, Earth Sciences
Lucy Hutyra, Assistant Professor, Geography & Environment
Les Kaufman, Professor, Biology
Robert Kaufmann, Professor and Chair, Geography & Environment
Nathan Phillips, Director of Graduate Studies
Anne Short, Assistant Professor, Geography & Environment
Faculty involvement from across campus included: MET, SED, SMG, SPH, Dining Services, and Sustainability@BU.
EnCore
EnCore Alumni Network for Core Curriculum alumni held monthly book club events in Boston, as well as expanded their programming beyond networking at Alumni Weekend and Winterfest, to include an MFA tour, Isabella Stewart Gardener Museum exhibit, and a BU Pub trivia night.
Student-Alumni Engagement
In the spring of 2011, Alumni Relations began a partnership with CAS Student Academic Life to create a comprehensive program of student-alumni engagement in the College of Arts & Sciences. The program will include opportunities for co-curricular education, personal interaction, and direct communication between alumni and students. Through these opportunities, the program will instill in students the understanding that they are part of a much larger BU community. The plan also will capitalize on the expertise of BU alumni to enhance the CAS undergraduate experience while deepening the connection to alma mater.