Gordon Towne (CAS'12, GRS'12)

poses by the "Batmobile" used by CAS Professor Thomas Kunz in his research, for which Towne provided computer assistance.
While the College continued to make significant contributions to Boston University's growing reputation for leadership in research and scholarship in many fields, finding the resources in the current fiscal climate to sustain this level of productivity in research has been a challenge for all divisions of study, but in particular for researchers in the humanities and the social sciences, which typically are not supported by grants or contracts.
In light of this challenge, the College this year explored new and better ways to support scholars in the humanities and social sciences. As a result, the College identified a number of areas to be examined more closely, including how to further help scholars in these fields pursue funding opportunities, and how the College might better acknowledge the success of researchers in achieving these goals, recognizing that while awards in the humanities do not necessarily have a big impact on the College's bottom line, they typically are highly prestigious and demonstrate the quality, intellectual activity, and academic and professional prominence of the CAS faculty.
The College implemented another initiative this year to broadly support the intellectual engagement, research activity, and scholarship of new CAS faculty members in the humanities and social sciences by offering special research accounts. These accounts allocate $2,000 to enable incoming professors in disciplines outside of the natural sciences (who typically receive substantial start-up support for labs, etc.) to cover travel and other expenses related to scholarly and professional advancement.
Also this year, Graduate Research Abroad Fellowships (GRAF), funded from the College's graduate aid budget, provided funding for ten $10,000 long-term awards and ten $4,000 short-term awards. Candidates are nominated for these awards by their departments; the awards fund trips for archival research or to work with overseas academic experts. "When we think about how we support the research of our faculty and students in the humanities and in the social sciences, this is a good example of where the cost is relatively minor—the total cost of the program is equivalent to about three full tuitions," said Associate Dean of Research and Outreach Scott Whitaker. "It's something we choose to make available, and typically well over half of the nominees receive a fellowship."
In spite of the challenges, some researchers in the humanities had notable success securing grant funding. Sarah Frederick, associate professor and interim chair of the Department of Modern Languages & Comparative Literature, successfully applied to the Korea Foundation to fund a Korean language professorship. Frederick and her colleagues persuaded the Korea Foundation that they were interested in a long-time commitment by including in their proposal a plan to phase in $15,000 a year to enhancing library holdings in the area of Korean studies. By including support for the library, the proposal has the added advantage of strengthening the case for renewed Title VI support for the College's Center for the Study of Asia.
Sponsored Research
At face value, the sponsored programs report for FY 2010/11 through May showed a decline in grant awards to the College compared to the previous year, dropping 23 percent (from $88 million in FY 2009/10 to $68). However, when considered in light of a number of unique circumstances, sponsored program revenue was close to being in line with previous years.
One factor contributing to this year's numbers was the phasing out of research funds received under the American Recovery and Reinvestment Act (ARRA). Since March 2009, CAS researchers received $18.53 million in ARRA awards (about one third from the National Institutes of Health and two thirds from the National Science Foundation), but such awards have dropped off substantially this year. However, multi-year NSF awards were fully funded up-front, so last year's total included current (and in some cases future) year funding. Approximating NIH or NSF projects as typically three equal years of funding, the FY 2010 grants total included about $8 million of future funds that will be expended roughly $4M in FY 2011 and $4M in FY 2012.
CAS grant applications also decreased during AY 2010/11, which again can be attributed to the end of ARRA funding opportunities. Even so, of the 89 ARRA applications submitted by CAS faculty members, 58 received awards for an impressive funding rate of 65 percent. Correcting for the ARRA effect, applications are actually up approximately 10 percent as CAS researchers compete energetically in an increasingly competitive funding environment.
Another contributing factor was the lengthy delay in establishing the FY 2011 federal budget, which was settled only in mid-April and prevented funds already approved from arriving on schedule. Under continuing resolutions, agencies were obliged to delay the funding for awards already committed, and as late as June, the University had received very few new NIH or NSF awards since December 2010. Awards and dollars eventually came in as the agencies worked through their backlogs, including $11 million in funding (over five years) for a new NIMH Conte Center grant to study the mechanisms of memory.
Applications and Awards for Sponsored Research
| Applications | 2006/07 | 2007/08 | 2008/09 | 2009/10 | 2010/11 |
| --- | --- | --- | --- | --- | --- |
| Number | 510 | 507 | 621 | 578 | 533 |
| Amounts | $124.7M | $140.3M | $192.7M | $163.2M | $138.6M |
| Awards | 2006/07 | 2007/08 | 2008/09 | 2009/10 | 2010/11 |
| --- | --- | --- | --- | --- | --- |
| Number | 454 | 455 | 478 | 456 | 473 |
| Amounts | $67.2M | $77.5M | $85.7M | $93.6M | $76.4M |
| FTE Faculty* | 570 | 590 | 595 | 621 | ** |
| Awards/Fac. | 0.796 | 0.771 | 0.803 | 0.734 | ** |
| Amount/Fac. | $117,872 | $131,407 | $143,996 | $150,674 | ** |
* Does not include part-time lecturers
** Not calculated for FY 2010/11
"The funding profile this year is really difficult to follow," said Whitaker. "If you do a straight year-on-year comparison, we appear to be down more than 20 percent, but if you correct for the ARRA (American Recovery and Reinvestment Act) funding and look at awards that are in the pipeline but haven't been booked because of administrative delays, I think we're actually up by as much as five percent."
Title VI
This spring, the U.S. Congress reduced funding for programs authorized under Title VI of the Higher Education Act and the Fulbright-Hays Act. This action is expected to slash funds for these Department of Education programs by 40 percent (about $50 million), reducing the total allocation to $76 million.
The College has relied on Title VI support for the African Studies Center Foreign Language Area Studies (FLAS) program, which makes fellowships available to undergraduates at the intermediate or advanced levels of study of an African language taught through the African Studies Center.
The African Studies Center competed successfully for Title VI FLAS funding by demonstrating that it was inclusive of all Boston University, not just narrowly focused on the College of Arts & Sciences. The College has long provided support for these programs, and, despite the Title VI cuts, will continue to support the FLAS program at the current level. "This is a mission-critical program and it matters to our students," said Whitaker. "Sustaining and maintaining support for this program is important for continuity in the lives of our students and faculty. We will continue to provide full support for these programs; we're not going to reduce that proportionally. Support for these programs needs to be predictable, reliable, and provide a planning horizon."
These programs provide graduate and undergraduate students rare opportunities to develop language competency that will support highly specialized research and career interests. "Being able to learn Italian is very different than getting the opportunity to learn the African language Hausa, for example. The Army recognizes this through Project GO, which makes it possible for ROTC students to learn Arabic and other language that are not commonly taught. It's a good idea for us to prepare students to go out and take on international roles by actually developing language and cultural fluency."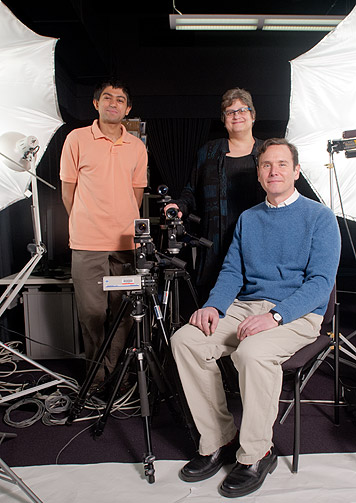 Linguist
Carol Neidle, doctoral student Ashwin Thangali (GRS'12), and computer scientist Stanley Sclaroff (right)

record American Sign Language (ASL) signers in this studio with the hope that their research will lead to the development of tools that benefit ASL signers.
Research Highlights
Despite the volatile funding environment, CAS faculty researchers achieved a remarkable record of success in securing grant support for their cutting-edge work and for launching new research initiatives, as the following examples demonstrate:
Last winter, CAS scientists and researchers from a range of disciplines and departments including geography & environment, biology, and astronomy gathered in the Photonics Center Colloquium Room for the Earth Systems Forum. Participants compared notes on existing activities at BU related to the Earth's integrated physical, natural, and societal systems, and from there developed a shared vision for research, teaching, and facilities related to Earth Systems. They also were encouraged to share ideas that would promote more interdisciplinary collaboration across these areas. Suggestions included Professor of Astronomy John Clarke's proposal that biologists collaborate with astronomers by modeling how life could exist under certain extreme conditions found on other planets. The immediate outcome of the forum will be a faculty-driven whitepaper providing a vision and planning statement for investment and development of research, facilities, and curricula at BU that builds on core strengths related to the study of Earth Systems.
The Department of Computer Science enjoyed great success this year in winning grants. The department has defined itself as more than just an academic discipline but also as a leader in applied technology. Researchers look beyond simply writing code to do a job; instead, they actively seek problems outside their immediate field of study that bring theoretical challenges and endless opportunities for integration of computing and computational approaches across a host of disciplines. Computer Science Professor and Department Chair Stanley Sclaroff is a principal investigator on a team that won a National Science Foundation Expeditions in Computing award for a project called "Computational Behavioral Science: Modeling, Analysis, and Visualization of Social and Communicative Behavior." The goal of the project is to develop novel computing techniques for measuring and analyzing the behavior of children that will be used to enable new approaches for identifying children at risk for autism and other developmental delays.
The new Conte Center award is just one of the remarkable accomplishments this year by Psychology Department faculty members. Department grants for the year amount to almost $13 million, an increase of 19 percent over the previous year, and include full funding for the National Science Foundation Science of Learning Center (CELEST) through the end of its ten-year span. Psychology Department researchers have been extraordinarily productive in every category of research, earning 20 percent of the College's total research revenues, amounting to about $13.3 million in FY 2010/11 (or 19.6 percent of the CAS total of $67.7 million).
Annual Report 2010/2011
Strengthening the Quality of the Faculty
The strength and reputation of Boston University and CAS as a world-class teaching and research institution rest on the quality of its faculty.
Attracting and Nurturing the Best Students
By maintaining high standards of academic quality and integrity and adhering to the best liberal arts traditions, CAS increasingly is regarded as a prime destination by intelligent and highly motivated students.
Strengthening the Student Experience: Focusing on Student Success
The College of Arts & Sciences works hard to attract great students and is committed to making sure they stay once they get here.
Strengthening Graduate Education
Graduate students in the College of Arts & Sciences learn that a critical component of their education is the need to apply what they learn to the benefit of their communities.
Enhancing The Research Mission In The College Of Arts & Sciences
The research trajectory of the College continued its upward climb this year.
Strengthening Our Connections to the Community and the World
In keeping with the collaborative teaching and research culture that exists across BU, CAS partners in many graduate programs across the University.
Managing Our Financial Resources
The current economic downturn has had a real impact on resource development initiatives at colleges and universities nationwide.
Nurturing Our Connections with Alumni and Friends
Strong, vital connections with alumni are critical to our being able to realize the goals we have indentified in our strategic planning and beyond.
Celebrating the Class of 2011
Seniors and their families, faculty, trustees, and other members of the BU community celebrated the 138th Commencement of Boston University at Nickerson Field on Sunday, May 22.
Appendix