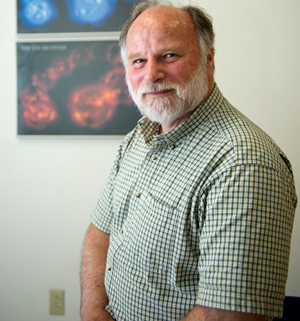 Associate Dean of the Graduate School of Arts & Sciences
Jeffrey Hughes
The Graduate School of Arts & Sciences (GRS) this year remained focused on achieving its long-term goals as defined in the strategic plan by providing academic programs of the highest standards, attracting and retain students of the highest quality, and supporting students financially.
In particular, GRS made progress this year on initiatives designed to attract and retain the best students, which will require not only an increase in the number of fellowships available, but also an increase in stipends to a competitive level and the provision of "duty-free" fellowships, such as Dean's fellowships, for top candidates. To that end, GRS implemented a number of changes that help make graduate study more affordable.
Dean's Fellowships
During the 2010/11 academic year, GRS took a number of steps to address this imbalance. One significant move was a change in the way Dean's Fellowships are allocated to graduate students. "Before, we'd tell a department they have four fellowships, and they'd make four offers," said Hughes. "If only two were accepted, the other two would end up going to students who were on a waiting list or had accepted a lesser offer."
Under the new system, Dean's Fellowships were pooled instead of assigned to individual departments as in years past. This year, the Graduate School made 110 offers available across the graduate school. Instead of allocating a specific number of fellowships to departments, departments were asked to make a number of offers. For example, a given department is permitted to make seven offers. If all seven accept, they get seven fellows; if only two accept, they get two. The balance goes to support top candidates in other departments. By using this approach, GRS netted the desired number of 56 acceptances by preferred students across a range of disciplines.
Academic and professional career placement
In its ongoing effort to provide comprehensive support for its graduate students, GRS recognizes the need to prepare its students for successful careers beyond their academic training. Providing students support to develop career skills for the academic world as well as for careers in research or the business sector is yet another way GRS will become a more effective competitor for the best graduate students. As the next phase of this initiative, GRS will conduct a thorough survey of best practices in departments where broad career training is already taking place. One such model is the Computer Science Department, where the emphasis is not just on computer science, but also on all that being a computer scientist entails, such as interdisciplinary partnerships to develop applications for new technologies.
Graduate Students in Action
The initiatives described above, together with the long-term goals listed in the strategic plan, are designed to establish the Graduate School of Arts & Sciences as a top choice for the best graduate students in the liberal arts from around the world. Already, GRS students are engaged in a wide range of nationally and globally recognized academic and research pursuits. Representative examples of those students and their accomplishments during 2010/11 include the following:
History PhD candidate Brian Casady received a Fulbright-Hays Doctoral Dissertation Research Abroad Fellowship for work on his dissertation, "An African City's Metabolism: A History of Energy, Environment, and Priority in Colonial and Post-Colonial Nairobi." The fellowship will support Casady's research in Kenya.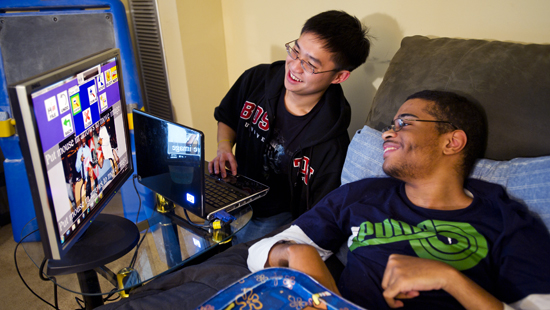 Graduate students
Chris Kwan

and

John Magee

demonstrate software that adapts for users with severe motion impairments.
Anne Seery, a third-year doctoral student in the Department of Psychology's Program in Human Development, was awarded a two-year pre-doctoral fellowship to support her research involving neurophysiological investigation of language acquisition in infants at risk for ASD (atrial septal defect). The fellowship was provided by the Dennis Weatherstone Fellowship program, which is sponsored by Autism Speaks.
The dissertations of anthropology doctoral students Chris Annear and Noah Coburn were listed among the top 40 North American dissertations in cultural anthropology by the blog "anthropologyworks."
Post-doctoral researcher Philip Moquist received a research fellowship from the Alexander von Humboldt Foundation to work with Professor Gerhard Erker at the Westfaelische Wilhelms-Universitaet Muenster Organisch-Chemisches Institut in Muenster, Germany. Moquist will study the asymmetric activation of hydrogen using electron-deficient boron complexes. The Humboldt Foundation promotes academic cooperation between German scientists and researchers from other countries.
MA student Sayon Deb was an economics prizewinner in the Inter-University Consortium for Political and Social Research (ICPSR) competition for master's students, an annual research paper competition for graduate students. Deb's prizewinning paper was titled "The Long Term Effects of Colonial Land Tenancy: Micro Evidence from India."
Graduate student and doctoral candidate Leslie Harkema was awarded a Fulbright Research Grant to Spain for the 2011/12 academic year. With the award, Harkema will be able to complete research for her dissertation, "The Aesthetics of Youth: Miguel de Unamuno and 'la joven literatura.'" Harkema will conduct research in the archives at the Universidad de Salamanca's Casa Museo Unamuno, the Residencia de Estudiantes in Madrid, and the Biblioteca Nacional de España. Harkema's dissertation focuses on the concept of youth developed in the essays and poetry of Miguel de Unamuno at the turn of the twentieth century.
Jan Marie Andersen, a PhD student in astronomy, was awarded a National Science Foundation Nordic Research Opportunity Grant to conduct research at the Centre for Star and Planet Formation (StarPlan) in Copenhagen, Denmark. The center is a new multidisciplinary research institute dedicated to the study of extra-solar planets. Andersen will spend one year at StarPlan, researching the observational signatures of magnetic activity in stars and how they can mimic exoplanet (planets outside the solar system) signatures.
Wei Guo, a graduate student in cognitive & neural systems, was awarded a Howard Hughes International Student Research Fellowship. Guo will receive a $30,000 stipend and an additional research allowance for the 2011/12 academic year. Sixty schools were invited to nominate students this year; only about 40 students were selected for the competitive fellowship.
NSF Fellowships
GRS received an unusually large number of National Science Foundation (NSF) graduate research fellowships this year. Fellowships went to the following students:
| Fellow Name | School/Program | NSF Field of Study |
| --- | --- | --- |
| Andersen, Jan M. | GRS/Astronomy | Physics and Astronomy – Astrophysics |
| Blalock, Nathaniel Byrd | GRS/Economics | Social Sciences – Economics |
| D'Aloia, Cassidy Constance | GRS/Biology | Life Sciences – Marine |
| Garamszegi, Sara | GRS/ENG/Bioinformatics | Life Sciences – Computational Biology |
| Heiss, Elise Michelle | GRS/Earth Sciences | Geosciences – Marine Biogeochemistry |
| Lamp, Jennifer Lynn | GRS/Earth Sciences | Geosciences – Geology |
| Lang, Alex Hunter | GRS/Physics | Physics and Astronomy – Condensed Matter Physics |
| Langwig, Kate Elizabeth | GRS/Biology | Life Sciences - Ecology |
| Mackay, Sean | GRS/Earth Sciences | Geosciences - Paleoclimate |
| Rottman, Joshua David | GRS/Psychology | Psychology – Cognitive |
| Stryjewski, Katherine Faust | GRS/Biology | Life Sciences – Evolutionary Biology |
| Taylor, Christopher Brennan | GRS/Anthropology | Social Sciences – Cultural Anthropology |
Annual Report 2010/2011
Strengthening the Quality of the Faculty
The strength and reputation of Boston University and CAS as a world-class teaching and research institution rest on the quality of its faculty.
Attracting and Nurturing the Best Students
By maintaining high standards of academic quality and integrity and adhering to the best liberal arts traditions, CAS increasingly is regarded as a prime destination by intelligent and highly motivated students.
Strengthening the Student Experience: Focusing on Student Success
The College of Arts & Sciences works hard to attract great students and is committed to making sure they stay once they get here.
Strengthening Graduate Education
Graduate students in the College of Arts & Sciences learn that a critical component of their education is the need to apply what they learn to the benefit of their communities.
Enhancing The Research Mission In The College Of Arts & Sciences
The research trajectory of the College continued its upward climb this year.
Strengthening Our Connections to the Community and the World
In keeping with the collaborative teaching and research culture that exists across BU, CAS partners in many graduate programs across the University.
Managing Our Financial Resources
The current economic downturn has had a real impact on resource development initiatives at colleges and universities nationwide.
Nurturing Our Connections with Alumni and Friends
Strong, vital connections with alumni are critical to our being able to realize the goals we have indentified in our strategic planning and beyond.
Celebrating the Class of 2011
Seniors and their families, faculty, trustees, and other members of the BU community celebrated the 138th Commencement of Boston University at Nickerson Field on Sunday, May 22.
Appendix