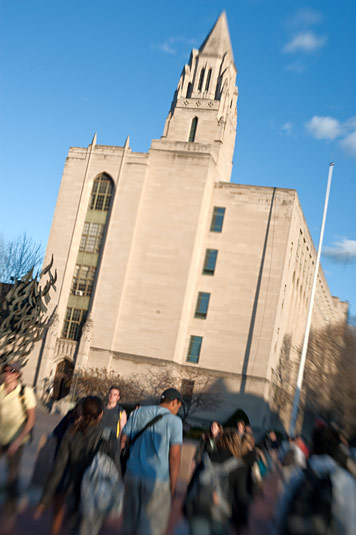 Student Academic Life
H aving invested much time and energy in creating a world-class learning environment, and after working so hard to attract the best students from around the world, the College has a vested interest in providing its students with a broad, community-based environment that encourages them to stay at BU and pursue their academic aspirations as far as they can.
There are many reasons why students leave college, but research shows that few CAS students leave because of poor academic standing. Rather, students leave when we fail to engage their interests or address their needs, or when they don't feel connected to the campus culture. CAS is committed to making sure its students want to stay once they get here and therefore is dedicated to making the student experience outside the classroom (and within the community) just as rewarding as it is inside.
Under the direction of Associate Dean of Student Academic Life Steven Jarvi, new to CAS this year from the University of Connecticut, the College has launched a number of innovations to help undergraduates balance academic pressure and personal and social demands to achieve a rewarding college experience. The Student Academic Life team looks at the support they offer from the student's perspective while working to meet the faculty's expectations in terms of academic rigor. This approach led to big differences this year in the quality of support available to CAS undergraduates in academic advising and counseling and through the First-Year Experience program.
Academic Advising and Counseling
The College has improved advising to give students more and better-quality interactions with their advisors and counselors. "Before, we didn't assign students to advisors—students walked in and saw a random advisor every time," said Jarvi. "I think one of the most significant, specific changes is that we're moving to an advisor assignment model, which is the model in place at many of our peer colleges and universities."
The move to the advisor assignment model helps balance the roles and responsibilities of professional counselors and faculty advisors. This was accomplished in part by assigning students—particularly undeclared students—both counselors and faculty advisors. While this approach may blur the distinction between faculty advisors and professional counselors, the end result is more efficient and better support for students.
"Before, only faculty could advise," said Jarvi. "The plan is to use our faculty advisors more effectively, so instead of just doing office hours and seeing whoever walks in, we're going to have a group of students assigned to each advisor. This sets up accountability and continuity for the students."
The First-Year Experience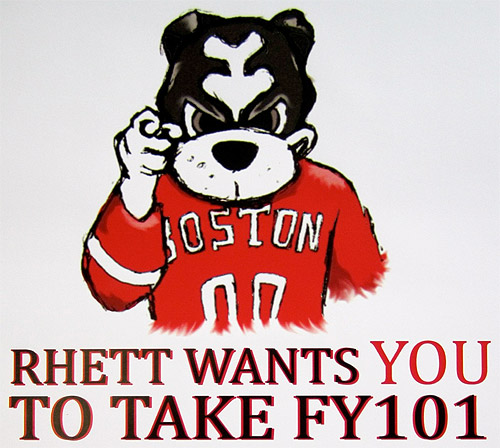 The First-Year Experience (FYE) program has evolved in recent years as an extension of the student orientation process to enhance the quality of the student experience at CAS. This year saw the introduction of a new element to the First-Year Experience program: the First Year Course (FY 101). Approved by the CAS faculty in late 2010, the Student Academic Life and Undergraduate Education offices—with extensive input from CAS faculty members—developed the program during Spring 2011 for rollout in the fall semester. For its inaugural semester, FY 101 included coursework that focused on the individual student's connection to the College and the University. Through discussions, assignments, class, and group activities, students are encouraged to become actively involved with the academic, social, and cultural dimensions of the University while examining their own development as students and individuals.
"With the First-Year Experience and the First-Year Course, we're really trying to jumpstart the careers of students at BU and in the College," said Jarvi. "The First-Year Course is the newest tool in an arsenal of special programs to help students acclimate and make the most out of their time at BU."
Other new FYE programs include Theater Now/Writing 100 and a selection of Women's, Gender, & Sexuality Studies courses for first-year students, which allow them to experience learning beyond the kinds of courses students typically are exposed to in their first year.
Gender and Sexuality: An Interdisciplinary Introduction (WS 101/WS 102)
Offered by the newly reconfigured Women's, Gender, & Sexuality Studies Program, these courses reserve seats specifically for FYE students. The courses foster understanding of the forces that shape experiences as gendered and sexed human beings and examine the social, political, and economic positions of women and men in diverse cultures and historical moments worldwide.
The FYE is now more clearly organized around the unifying purpose of creating opportunities for students and faculty members to get together. Casting the First-Year Course as a for-credit course increases the likelihood of attracting a critical mass of about 200 students. "That's all part of the new First-Year Experience, and that is truly the difference a year makes for us," said Jarvi.
First-Year Experience: Boston Now
This fall, Boston Now will offer five sections of WR 100: The Theater Now to FYE students through the Arts & Sciences Writing Program. The program will take students outside of BU and into the Boston community for a wider selection of plays and related activities. The program will includes guest speakers, after-play coffees and pizza nights.
Retention
Boston University and the College of Arts & Sciences are large institutions that to some can seem off-putting, impersonal, and intimidating. By paying close attention to the needs of students and making changes based on those observations, the College of Arts & Sciences has established a demanding but welcoming learning environment where students know that support is available and, just as importantly, know where to find it.
While many challenges remain in making sure every student finds his or her place, such changes as improvements to student advising and the introduction of programs tailored for new students are making a difference. The College's latest retention statistics reflect this reality: For the cohort that entered in the fall of 2010, the first-year to sophomore retention rate is 91.8 percent, up from 88.7 percent for the preceding year. The retention rate for the sophomore year (the cohort that entered in the fall of 2008) is 93.8 percent.
The CAS Freshman to Sophomore Retention Rates for the last five years are located in this table based on the year the cohort entered Boston University:
CAS Freshman to Sophomore Retention Rates
| 2000 | 2001 | 2002 | 2003 | 2004 | 2005 | 2006 | 2007 | 2008 | 2009 | 2010 |
| --- | --- | --- | --- | --- | --- | --- | --- | --- | --- | --- |
| 89.2% | 89.3% | 87.6% | 89.9% | 91.8% | 91.2% | 90.2% | 90.9% | 88.7% | 91.8% | 91.4% |
Sophomore to Junior Retention Rates are more tricky. Our methodology compares students who attended their sophomore year and whether they returned or graduated in their junior year.
CAS Sophomore to Junior Retention Rates
| 2000 | 2001 | 2002 | 2003 | 2004 | 2005 | 2006 | 2007 | 2008 | 2009 |
| --- | --- | --- | --- | --- | --- | --- | --- | --- | --- |
| 90.9% | 92.5% | 92.4% | 92.1% | 93.0% | 93.0% | 91.9% | 93.1% | 93.9% | 94.1% |
Note: This is different than a Freshman to Junior Retention Rate that would look at the entering cohort of freshmen and see if they are attending their junior year or have graduated. Using that methodology, the number for the entering cohort in Fall 2009 would be 94.5% for CAS.
Of course, the truest indication that CAS is pushing its students to embrace their intellectual interests and explore their worlds is found in the eclectic range of their extracurricular interests and the fact that they excel at so many of them. Examples from the 2010/11 academic year include the following:
Last fall, the Boston University Mock Mediation team was one of 32 teams that traveled to Des Moines, Iowa, to compete in the 11th Annual Intercollegiate Mediation Tournament sponsored by the International Academy of Dispute Resolution. Facing tough competition from around the world, the BU team made a very impressive showing. One of the BU teams, whose members included CAS undergraduates

Megan Haapala

,

Valerie Kaplan

, and

Aimee Reillert

, finished with the top score in Mediation, winning the National Championship.

Erin McLean

(CAS'13) nosed out competitors from Yale and Southern Adventist to take the College Championship edition of Jeopardy!, which was broadcast on November 19. Although McLean wasn't able to watch her winning performance on TV's longest-running game show, she had the honor of announcing her victory at the BU–University of New Hampshire hockey game at Agganis Arena. "Having 6,000-plus people clap and bow to me was pretty freaking sweet," said McLean.
BU's Student Employment Office chose CAS senior

James Nguyen

as the 2011 Undergraduate Student Employee of the Year. Nguyen was an office assistant in the SPARK Center, a unique pediatric program at BU-affiliated Boston Medical Center.
Two members of the Boston University Debate Society,

Greg Meyer

(CAS'11) and

Alex Taubes

(CAS'11), won the American Parliamentary Debate Association (APDA) National Championship, the first national championship in the Boston University Debate Society's history. Meyer and Taubes were part of a contingent of three teams sent by BU to the APDA Nationals, held last fall at the United States Military Academy in West Point, NY.
Annual Report 2010/2011