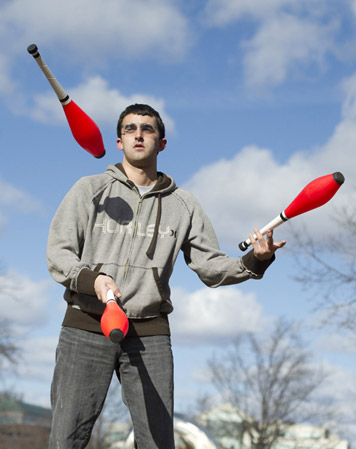 It has been said that the world cannot be governed without juggling.
Tim Duffy

(CAS'12), president of the BU Juggling Club, may agree with John Selden about that.
The College of Arts & Sciences saw a positive difference in the academic profile of the class that entered in the fall of 2010, demonstrating that CAS continues to compete successfully with the nation's top-ranked private and public universities for highly qualified students. Behind these improvements—particularly in light of the intense competition for students among colleges and universities—is the College's commitment to improve the educational environment of its undergraduate students as outlined in the College's strategic plan.
CAS offers prospective students an education that provides breadth of knowledge across disciplines and multiple modes of scholarly inquiry—the very essence of the liberal arts education. Candidates learn that a liberal education serves as the platform on which varied, productive, and creative lives are built.
Intelligent and highly motivated students increasingly regard CAS as a prime destination; CAS recruiters find it easier to attract students identified as highly qualified as well as candidates who embody the "whole student" model, with the goal of creating a balanced, vibrant, and diverse student body. This development is reflected in the enrollment statistics for the Class of 2014, which show increases in the measures used by most colleges and universities to evaluate the academic quality of entering classes (see table, below).
Building on this commitment and on improvements made over the last several years, the 2010/11 academic year saw the implementation of two major, CAS-wide initiatives, both of which had been approved by faculty vote in the previous year: the creation of a departmental honors program and the expansion of divisional studies.
With the approval of the CAS faculty, groundwork for the CAS departmental honors program was put in place during AY 2010/11 as students in the last cohort of the CAS Honors Program completed their studies. While the Honors Program has been succeeded in part by the new University Honors College (a smaller, University-wide program), the true heir to the CAS Honors Program will be the new, department-based initiative, which gives students the opportunity to earn honors within their majors.
Starting in the fall of 2010, faculty members worked within their departments to determine how honors programs should be structured, consistent with the traditional goals and measures of each discipline. The framework was voted on the previous spring, so this was the year for individual departments to wrap their heads around the implications and opportunities for their own majors. Faculty members worked within and across departments to develop the programs, which then were vetted by the Academic Policy Committee.
A number of departments adopted the "senior work for distinction" model, typically involving two semesters of faculty-mentored research that culminates in developing, writing, and defending an honors thesis. This, in turn, often leads to co-authorship with the faculty mentor of a scholarly publication or participation in an end-of-year symposium that showcases the range and results of research conducted by the department's senior majors. Departments were encouraged to add co-curricular elements to the program, such as participation in the intellectual community of the department through attendance at department-sponsored colloquia.
Other departments varied from this model to better suit the unique demands of their disciplines by introducing courses in methodology, offering seminars to bring thesis writers together, requiring graduate-level coursework, or allowing students to work on projects through the summer as fieldwork or study abroad.
Unlike the University Honors College, into which students are accepted at the time of admission to BU, CAS students have until their junior year to achieve a qualifying GPA and decide whether to become candidates for departmental honors. This gives CAS undergraduates two years to explore and test their aspirations and ambitions before committing to intensive, focused study in one discipline—an approach consistent with the liberal arts tradition.
Based on the experience of departments such as Psychology, where the two-semester thesis model has long been effectively promoted and proven popular with students, expectations are high. However, beyond high enrollment numbers, the goal here is to offer every student the opportunity to challenge her/himself through a hands-on learning experience, whether through mentored research, an academic internship, study abroad, apprentice teaching, or some other approach that is self-defined and unique to the student.
In addition to offering all students uniquely rigorous and edifying learning opportunities, the new departmental honors programs also serve as an enrollment incentive for students accepted with merit scholarships looking for academic and intellectual challenges.
Divisional Studies
The CAS College Program requires students to experience a breadth of study across the arts and sciences as essential preparation for advanced study and lifelong learning. Divisional Studies is one way CAS undergraduates fulfill the general education requirement of the College Program, which requires students to take at least two courses in each of the four primary curricular divisions (humanities, computational sciences, natural sciences, and social sciences). (Students who choose to complete the Core Curriculum, a special integrated curriculum and intellectual community for students in their first two years, also fulfill the general education requirement in that way.)
Until recently, only a small subset of courses, all introductory, carried divisional studies credit. During the course of FY 2010/11, the number of Divisional Studies-approved courses was expanded, greatly increasing the range of opportunities for students to fulfill the breadth requirement in general education.
Giving students a broader range of choices to meet the general education requirement is especially well justified if those courses motivate them to explore subjects or pursue personal interests outside their major at a relatively advanced level. The expanded list also should help eliminate the sense of frustration experienced by the College's most intellectually curious and ambitious students who have previously been confined to choosing from the divisional short list.
Beginning in Fall 2011, the new, expanded list of divisional studies courses will allow undergraduate students to choose from more courses to fulfill the general education requirement for breadth of study. The list of newly approved divisional studies courses (as well as revisions to the shorter list of courses with no prerequisites that departments are committed to offering at least annually and that will be specially recommended to incoming first-year students) can be found here.
Coordinated Language Instruction
Because global and international studies are central to the CAS mission, excellence in language and culture studies is critical to the success of that mission. To support this need, CAS pioneered a new position, Assistant Dean and Director of Language Instruction, with responsibility for leading, coordinating, and inspiring excellence in language instruction in the College of Arts & Sciences and beyond. Last fall, Gisela Hoecherl-Alden joined the Dean's Office to fill this role with an academic appointment as Professor of the Practice of German and Foreign Language Instruction in the Department of Modern Languages & Comparative Literature.
As Director of Language Instruction, Hoecherl-Alden has focused on pedagogy and curriculum improvement, professional development of full-time language Lecturers, fundraising to support language initiatives, and integration of curricular and other planning across languages, departments, and schools. In her first year, Hoecherl-Alden focused on creating smaller classes for foreign language instruction.
Improving Retention
At CAS, as at most other colleges and universities, the falloff (dropout) rate typically is highest during the first year—and, in particular, during the first weeks and months.
Although attrition is a perennial fact of life in higher education, CAS has implemented a range of initiatives designed to help its students become fully engaged and thrive during the critical first year. Those initiatives include special attention to the quality of gateway courses that first-year students typically take. To that end, eight CAS departments and programs took advantage of RULE (Redesigning the Undergraduate Learning Experience) grants awarded by the Office of the Provost and the Center for Excellence & Innovation in Teaching to infuse their large introductory lecture courses with compelling new content and approaches, interactive pedagogies, and state-of-the-art classroom formats and technological supports. RULE-sponsored innovations to be launched in AY 2011/12 run the gamut from studio-style discussion sections in math and physics to a team-taught course sequence in Women's, Gender, & Sexuality Studies that introduces key topics and controversies from the combined perspectives of the natural sciences, social sciences, and humanities.
Undergraduate Education also works in a close partnership with Student Academic Life on the common goal of improving retention. Notably in that regard, AY 2010/11 saw the approval of a (one) credit-bearing course, FY 101, as part of the overall First-year Experience (FYE) program. A continuation of the orientation process, FY 101 focuses on the individual student's connection to the College and the University. Through discussions, assignments, class activities, and some large group activities, students will engage with the academic, social, and cultural dimensions of the University while examining their own development as students and individuals and learning about the resources they will need to succeed.
A first, pilot offering of FY 101 is scheduled for Fall 2011; more than 400 "undeclared" students have elected to enroll. (See section)
Intra-University Transfer
CAS continues to lead the way in support of President Brown's initiative to improve ease of student mobility across BU's schools and colleges through intra-university transfer. The goal here is to make it easier for students not just to take courses in other schools and colleges, but if necessary, to change schools, making sure that BU collectively is a place that addresses the needs and ambitions of all of its students, wherever they lead.
The universal minor is another retention-friendly initiative, allowing students to complete a significant portion of work in other schools and colleges without actually changing their majors. As a result, some innovative interdisciplinary minors have been under discussion during AY 2010/11, including one proposed on the theme of sustainability, where the actual composition of the minor is part CAS, part ENG, and part SMG. Another interdisciplinary minor, in entrepreneurship, will be sited in the College of Fine Arts, with which CAS has also partnered in a pioneering a dual admissions program. As of Fall 2010, interested students can apply to pursue the Bachelor of Arts and the Bachelor of Fine Arts simultaneously from the outset of their first year at the University.
The Class of 2014
The cumulative effect of these changes, together with improvements made over the last few years, are reflected in the intelligent and highly motivated students who have chosen to make the College of Art & Sciences their home for the next four years.
This certainly is true of the class that entered in the fall of 2010 (the class of 2014), which was exceptional not just in terms of its academic potential, but also in sheer numbers (the class entering BU in the fall of 2010 exceeded 4,500 students). The College prepared for the larger-than-expected number of entering students by closely examining and readjusting faculty assignments, class scheduling, and a variety of other factors to find ways to make everyone and everything fit. By focusing on known high-demand departments, programs, and courses, the College successfully accommodated the larger-than-expected class, helped in part by additional resources from the University to manage the overage. The class of 2014 will continue to strain resources as it works its way toward graduation, and the College will continued to work with high-demand programs—in particular Chemistry, Mathematics & Statistics, the Writing Program, and foreign languages—to ensure that all students, regardless of overall numbers, receive the full benefits of a CAS education.
Enrollment
| College of Arts & Sciences Enrollment | 2008/09 | 2009/10 | 2010/11 |
| --- | --- | --- | --- |
| Undergraduate | 7,379 | 7,202 | 7,348 |
| Graduate | 1,948 | 1,968 | 1,973 |
| Total Enrollment | 9,327 | 9,170 | 9,321 |
| Size of Incoming Class | 2008 | 2009 | 2010 |
| --- | --- | --- | --- |
| Incoming first-year | 1,953 | 1,813 | 2,029 |
| Incoming transfer | 131 | 118 | 108 |
Entering Class Credentials
Class of 2013
Class of 2014
Credentials
Average
Middle 50%
Average
Middle 50%
SAT Critical Reading
637
590–680
639
600–690
SAT Math
662
620–700
664
620–710
SAT Composite
1300
1230–1370
1303
1230–1370
SAT Writing
652
610–700
652
610–690
ACT Composite
29
27–30
29
27–31
High School Rank in Class
90.0
90.5
High School GPA
3.58
3.59
| | Class of 2013 | Class of 2014 |
| --- | --- | --- |
| Rank in Class | Average | Middle 50% |
| Top 5% | 38.0% | 38.6% |
| Top 10% | 61.3% | 63.3% |
| Top 15% | 78.8% | 80.6% |
| Top 20% | 88.6% | 89.0% |
| Top 25% | 93.7% | 93.2% |
| Top 30% | 95.2% | 95.9% |
| Top 50% | 99.4% | 99.4% |
Perhaps the single most important difference this or any year makes is in the intellectual growth of our students—not just in their academic accomplishments, but also in their engagement with the community and the world. By that measure, the 2010/11 academic year made a big difference to CAS undergraduates, who took advantage of new opportunities to distinguish themselves and their College as reflected in the following examples:
This spring, Boston Mayor

Thomas Menino

visited CAS seniors at Camfield Estates in Roxbury to commend them for their involvement in teaching adult Roxbury residents to speak Spanish. Part of the Department of Romance Studies' "Voces Hispanicas/Hispanic Voices" project, the program brings Spanish language and culture to Roxbury adults and elderly residents who wish to learn a new language. Twenty-five students were enrolled in three different classes, each class taught by a senior teaching fellow. The CAS senior teachers were

Arlene Ovalle-Child

,

Daniela Dorfman

, and

Maria Luisa Martinez

. Certificates of Recognition from Mayor Menino were given to each of the teachers, to Romance Studies Chair

Jim Iffland

, and to Santander-Sovereign for encouraging and supporting the instruction of Spanish in the City of Boston.
CAS undergraduate students were presented a unique educational opportunity through Assistant Professor of English

William Hunting Howell

's new course EN 128: Representing Boston. The first of its kind in the curriculum, the course tackles the literary and cultural geography of Boston. "The course is designed to get students thinking about the city that they live in," Howell says, "not just by reading books about it, or by people who live here, but also by treating the city itself as a kind of text."
Last fall, a group of earth science undergraduates, under the supervision of Associate Professor of Earth Science

Ethan F. Baxter

, assisted high school students in learning modern geoscience procedures. Baxter's "Rocks Beneath Our Toes" (RoBOT) program is a high school outreach sponsored by the National Science Foundation. The 10 students from Acton-Boxborough Regional High School, alongside 12 undergraduate mineralogy students, analyzed the mineralogy and geological past of the rocks beneath their feet. The students used the resources of the Department of Earth Sciences geological analytical facility to examine their many rock and mineral samples.
The Arts & Sciences Undergraduate Program in Neuroscience launched a new high school outreach program this semester made possible by a $1.5 million grant from the Howard Hughes Medical Institute (HHMI) through their Undergraduate Science Education Initiative. The initiative is the brainchild of two undergraduate students,

Matthew Cobb

and

Dana Gannon

, and includes a semester-long course, paid summer lab experience, and visits from area high school science classes.
The College of Arts & Sciences once again provided funding to support the work of outstanding CAS undergraduates to conduct research during the summer through the Undergraduate Research Opportunities Program (UROP). These funds provide stipends that allow students to devote intensive time to their research. CAS faculty members volunteer their time to serve as mentors to these students, and together they constitute a real "honor roll" of dedicated scholar/teachers.
Annual Report 2010/2011
Strengthening the Quality of the Faculty
The strength and reputation of Boston University and CAS as a world-class teaching and research institution rest on the quality of its faculty.
Attracting and Nurturing the Best Students
By maintaining high standards of academic quality and integrity and adhering to the best liberal arts traditions, CAS increasingly is regarded as a prime destination by intelligent and highly motivated students.
Strengthening the Student Experience: Focusing on Student Success
The College of Arts & Sciences works hard to attract great students and is committed to making sure they stay once they get here.
Strengthening Graduate Education
Graduate students in the College of Arts & Sciences learn that a critical component of their education is the need to apply what they learn to the benefit of their communities.
Enhancing The Research Mission In The College Of Arts & Sciences
The research trajectory of the College continued its upward climb this year.
Strengthening Our Connections to the Community and the World
In keeping with the collaborative teaching and research culture that exists across BU, CAS partners in many graduate programs across the University.
Managing Our Financial Resources
The current economic downturn has had a real impact on resource development initiatives at colleges and universities nationwide.
Nurturing Our Connections with Alumni and Friends
Strong, vital connections with alumni are critical to our being able to realize the goals we have indentified in our strategic planning and beyond.
Celebrating the Class of 2011
Seniors and their families, faculty, trustees, and other members of the BU community celebrated the 138th Commencement of Boston University at Nickerson Field on Sunday, May 22.
Appendix