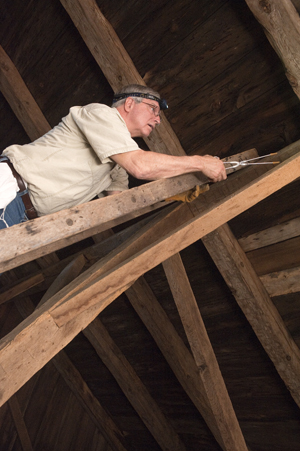 William Fairfield Warren Distinguished Professor,
Thomas Kunz,

traps bats in a Framingham, Mass., barn for his research.
The College and Graduate School of Arts & Sciences maintains that the strength and reputation of Boston University and CAS as a world-class teaching and research institution rest on the quality of its faculty. During the 2010/11 academic year, the College has continued to reassess and improve all aspects of faculty support, from recruitment through all phases of the academic career.
At CAS, outstanding academic credentials are just the start. That the College seeks great scholars is a given; in addition, new CAS faculty members have demonstrated a willingness to look for opportunities beyond their own disciplines and connect with colleagues in other fields and with communities outside academe. These are scholars who take their students to the frontiers of knowledge in their fields, then demonstrate how what is learned in the classroom (or in the field) can make a difference in the world.
Recruiting great new faculty members is an integral part of the College's strategic plan, and this year CAS successfully recruited an exceptional class of new professors across a wide range of disciplines.
Dr. Ran Canetti, recruited this year as Professor of Computer Science, exemplifies what CAS is looking to establish in its future professoriate. A former director of the Check Point Institute for Information Security and a leader in the areas of cryptography and network and system security, Canetti not only brings impeccable academic credentials to CAS; he clearly understands what it takes to develop real-world applications based on cutting-edge theory—an understanding he will share with his students.
Outstanding new faculty members were hired by departments across CAS this year: Assistant Professor of Biology Ian Davison came to Boston from Duke University and will continue his work to develop technological advances that facilitate the study of neural function in animal behavior. Assistant Professor of Chemistry Xin Chen, coming all the way from Harvard University, has joined the Department of Chemistry. His interdisciplinary research is focused on understanding the surface science of biological and nano-engineered materials. Finally, Jared Weinstein, previously of the Institute of Advanced Studies at Princeton, joined the Department of Mathematics & Statistics with a research program in the area of numbers theory.
In the social sciences, new Associate Professor of Psychology Marc Howard is a leader in the emerging, interdisciplinary field of mathematical psychology. Professor Kimberly Arkin has joined the Department of Anthropology, where she will continue her research on the racialization of Jews in France. Assistant Professor of Economics Carola Frydman comes to CAS from MIT Sloan. An economic historian, Frydman's research focuses on the economic history of business organization.
The Department of Economics recruited development expert Kehinde Ajayi as an assistant professor; in International Relations, Assistant Professor Michael Woldemariam, from Princeton, will continue his studies on insurgent groups in Africa. David Glick, also from Princeton, joined the Political Science Department as an assistant professor. Glick's research focuses on judicial politics, with emphasis on the politics of Supreme Court decisions. The Psychology Department recruited Amanda Tarullo, an expert in developmental neuroscience and behavior, where she will be an assistant professor.
In the humanities, William Moore joins BU from the University of North Carolina as a new Associate Professor in American & New England Studies. Professor Moore's groundbreaking research has ranged from the architecture of Masonic temples to studies of the material culture of 20th-century Shakers and American surfing. David Frankfurter joined the Department of Religion in Fall 2010 as the William Goodwin Aurelio Professor of the Appreciation of Scripture. Professor Frankfurter is an award-winning scholar of ancient Mediterranean religions, with specialties in Jewish and Christian apocalyptic literature, magical texts, popular religion, and Egypt in the Roman and late antique periods. Professor Andrea Berlin joined the department of Archaeology from the University of Minnesota in Spring 2011 as holder of the new James R. Wiseman Chair in Classical Archaeology. Her distinguished scholarship has focused on the eras of the later ancient empires: the Achaemenid Persians, Alexander the Great and his Hellenistic successors, and the Romans. Junior faculty were recruited in the fields of Modern Languages & Comparative Literature, Philosophy, and English.
Recruiting great educators is just one part of this story. The College is committed to making sure all of its new faculty members have the support they need to realize their full potential as teachers and researchers. To that end, CAS supports all of its faculty members in every phase of their careers. Thanks in part to programs implemented as part of the College's strategic plan, faculty retention rates are at an all-time high, and CAS faculty members are routinely recognized for their academic excellence.
Xue Han (from left), Colin Fisher, and Johannes Schmieder

are the new Peter Paul Professors.
Recognition of CAS faculty members often begins early in their careers. Each year, Boston University identifies a handful of talented young educators emerging as future leaders within their respective fields through the award of Peter Paul Professorships. This year, one of the three awardees was CAS Assistant Professor of Economics Johannes Schmieder. Schmieder works in two different areas of study: the interaction of labor market practices with macroeconomic factors to generate employment fluctuations, and the relationship between environmental pollution and infant health. The award recognizes the caliber and potential of Schmieder's work and includes a three-year, non-renewable stipend designed to support his research.
The support offered by CAS to faculty members throughout their careers takes many forms. An example of that support is the approval this year of special research accounts for faculty members in the humanities and social sciences. These accounts allocate $2,000 to enable incoming professors in disciplines outside of the natural sciences to cover travel and other expenses related to scholarly and professional advancement.
This kind of innovative support early in the academic career allows CAS faculty members to fully realize their professional, academic aspirations to the benefit of their students and the College. As exemplars of this process, four CAS faculty members this year were recognized for their long and distinguished careers by appointments to distinguished professorships and other honors.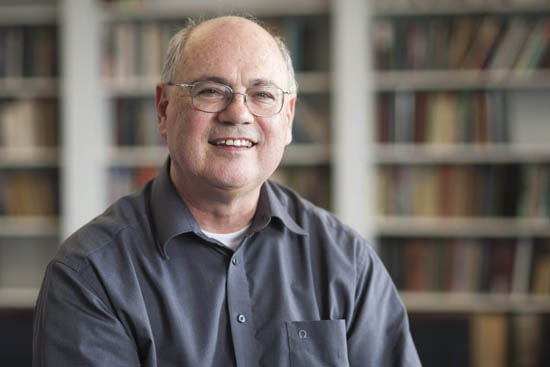 Daniel Dahlstrom,

a College of Arts & Sciences professor of philosophy, says the Silber Professorship "is a welcome demonstration of Boston University's support for philosophy and the humanities."
Professor of Philosophy Daniel Dahlstrom was awarded the John R. Silber Professorship. Dahlstrom accepted this honor as "a welcome demonstration of Boston University's support for philosophy and the humanities." Named for the University's seventh president, the Silber Professorship is designated for a distinguished Boston University senior scholar in CAS, with preference given to a member of the Philosophy Department. Endowed chairs, such as the Silber Professorship, are powerful vehicles for attracting and retaining exceptional professors and for nurturing their work and play a very distinctive role in the humanities, where grant money to support research and scholarship is extremely limited.
This year, two CAS professors, Thomas Kunz and H. Eugene Stanley, were named William Fairfield Warren Distinguished Professors. Established two years ago and named for the University's first president, the professorships are the highest honor bestowed on senior faculty members, who will continue to be involved in research, scholarship, and teaching. Each appointee receives an endowed chair supported by the William Fairfield Warren Fund.
Thomas Kunz

, professor of biology and director of the BU Center for Ecology & Conservation Biology (CECB), was named a Warren Distinguished Professor in recognition of his research and his 40-year career at Boston University. Kunz is known for his lifelong study of bats and invented the field of aeroecology, the study of the web of airborne influences and creatures, from bats and birds to microbes.

H. Eugene Stanley

, professor of physics and director of BU's Center for Polymer Studies, was named a Warren Distinguished Professor in recognition of his eclectic research that includes the study of water's structure, the onset of Alzheimer's disease, and common statistical patterns governing disparate phenomena (such as the distribution of stock price fluctuations and the speeds of air molecules). Stanley, a statistical physicist, is a member of the National Academy of Sciences and has been thesis advisor to almost 100 PhD candidates.
Also this year, Jeffrey Henderson, William Goodwin Aurelio Professor of Greek Language & Literature and director of graduate studies, was elected to the American Academy of Arts & Sciences (AAAS). Henderson is a world-renowned classics scholar and an expert in the work of the Greek classical playwright Aristophanes. The AAAS is an independent policy research center that each year elects men and women who are "thinkers and doers" in their respective fields.
This year, the College also saw the retirement of a number of talented researchers and dedicated teachers. While their day-to-day presence will be missed, their influence continues through the standards they helped establish for outstanding teaching and research.
Professor of Archaeology

Norman Hammond

retired in December 2010. He came to BU in 1988 after teaching at Cambridge University, Bradford University, and Rutgers University. With research interests in the archaeology of the Maya lowlands, comparative archaeology, and the history of archaeology, Professor Hammond regularly taught courses in Mesoamerican archaeology and the intellectual history of archaeology. As Professor Emeritus of Archaeology, he will continue to publish on archaeological discoveries worldwide as archaeology correspondent for the London Times and as Archaeology Editor for the Times Literary Supplement.
Professor of Biology

Gary Jacobson

retired at the end of 2010 after a 31-year career at Boston University. Jacobson's research at BU focused on the mechanisms of sugar transport across bacterial cell membranes and resulted in a number of novel insights and seminal papers in his field. An outstanding teacher and strong proponent of interdisciplinary research and education, he served as the founding director of our graduate program in Molecular Biology, Cell Biology & Biochemistry.
Professor of Astronomy

Kenneth Janes

is best known for his work on "open" star clusters and the structure of our home galaxy, the Milky Way. Among his many scientific achievements are the discovery of a steady change in the metal content of stars as a function of their Galactic location, the surprising fact that the metal content of stars bears no relationship with their age, and the discovery of five new extrasolar planets, the most remarkable of which, XO2, orbits a pair of stars rather than a single star. Janes served with distinction at Boston University for 38 years, the longest tenure of any member of the Astronomy faculty.
Professor of Italian Studies

Laura Raffo

taught advanced courses on Italian language and culture, giving students vital keys to understanding the historical roots and formation of the Italian nation-state in the 19th century. Raffo has been an energetic and inspiring advisor for both her students and her colleagues. As director of the College's Centro Studi in Padua, Italy, in its earliest days, she worked as the department's liaison with the Italian Consul-General in Boston and was instrumental in brokering an accord that allowed the best graduates in Italian Studies to work as apprentice teachers in Italian high schools.
Professor of Philosophy

Alfred Tauber

served as director of the Center for the Philosophy & History of Science until September 2010. A hematologist and biochemist by training, Tauber held a joint appointment in the Boston University School of Medicine. A prodigious researcher with over 125 research papers in immunology, biochemistry, and cell biology, Tauber also authored several widely acclaimed philosophical monographs on topics ranging from biology, medicine, medical ethics, and science to the thought of Henry David Thoreau and Sigmund Freud. In May 2008, he was awarded the Medal for Science, the highest honor awarded by the Institute of Advanced Studies at the University of Bologna, Italy. He continues to hold visiting professorships in Israel.
Professor of Chemistry

Georgia Weinstein

has been instrumental in guiding thousands of sophomore students through the rigors of organic chemistry lab in a tireless fashion. Her deep and caring insight into the functioning of the laboratory and the minds of our students has been invaluable in maintaining a high level of excellence in our organic curriculum. She served at Boston University for 39 years after receiving her doctoral degree in Inorganic Chemistry, with a master's in Nutritional Biochemistry, from MIT in 1972.
The true strength and vitality of the CAS faculty can be seen in what it has accomplished over the course of the year.
Annual Report 2010/2011
Strengthening the Quality of the Faculty
The strength and reputation of Boston University and CAS as a world-class teaching and research institution rest on the quality of its faculty.
Attracting and Nurturing the Best Students
By maintaining high standards of academic quality and integrity and adhering to the best liberal arts traditions, CAS increasingly is regarded as a prime destination by intelligent and highly motivated students.
Strengthening the Student Experience: Focusing on Student Success
The College of Arts & Sciences works hard to attract great students and is committed to making sure they stay once they get here.
Strengthening Graduate Education
Graduate students in the College of Arts & Sciences learn that a critical component of their education is the need to apply what they learn to the benefit of their communities.
Enhancing The Research Mission In The College Of Arts & Sciences
The research trajectory of the College continued its upward climb this year.
Strengthening Our Connections to the Community and the World
In keeping with the collaborative teaching and research culture that exists across BU, CAS partners in many graduate programs across the University.
Managing Our Financial Resources
The current economic downturn has had a real impact on resource development initiatives at colleges and universities nationwide.
Nurturing Our Connections with Alumni and Friends
Strong, vital connections with alumni are critical to our being able to realize the goals we have indentified in our strategic planning and beyond.
Celebrating the Class of 2011
Seniors and their families, faculty, trustees, and other members of the BU community celebrated the 138th Commencement of Boston University at Nickerson Field on Sunday, May 22.
Appendix