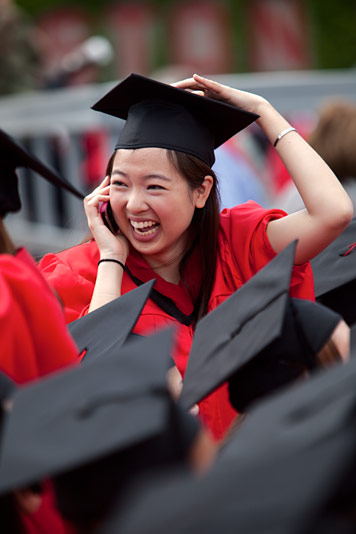 Seniors and their families, faculty, trustees, and other members of the BU community celebrated the 137th Commencement of Boston University at Nickerson Field on Sunday, May 16.
U.S. Attorney General Eric H. Holder, Jr. delivered the Commencement Address. Invoking the memory of Boston University alumnus Martin Luther King, Jr., Holder reminded graduates that although much has improved since King's passing, much work remains to realize his dream. He encouraged the graduates to use their intelligence and skills to make the world a better place for all.
The College and Graduate School of Arts & Sciences conferred 1,892 BA degrees, 390 MA and MFA degrees, and 186 PhD degrees. This year marked the beginning of a new CAS custom of awarding honor cords to graduating seniors. The CAS colors, black and white, were bestowed on students graduating in the top 15 percent of their class (with Latin honors); student leaders who served as CAS Dean's Hosts received gold cords. Also recognized during the ceremony was CAS Associate Professor of Chemistry John Caradonna, one of only two recipients this year of the University-wide Metcalf Award for Excellence in Teaching.
The Class of 2010 had the unique distinction of sharing the day's pomp and circumstance with a cohort a generation removed. Members of the Class of 1970 were invited to take part in this year's Commencement exercises, a privilege denied them 40 years ago because of the turmoil and unrest of that era. CAS Dean Virginia Sapiro acknowledged the cultural and social challenges that faced the Class of '70 in a special Commencement address.
Frank Pobutkiewicz, a dual degree recipient who graduated cum laude in international relations and business administration with a focus on entrepreneurship, delivered an inspirational speech to his fellow 2010 graduates at the CAS Class Day ceremony. Pobutkiewicz recalled in vivid detail how special professors and classroom adventures in CAS got him "hooked" for life on liberal arts.
video
Eric Holder: 2010 Commencement
Serious troubles plague our nation, including an inadequate justice system, Attorney General Eric H. Holder, Jr., who oversees that system, told the audience of graduates and their families and guests at BU's 137th Commencement Sunday. But Holder said the graduates possess the talents to tackle these and other problems.
The Year Ahead
Terrier Nation is full of friendship:
Aaron Held

(CAS'10) (left),

Mineil Abu Speitan

(CAS'11), and

Kelsey Grabner (CAS'12)

.
Despite the challenges and uncertainty that loomed at the start of the fall semester, the College of Arts & Sciences had a remarkably strong year. CAS not only maintained its forward momentum by attracting and retaining outstanding students and recruiting a new class of accomplished educators; the College also undertook a comprehensive exercise of self-examination that resulted in a detailed and rational plan for improvement and growth for all areas vital to the College's success. Having taken stock of where we are and where we need to be to remain vital and relevant means that the College has the information it needs to make sure resources are applied where they are needed, when they are needed. To our alumni and friends who donate generously so that CAS can achieve its full potential, this is our assurance to you that your contributions will be put to the highest and best use in support of our commitment to liberal arts education.
Annual Report 2009/2010
Strengthening the Quality of the Faculty
The strength and reputation of Boston University and CAS as a world-class teaching and research institution rest on the quality of its faculty.
Attracting and Nurturing the Best Students
By maintaining high standards of academic quality and integrity and adhering to the best liberal arts traditions, CAS increasingly is regarded as a prime destination by intelligent and highly motivated students.
Strengthening the Student Experience: Focusing on Student Success
The College of Arts & Sciences works hard to attract great students and is committed to making sure they stay once they get here.
Strengthening Graduate Education
Graduate students in the College of Arts & Sciences learn that a critical component of their education is the need to apply what they learn to the benefit of their communities.
Enhancing The Research Mission In The College Of Arts & Sciences
The research trajectory of the College continued its upward climb this year.
Strengthening Our Connections to the Community and the World
In keeping with the collaborative teaching and research culture that exists across BU, CAS partners in many graduate programs across the University.
Managing Our Financial Resources
The current economic downturn has had a real impact on resource development initiatives at colleges and universities nationwide.
Nurturing Our Connections with Alumni and Friends
Strong, vital connections with alumni are critical to our being able to realize the goals we have indentified in our strategic planning and beyond.
Celebrating the Class of 2010
Seniors and their families, faculty, trustees, and other members of the BU community celebrated the 137th Commencement of Boston University at Nickerson Field on Sunday, May 16.
Appendix