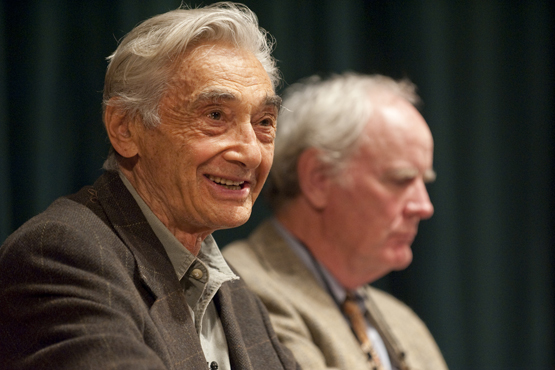 Howard Zinn, with James Carroll, at the Howard Zinn Lecture Series in October 2009.
Strong, vital connections with alumni are critical to our being able to realize the goals we have indentified in our strategic planning and beyond. The relationship we have in mind is a symbiotic one in which we honor the support we receive from our alumni and friends by sharing our resources, providing our alumni with lifelong opportunities for continuing education, development, and community, and ensuring that the Boston University community continues to grow and flourish.
We have recently renewed our efforts to work as an institution to nurture the strong ties with our alumni to enrich their lives and to ensure the health of Boston University. We will maintain these ties by engaging in regular communications through an improved CAS alumni magazine, arts&sciences, as well as through active participation in University-level communications media such as Bostonia, BUniverse, BU Today, and others. We will emphasize the continued growth of lively and interesting programs for enjoyment and continuing education in the Boston area, such as the "Discoveries Lecture Series" and the "Arts, Culture, and Ideas Series." We will find ways to bring alumni back to campus as active participants in the education of future generations through career mentoring programs and similar organizations. We will seek to make the case to our alumni that supporting the future of Boston University and its students and faculty through its research and teaching programs is a worthwhile investment in the future.
Alumni Relations Annual Review
The Arts & Sciences Alumni Relations Office experienced a transitional year that included changing staff, a new office location, and new approaches to engaging and benchmarking our interaction with alumni.
During the year, Alumni Relations staff and volunteers organized 52 programs for CAS alumni, many featuring CAS faculty members' talents. These events engaged over 2,000 unique CAS alumni throughout the year. Highlights include the following events:
Discoveries Lecture Series
This popular series drew audiences of between 55 and 110 guests to each of the following four events:
"Solving the Health Care Reform Puzzle: How to Balance Cost, Access, and Quality," with Arlene Ash (MED), Gary Young (SPH), Stephen Davidson (SMG), and Randall Ellis (Economics)
"Cyber-Terrorism/Warfare: The Emergent Threat," with Azer Bestavros (Computer Science), Leonid Reyzin (Computer Science), Arthur Hulnick (International Relations), Joseph Wippl (International Relations), and Dr. Robert Popp (CAS'92)
"Muddying the Waters: The Blues as Early Music," with Professor of Music Victor Coelho
"Footprints in the Sea: Detecting Human Impacts on Marine Ecosystems," with BUMP faculty members John Finnerty, Wally Fulweiler, Rick Murray, and Les Kaufman
video
Footprints in the Sea: Detecting Human Impacts on Marine Ecosystems
Four Boston University Marine Program (BUMP) faculty speak as part of the College of Arts & Sciences Discoveries Lecture Series.
Arts, Culture, and Ideas Series
The Arts, Culture, and Ideas Series served a much smaller audience, up to 20 at each afternoon event. Events included the following:

"Representing Old Age in Late Elizabethan Literature," with Professor of English Christopher Martin
"Action Fragmented: Silent-Film Techniques and the Music of Puccini," with Professor of Music Deborah Burton
Alumni Weekend 2009
Held in October 2009, this event included classes for alumni on the war in Afghanistan, exploring new languages, Shakespeare in the Arab world, and clean energy. Three departments hosted receptions, and the Arts & Sciences Distinguished Alumni Awards event was reformatted from a dinner into an evening reception before the Zinn Lecture. Honorees included Shoshana Chatfield, CAS'88; Christopher Henes, DGE'70, CAS'73; Larry Nichter, CGS'71, CAS'73, MED'78; and Wayne Positan, CAS'70. The Zinn Lecture attracted a crowd of about 500 guests. The lecture, "The Promise of Change: Vision & Reality in Obama's Presidency," was presented by Howard Zinn, James Carroll, Ellen Goodman, and Mary Gordon. Sadly, this was Zinn's final public lecture.
The success of the Zinn lectures can be attributed directly to the generosity of Alex MacDonald (CAS'72). A trial lawyer who has devoted a large part of his career to fighting drug companies on behalf of people harmed by their unsafe products, MacDonald constantly found himself thinking about Howard Zinn's influence on his life's trajectory. "I kept saying to my wife, 'Someday I'm going to pick up The Boston Globe and it will say that Howard has died, and I won't have taken the time to thank him.'" So MacDonald sent Zinn a letter, and MacDonald and his wife, Maureen Strafford (MED'76), offered to create and endow the annual Howard Zinn Lecture Series at CAS.
Read More
EnCore, the Core Curriculum alumni group, saw improvements last year as well. Under Lauren Hall's direction, EnCore solidified its steering committee, sent an engagement survey to all Core Curriculum alumni, organized five events (each attracting 15 to 50 guests), and established the Boston Book Group.
video
The Promise of Change: Vision and Reality in Obama's Presidency
Howard Zinn, a College of Arts & Sciences professor emeritus of political science, shares the stage with novelist Mary Gordon, author James Carroll, and Boston Globe columnist Ellen Goodman during Alumni Weekend 2009 for a discussion of the Obama administration's policy successes and disappointments thus far.
Annual Report 2009/2010
Strengthening the Quality of the Faculty
The strength and reputation of Boston University and CAS as a world-class teaching and research institution rest on the quality of its faculty.
Attracting and Nurturing the Best Students
By maintaining high standards of academic quality and integrity and adhering to the best liberal arts traditions, CAS increasingly is regarded as a prime destination by intelligent and highly motivated students.
Strengthening the Student Experience: Focusing on Student Success
The College of Arts & Sciences works hard to attract great students and is committed to making sure they stay once they get here.
Strengthening Graduate Education
Graduate students in the College of Arts & Sciences learn that a critical component of their education is the need to apply what they learn to the benefit of their communities.
Enhancing The Research Mission In The College Of Arts & Sciences
The research trajectory of the College continued its upward climb this year.
Strengthening Our Connections to the Community and the World
In keeping with the collaborative teaching and research culture that exists across BU, CAS partners in many graduate programs across the University.
Managing Our Financial Resources
The current economic downturn has had a real impact on resource development initiatives at colleges and universities nationwide.
Nurturing Our Connections with Alumni and Friends
Strong, vital connections with alumni are critical to our being able to realize the goals we have indentified in our strategic planning and beyond.
Celebrating the Class of 2010
Seniors and their families, faculty, trustees, and other members of the BU community celebrated the 137th Commencement of Boston University at Nickerson Field on Sunday, May 16.
Appendix