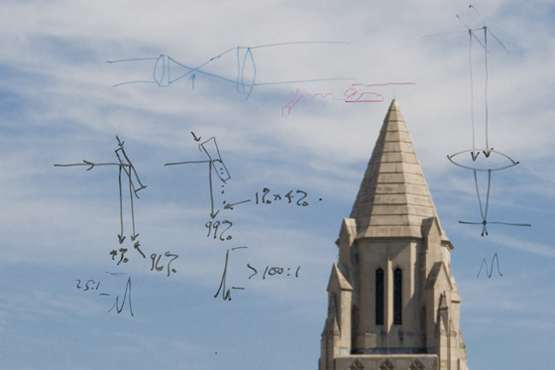 PI in the sky: Scientific writing on a window at Photonics with the College of Arts & Sciences in the background
The research trajectory of the College continued its upward climb this year. CAS faculty members distinguished themselves and the College by the record levels of grant funding, papers published, talks presented, and awards received. The total dollar amount of new grants and contracts generated in fiscal year 2010 was $93,568,843, an increase of $7,891,115 (9.2 percent) over the previous year. Most notable were the Department of Earth Sciences, which increased the total number of awards from 25 to 36 and the Department of Computer Science, which increased total dollars from $1.5 million to $5.3 million.
Applications and Awards for Sponsored Research
Applications
| | '05-06 | '06-07 | '07-08 | '08-09 | '09-10 |
| --- | --- | --- | --- | --- | --- |
| Number | 481 | 510 | 507 | 621 | 578 |
| Amounts | $129.3M | $124.7M | $140.3M | $192.7M | $163.2M |
Awards
| | '05-06 | '06-07 | '07-08 | '08-09 | '09-10 |
| --- | --- | --- | --- | --- | --- |
| Number | 450 | 454 | 455 | 478 | 456 |
| Amounts | $67.6M | $67.2M | $77.5M | $85.7M | $93.6M |
| FTE Faculty* | 555 | 570 | 590 | 595 | 621 |
| Awards/Fac. | 0.811 | 0.796 | 0.771 | 0.803 | 0.734 |
| Amount/Fac. | $121,737 | $117,872 | $131,407 | $143,996 | $150,674 |
*Does not include part-time lecturers
The improvement in the College's—and Boston University's—standing is in part the result of increased expectations on research faculty members to achieve their highest potential. These improvements will continue over the next five years as CAS builds on its reputation for pioneering scholarship, with the goal of moving more graduate programs up in the rankings of quality, prestige, and influence in their fields.
Reinforcing the Research Mission
The tremendous growth of the research mission of Boston University and the College's commitment to enhancing its research profile have placed additional demands on its administrative and leadership capacity. Moreover, the wide range of knowledge transfer activities that constitute a diverse outreach portfolio demands they be assigned to a member of the leadership team. These two areas form the portfolio of the new position of the Associate Dean for Research & Outreach. This office will facilitate cross-college collaborations and coordinate closely with central research administration.
After completing his tenure as the Associate Dean of the Graduate School, J. Scott Whitaker agreed to become the College's inaugural Associate Dean for Research & Outreach. Whitaker is a professor of physics and a member of the faculty team that teaches the Core Curriculum first-semester Natural Sciences I course.
Life Sciences
Allison Condie

and

Varuni Dantanarayana

in Professor

Scott Schaus's

chemistry lab
The life sciences are among the most exciting frontiers of modern research, promising life-changing advances from the study of genetics to bioengineering.
The College of Arts & Sciences' ongoing commitment to support advanced work in this area was rewarded with a $5.9 million National Institutes of Health (NIH) grant to the Chemistry Department to reinforce the life sciences research infrastructure on the Charles River Campus. This NIH facilities renovation award is the first federally funded renovation grant on the Charles River Campus in BU's history.
The one-year effort, started in April 2010, includes renovating space in the Metcalf Science & Engineering Center. Almost 7,000 square feet of office and laboratory space will be reconfigured to create four laboratory modules for state-of-the-art research in synthetic organic chemistry and supporting laboratory space for analytical chemistry.
The flexible laboratory layout will enable technology-facilitated medicinal chemistry. Complementary faculty and meeting space will be developed to fully support real and virtual conferencing that facilitates engagement and collaboration among research scientists on the Charles River and Medical campuses as well as sites outside of BU.
These renovations of four research laboratories will provide the infrastructure for the chemical sciences to realize BU's biomedical research vision and bolster its leadership position in translational science by providing a robust environment for multidisciplinary research efforts bridging chemistry and biology.
The NIH grant is just one example of the impressive research achievements by CAS researchers during the 2009/2010 academic year.
A Commitment to Outstanding Research in the Humanities
College of Arts & Sciences faculty members pursued vigorous research initiatives in the humanities during the 2009/2010 academic year. The BU Humanities Foundation Jeffrey Henderson Research Fellows for 2009/2010 explored a broad range of subjects across a number of disciplines. Below, they describe their research in their own summaries.
Charles Griswold, Professor, Philosophy
Self and Other: Jean-Jacques Rousseau and Adam Smith on Freedom, Authenticity, Sympathy, and Narrative
Few questions have been so persistently raised in the history of Western philosophy as that of the nature of the self. Building on my earlier work, I propose to write a book about Rousseau's dissatisfactions with the fate of the self in modernity, using the work of Adam Smith as a foil and drawing on the resources of contemporary philosophy. I shall focus on four interconnected issues: freedom ("natural" or of self, rather than political); the loss of freedom and the ensuing "theatricality" of self as well as of the social and moral world; "pitié" and sympathy as means of understanding self and other; and narrative as a way of understanding, explaining, and unifying. These themes are central to Rousseau's conception of what it means to be a self. I shall interpret as well as evaluate his position, shedding new light on his and Smith's philosophy, as well as the issues themselves. Relatively few philosophers have recently written about Rousseau; even fewer have examined Rousseau and Smith together. I wish to help fill both gaps, thereby also contributing to our understanding of the modern age as well as of the four issues mentioned.
Dorothy Kelly, Professor, Romance Studies
Living in Death: The Material Past in Balzac, Flaubert, and Baudelaire
In the field of post-Revolutionary French literature, much work has been done on memory, usually understood as regret for a past that can never return. Dorothy Kelly has observed, however, that Balzac, Flaubert, and Baudelaire each use images of the living dead to portray the past as a dead body that continues to act on the present. Through Pierre Bourdieu's ideas of the "present past" and his theories of the reproduction of culture, she will show in her book project that these images of the living dead constitute a different understanding of the past, which runs counter to the prevailing view of memory as regret. This other view brings to light a social force that prohibits change as it reproduces culture automatically and makes the past inescapable.
Christopher Martin, Associate Professor, English
The Figure of Retire: Constituting Old Age in Early Modern English Literature
My study argues that over the last quarter-century of Elizabeth I's reign the experience and imagination of old age undergo an elemental change, as external, socially "constituted" definitions of senescence find themselves challenged by a more individuated sense of a person's "constitution" or physical makeup (a usage that enters the language in the mid-1500s). To contest prevailing critical notions that English elders of the sixteenth and seventeenth centuries were beholden to a public decorum that obliged them to relinquish practical agency, I examine how the period's benchmark literary works—from Edmund Spenser's Shepheardes Calender to Shakespeare's King Lear—portray aged figures who struggle precisely to reclaim this agency, rooted in a private but equally authoritative self-awareness of their own enduring constitutions. In an historical setting that saw both the protracted reign of an aging monarch whose self-image of her vulnerable yet hardy constitution significantly shaped her evolving political establishment, and an emerging prospect of acute generational strife, the resulting conflict uniquely imprints one of the richest periods in English literature.
Nina S. Silber, Professor, History
The Civil War in American Life, 1929-1941
As countless commentators call up images of Abraham Lincoln and the Civil War to discuss and describe the recent election of Barack Obama, we are reminded, again, that a bloody and tumultuous nineteenth-century conflict remains a touchstone in American culture. My research project investigates the way Americans invoked, remembered, and derived meaning from the U.S. Civil War, not in 2008, but during the period of the Great Depression and the New Deal. Although separated from the sectional conflict by 75 years, the period between 1929 and 1941 witnessed an extraordinary amount of reflection on the Civil War and Reconstruction, including a wave of popular literature and film exploring the conflict, commemorations celebrating the 75th anniversary, re-imaginings by writers and politicians of the life and character of Abraham Lincoln, and an extensive public works initiative that recorded the memories of former slaves. In exploring these varied invocations of the Civil War, this project aims to illuminate the way historical memory allowed Americans, north and south, black and white, as groups and as individuals, to shape a narrative of the past that would give meaning to their lives amidst the social upheaval of the present.
Michael Zell, Associate Professor, Art History
For the Love of Art: Gift Giving, Amateurs, and the Poetics of Painting in Seventeenth-Century Dutch Culture
My project seeks to ease the competition between the opposing models of marketplace and patronage currently dominating the study of seventeenth-century Dutch art by proposing alternative paradigms and avenues of investigation. Drawing upon anthropological, economic, and literary models, and focusing on specific artists and artworks, I highlight the reciprocity between patronage and the art market in the Dutch Republic, where artistic innovation and the collecting practices of liefhebbers (artlovers) were mutually reinforcing phenomena. To undertake this multidisciplinary study, I explore forms of exchange of art and representations that materially or metaphorically attempted to resist the operations of monetary transactions or the dependency of conventional patronage relationships. In these conditions, I demonstrate, artworks were conceived to address and nurture idealized experiences of viewing. Through a variety of representational and allusive devices, Rembrandt, Vermeer, and other artists thematized the intimate, noncommercial triangulations they sought to foster between their works, the beholder, and the artist himself.
International Studies
African Studies Center Receives Over $2 Million in Federal Funding
In the course of the 2009/2010 academic year, the U.S. Department of Education (DoE) renewed the African Studies Center's (ASC) Title VI funding to support African language education and area studies with a $1,092,000 Foreign Language and Area Studies (FLAS) grant to provide scholarships for students of African languages, including for the first time three annual fellowships for undergraduates. The ASC was also named a National Resources Center for African Studies, receiving an additional $1,085,244 to support curriculum development, community outreach, and research.
The ASC is one of 12 Title VI African Outreach Centers, which are dedicated to making knowledge about Africa available and accessible to a wide audience. Each outreach center is part of a larger African Studies Center. These centers are designed to increase public knowledge about Africa so that the general community learns and benefits from Africa-related scholarship. To learn more about the Boston University African Studies Center, visit bu.edu/africa.
Annual Report 2009/2010
Strengthening the Quality of the Faculty
The strength and reputation of Boston University and CAS as a world-class teaching and research institution rest on the quality of its faculty.
Attracting and Nurturing the Best Students
By maintaining high standards of academic quality and integrity and adhering to the best liberal arts traditions, CAS increasingly is regarded as a prime destination by intelligent and highly motivated students.
Strengthening the Student Experience: Focusing on Student Success
The College of Arts & Sciences works hard to attract great students and is committed to making sure they stay once they get here.
Strengthening Graduate Education
Graduate students in the College of Arts & Sciences learn that a critical component of their education is the need to apply what they learn to the benefit of their communities.
Enhancing The Research Mission In The College Of Arts & Sciences
The research trajectory of the College continued its upward climb this year.
Strengthening Our Connections to the Community and the World
In keeping with the collaborative teaching and research culture that exists across BU, CAS partners in many graduate programs across the University.
Managing Our Financial Resources
The current economic downturn has had a real impact on resource development initiatives at colleges and universities nationwide.
Nurturing Our Connections with Alumni and Friends
Strong, vital connections with alumni are critical to our being able to realize the goals we have indentified in our strategic planning and beyond.
Celebrating the Class of 2010
Seniors and their families, faculty, trustees, and other members of the BU community celebrated the 137th Commencement of Boston University at Nickerson Field on Sunday, May 16.
Appendix