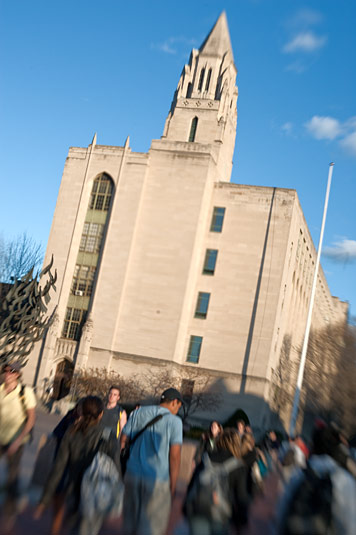 T he Undergraduate Program in Neuroscience completed its first full year of operation, attracting 182 majors by the end of the year. Underscoring its distinction and supporting future excellence, the Howard Hughes Medical Institute awarded the program $1.5 million to increase student access to faculty-mentored laboratory research, develop outreach programs with local urban high schools, establish a postdoctoral faculty fellows program, and design and implement curricular elements aimed at developing core competencies in laboratory techniques in first- and second-year students. This highly innovative interdisciplinary program exemplifies how the College of Arts & Sciences provides students with unique opportunities that challenge their intellectual development while helping them explore possible academic or professional career paths.
The College of Arts & Sciences works hard to attract great students and is committed to making sure they stay once they get here.
Research shows there are many reasons why students leave the university in which they are enrolled, but few CAS students leave because of poor academic standing. Rather, students leave when we fail to engage their interests or address their needs, or when they don't feel connected to the campus culture.
CAS is dedicated to giving its students every possible chance for success, and that effort is reflected in the College's latest retention rate. The first-year to sophomore retention rate for the CAS cohort that entered in the fall of 2009 is 91.8 percent, up from 88.7 percent for the preceding year. The retention rate for the sophomore year (the cohort that entered in the fall of 2008) is 93.8 percent.
Achieving "stickiness"—making sure all students have a reason to stay—is a project for all of BU and CAS. By working closely with our students and recognizing their motivations, interests, and concerns, CAS has steadily improved student retention and is committed to making significant improvement in this area over the next five years.
To ensure that our students feel at home and connected to the BU experience, CAS has expanded the First-Year Experience (see below) and actively works to integrate first-year undergraduates into the BU and Boston communities.
With the addition of the First-Year Experience, more extensive support for student co-curricular and leadership activities, and an increasing volume of legal and administrative demands, the demands of leading student support have outgrown the old structure of the position of Associate Dean for Student Academic Life. Dean Sapiro therefore authorized a national search for a dedicated full-time Associate Dean for Student Academic Life that resulted in the hiring of Dr. Steven Jarvi, an experienced leader in student academic services and support. He succeeds Wayne Snyder, who after years of outstanding service as associate dean has returned to teaching full time as associate professor of computer science.
The First-Year Experience
After an abnormally dry summer, Murphy's law kicked in when the first BU students started moving in for fall semester.
The First-Year Experience (FYE) has made a huge difference in the lives of students new to college life. The program is based on a set of principles—identified by CAS students, faculty, and staff—that frame a comprehensive first-year experience based on four major themes: the academic experience, student academic support, student development, and co-curricular programs and student life.
The First-Year Experience welcomed the Class of 2013 with a variety of social and cultural activities. Just before the start of classes, new students are invited to take part in the Annual Ice Cream Social on Marsh Plaza, where deans, faculty, and staff scoop the ice cream as live music plays in the background. FYE also includes the CAS Café series, which featured a presentation by Shahla Haeri, professor of anthropology, who discussed her experiences and observations in her native Iran. The presentation was followed by a lively question and answer session, Middle Eastern food, and Iranian music. CAS Café, with its small table setting, enticing refreshments, and enjoyable intellectual and social activity, helps integrate new students into the College by helping them get to know and become comfortable with faculty members at an informal setting outside the classroom.
Academic Advising
CAS recognizes the critical need for academic advising and is constantly improving this service to students through such initiatives as the Task Force on Advising, which brought together faculty, staff, and students to analyze students' advising needs and develop a plan to guide future improvements.
Because of this commitment, the Dean Ralph W. Taylor Academic Advising Center's faculty advisors and academic counselors last year were able to help hundreds of students with a wide range of academic-related concerns, from questions about registration to support in dealing with academic difficulties, problems, or concerns.
This level of support extends to pre-professional advising for students who are planning careers in law or medicine (including dentistry, veterinary medicine, or other health-related fields). Last year, the Pre-Professional Advising Office worked with 2,450 pre-med students and 974 pre-law students, offering them help with curriculum planning, professional school admission requirements, internship opportunities, and student networking opportunities.
Meet Our Students
The students profiled below in many ways are representative of the wonderfully diverse CAS student body. Students like these drive the College's overall level of excellence, bringing a wealth of experiences and interests that enrich the BU community. Like most of their peers, these students are taking bold and innovative steps in their scholarship and research, with impressive results.
Xiao Wang immigrated to the United States from China with his parents when he was a young child. He entered the Boston University College of Arts & Sciences in the fall of 2007, enthusiastically embraced the premedical curriculum, and has pursued a major in Biology with a specialization in Neuroscience.
Xiao began to explore his interest in research the summer after his freshman year at the New York State Psychiatric Institute. Upon his return to campus the following fall, Xiao joined the laboratory of Professor of Biology Hengye Man, with whom he continues to investigate the internalization and insertion of AMPA receptors in the plasma membranes of neurons. Xiao's research has evolved into an Independent Work for Distinction, which Xiao will conduct during his senior year.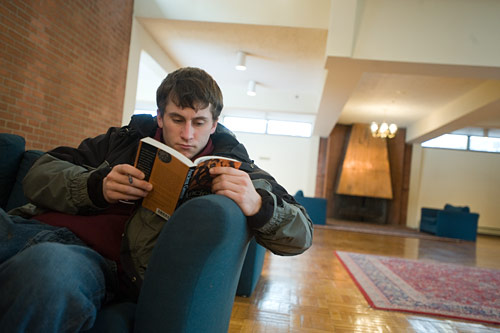 Kevin Ouellette

(CAS '10) studies Greek Civilization
In addition to his academic pursuits, Xiao has gained valuable clinical experience. Xiao achieved his certification as an Emergency Medical Technician when he was in high school and quickly put it to use with the Englewood Volunteer Ambulance Corps in Englewood, New Jersey. In Boston, he has worked as an EMT and an instructor with the Boston University Emergency Medical Services and as an EMT with a private ambulance company. He also volunteers with the Boston Medical Reserve Corps, which responds to mass medical emergencies, and has helped bring much-needed health care to impoverished communities in Nepal as a volunteer with Global Crossroads and in Honduras with Global Medical Brigades. As a result of his involvement with the Boston University chapter of Global Medical Brigades, an organization in which students and health care providers bring medical care to remote regions of Honduras, Xiao became interested in the prevention of illness in these communities. He co-founded a chapter of Global Water Brigades, in which students and professionals travel to Honduras to build systems that will provide clean, potable water to villages.
Azra Borogovac entered the College of Arts & Sciences in the fall of 2006 as the recipient of a Boston Scholars Award, a four-year, full-tuition merit scholarship. Azra quickly established herself as a talented student and completed a challenging and diverse curriculum that included the College Honors Program and majors in Psychology and Biochemistry & Molecular Biology. She further expanded the depth of her curriculum by completing an Independent Work for Distinction, a yearlong research project conducted during her senior year. Azra was recognized for her academic achievements by being named a College Scholar. She graduated summa cum laude with Distinction in Biochemistry & Molecular Biology this past May, accomplishments that placed her in the top 5 percent of her class.
Azra immigrated to the United States with her family as a Bosnian refugee when she was a young child. Azra has been a contributing member of the BU community. She assisted patients and their families as a volunteer in the Pediatrics Department at Boston Medical Center, helped guide freshmen in their acclimation to college as a Freshman Resource Advisor and a member of the Boston Scholars Club, tutored high school students at a Boston charter school, and served in the challenging and demanding role of Resident Assistant. She also co-founded and served as Vice President and President of I-Donate, a student organization dedicated to raising awareness about organ donation.
Azra gained a strong introduction to research as a volunteer in the laboratory of David Farb, professor and chair of the Department of Pharmacology at the Boston University School of Medicine. She continued her research in the laboratory of Charles Cantor, professor of biomedical engineering at the Center for Advanced Biotechnology. There, Azra investigated a technique for visualizing RNA in living cells and conducted her Independent Work for Distinction. She received multiple competitive awards from the Undergraduate Research Opportunities Program (UROP) to help support her research.

Annual Report 2009/2010