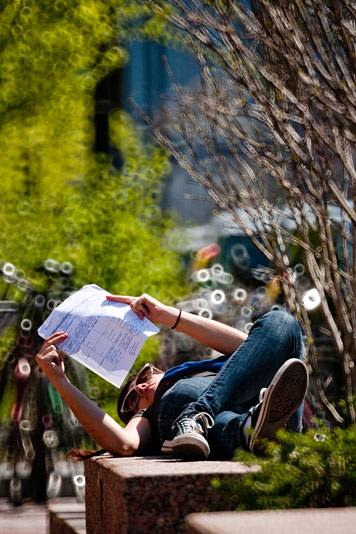 Deirdre Halloran

(CAS '11) studies for a religion exam
By maintaining high standards of academic quality and integrity and adhering to the best liberal arts traditions, CAS increasingly is regarded as a prime destination by intelligent and highly motivated students.
CAS today competes successfully against the nation's top-ranked private and public universities for highly qualified students. CAS recruiters work to attract these students according to traditional measures of academic potential, as well as candidates who exemplify the "whole student" model, with the goal of creating a balanced, vibrant, and diverse student body.
CAS promises prospective students an education that provides breadth of knowledge across disciplines and multiple modes of scholarly inquiry—the very essence of the liberal arts education. Candidates learn that a liberal education serves as the platform on which varied, productive, and creative lives are built.
The effectiveness of this approach is reflected in our latest class of promising and talented first-year students.
College of Arts & Sciences Enrollment (2009/2010)
| | 2009 | 2008 |
| --- | --- | --- |
| Undergraduate | 7,202 | 7,379 |
| Graduate | 1,968 | 1,948 |
| Total Enrollment | 9,170 | 9,327 |
Profile of the CAS Class of 2013
| | 2009 | 2008 |
| --- | --- | --- |
| Incoming first-year | 1,813 | 1,953 |
| Incoming transfer | 118 | 131 |
The Best Programs for the Best Students
Each year, all CAS programs and departments complete a regimen of academic planning self-study to ensure that all courses meet the College's standards for excellence and that teaching responsibilities are distributed fairly among all faculty members. This process informs all academic planning, including designing class schedules and faculty assignments, developing and responding to budget requests, planning for faculty leaves and sabbaticals, and assessing priorities in faculty recruitment.
The self-study process also helps identify new programs and courses needed to meet the demands and expectations of current and prospective students.
New CAS/GRS Academic Programs 2009/2010
The following new degree, minor, and certificate, and College-wide programs received final approval in 2009/2010: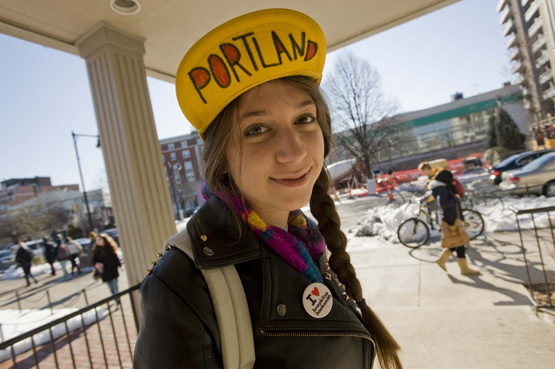 Sophie Hendry

(CAS'13) heads out of linguistics class at the Kenmore Classroom Building.
BA in Linguistics and Philosophy
This new joint cross-disciplinary major provides a formal framework for undergraduate study at the intersection of fundamental issues in the philosophy of mind, language, and logic with theories and empirical findings in the core linguistics areas of syntax, semantics, and pragmatics. While ensuring strong preparation for graduate work in either linguistics or philosophy, the shared curriculum expands students' ways of thinking about language beyond disciplinary boundaries and encourages historical understanding, critical analysis, and integration of complementary approaches to complex questions of language, reference, and meaning. Affiliation through the major with both sponsoring departments extends students' access to a rich co-curricular context of interdisciplinary research, cognate centers, Boston-Cambridge-area lecture series, and active student organizations.
BA in Neuroscience/MA in Cognitive & Neural Systems
(dual degree program)
This combined BA/MA degree provides a formal early admissions pathway from the interdisciplinary undergraduate Neuroscience major to a master's degree offering advanced training and research focus on the neural and computational principles, mechanisms, and architectures that underlie human and animal behavior and on the application of neural network architectures to the solution of technological problems. The undergraduate neuroscience program having been designed to ensure core knowledge in each of three primary approaches—cellular & systems, cognitive, and computational—the BA/MA with CNS appeals especially to students with strong quantitative skills who at any point from high school forward develop a particular interest in the computational approach.
MA in Latin American Studies
Latin American Studies is a vibrant and expanding field that brings a wide range of social sciences and humanities disciplines to bear on a historically and culturally rich, strategically important, complex, and rapidly evolving region, as well as on such key issues as poverty and development, politics and civil society, indigenous resurgence, and artistic expression. The MA in Latin American Studies, drawing on faculty from nine CAS/GRS departments and building on a longstanding BA, thus provides a multidisciplinary context for pursuit of graduate-level regional expertise, including the attainment of advanced linguistic proficiency in Spanish and/or Portuguese. A distinctive feature of the MA is its requirement that students complete a combined academic/internship semester in a Latin American country. The MA is designed to prepare graduates equally well for further study or for professional careers, including in government, NGOs, and international business. It will be of particular interest and benefit not only to recent (U.S. and Latin American) college graduates and returning Peace Corps volunteers, but also to mid-career professionals seeking greater regional knowledge to accelerate or redirect their careers.
video
BU Abroad: Peru's Culture Comes Alive
A look at the study abroad experience in Peru, which takes students from Lima to Ayacucho to Machu Picchu.
Minor in Arabic
The establishment of this new undergraduate minor responds to a sharp increase in overall Arabic enrollments in CAS (68 percent between 2005/06 and 2008/09), consistent with nationwide emphasis on the urgency of Arabic language study for purposes running the gamut from intelligence and diplomacy to business, engineering, and international development, to academic scholarship across the disciplines. The minor's six-course curriculum leads to advanced proficiency in Modern Standard Arabic and includes literature as a vital entry point for understanding Arabic culture. Students interested in using their Arabic to interact with Syrian, Lebanese, Palestinian, or Jordanian communities or their U.S. diaspora may substitute a course in Levantine Arabic. Alternatively, students minoring in Arabic may take advantage of CAS offerings in Hebrew, Persian, Turkish, Swahili, Wolof, French, or Spanish to begin a second language of direct linguistic or cultural relevance to the Arab world. All minors are encouraged to incorporate a semester or summer's study of Arabic language and culture under the auspices of BU's international program in Rabat, Morocco. Here on the Charles River Campus, Fulbright Language Teaching Assistants from Arabic-speaking countries contribute to a lively co-curricular scene, including tutoring, weekly conversation hours, an Arabic Club, and an Arabic Movie Club.
Graduate Certificate in Terrestrial Biogeosciences
(sponsored by departments of Biology, Earth Sciences, and Geography & Environment)
The Certificate in Terrestrial Biogeosciences (TBG) is designed to promote and formalize multidisciplinary doctoral education at the cutting edge of global change science, one of the most rapidly expanding fields in the natural sciences. It brings together qualified PhD candidates in Biology, Earth Sciences, and Geography & Environment to focus on concepts and methods that are central to the study of biophysical interactions and biogeochemical processes at the land-ocean and land-atmosphere interfaces. That focus is achieved through 16 credits of common TBG coursework and joint supervision of certificate students' dissertation research by faculty from at least two of the participating departments. Terrestrial biogeosciences is identified as an area where BU's distinctive breadth and depth of faculty expertise, ranging from ecosystem biology to hydrology to remote sensing, can be leveraged to attract elite graduate students, create a national-scale niche, and take advantage of current and upcoming research funding opportunities, including training grants, offered by NSF, NASA, NOAA (National Oceanographic and Atmospheric Administration), and NEON (National Ecological Observatory Network).
Graduate Certificate in Asian Studies
Widespread enthusiasm for the establishment of this certificate program mirrors the achievements of its administrative home, the recently chartered Boston University Center for the Study of Asia (BUSCA), in engaging and mobilizing BU's considerable faculty and curricular resources in Asian Studies to collective scholarly purpose and the benefit of students. The certificate will be awarded, at the completion of their primary master's or doctoral degree program, to any (GRS or other) BU graduate students who successfully complete all certificate requirements: four pre-approved Asia-focus graduate courses, chosen from at least two departments or schools; demonstration of proficiency in an Asian language; and a significant piece of Asia-related research or creative work. Courses on the initial pre-approved list are offered not only across the humanities and social science departments of Arts & Sciences, but also in CFA, GMS, MET, and STH; additional theme-based or comparative offerings with a significant Asia component (e.g., in LAW, SED, and SPH) may be approved by the Director where particularly relevant to an individual student's program of study. This certificate program will help attract prospective Asianists to departmentally sponsored graduate programs, while at the same strengthening the Center's case for U.S. Department of Education grants, in particular to fund graduate students' acquisition of the Asian languages they need to conduct their dissertation research.
College-wide Framework for Departmental Honors Programs
This new curricular and administrative framework, which includes the establishment of a standing College Honors Committee of faculty, students, and academic staff, has been designed to diversify and strengthen existing pathways for undergraduates to earn the BA "with honors" in their major or minor area of study. During academic year 2010/2011, each undergraduate department and program within CAS will use a common set of guidelines to design an honors track, in some cases a variation on the previous "Senior Work for Distinction" option, that reflects field-specific learning goals and measures of outstanding academic achievement. Through some combination of honors seminars, graduate coursework, faculty-mentored research (here and/or off-site), and co-curricular enhancements such as colloquia and lecture series, those continuing students who are admitted to departmental honors programs will be challenged individually and as a cohort in the depth component of their College program for the liberal arts and sciences. Alongside such other special opportunities as our 4+1 bachelor's/master's programs and dual undergraduate degrees with other BU schools and colleges, these honors pathways will also present prospective and first-year CAS students with a growing roster of concrete and distinctive ways of aspiring to take full advantage of admission to Boston University. In particular, they will provide an attractive, ongoing alternative to University Honors College for highly capable and motivated students who do not apply for or gain admission to that four-year program as incoming freshmen.
The following new degree program will be reviewed for final University approval in Fall 2010.
BA in Architectural Studies
The proposed new BA in Architectural Studies, now undergoing final University review, provides students with a broad understanding of architecture, emphasizing skills and knowledge that are fundamental to thinking and writing about buildings and spaces, as well as to careers and graduate study in architecture, landscape architecture, and urban planning. The curriculum spans architectural history, theory, and technology, in addition to requiring studio art courses in the CFA School of Visual Art. Responsive to strong interest on the part of students who until now have been obliged to pursue architectural studies as an independent major, the proposed new degree also results from the priority placed in recent faculty recruitment on developing architectural history as a research and teaching strength across Western and non-Western art. In further testimony to that development, the CAS Department of Art History has been officially renamed the Department of History of Art & Architecture, and its existing degree programs in Art History have also been renamed: BA, MA, and PhD in History of Art & Architecture.
Improving Graduate Recruitment
Boston University's Graduate School of Arts & Sciences (GRS) awards degrees through 50 professional MA and MFA programs and 30 PhD and MA/PhD programs in the natural sciences, social sciences, and humanities.
This past year, the student population of the Graduate School included 486 professional master's degree students, 1,425 MA/PhD and PhD students, and 110 students in BA/MA, dual degree, or non-degree programs. The Graduate School will focus on programs with the best potential to achieve national and international recognition among their peers as "top 25" programs, while at the same time maintaining the qualities that support excellence in undergraduate education. GRS also will introduce data systems that can be used for individual and comparative program analysis and eventually will allow tracking such outcomes as placement and alumni careers.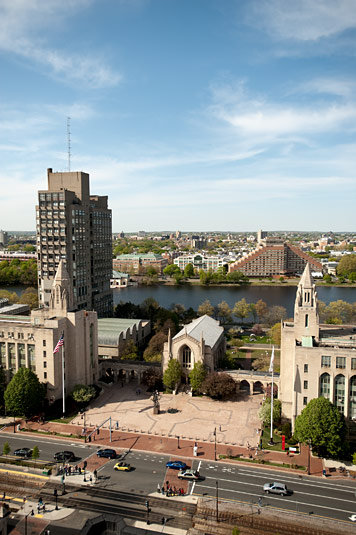 For the 2009/2010 academic year, the Graduate School received 4,334 applications for doctoral programs (post-BA and post-MA), producing 640 (15 percent) admits and yielding 243 acceptances (38 percent yield from admitted students; 6 percent yield overall). Total yield for PhD programs would be greater if additional financial aid were available to candidates.
Total GRS enrollment as of spring 2010 was 1,878, of which 537 (35 percent) were international students.
For the coming year, President Brown has identified research and graduate studies as strategically important to the future success of the University, which therefore puts these areas in the spotlight for development and improvement. CAS anticipated this new focus by reconfiguring the Graduate School and by creating the Research & Outreach Office.
By redefining the position of the Associate Dean of the Graduate School, GRS will receive the dedicated administrative focus it needs to compete in the current, highly competitive graduate education marketplace. Among the many challenges facing GRS, highest priority will be given to increasing financial support for graduate education and redefining operational standards for the Graduate School to increase the overall quality of the graduate education experience and reduce attrition and time to degree.
Annual Report 2009/2010
Strengthening the Quality of the Faculty
The strength and reputation of Boston University and CAS as a world-class teaching and research institution rest on the quality of its faculty.
Attracting and Nurturing the Best Students
By maintaining high standards of academic quality and integrity and adhering to the best liberal arts traditions, CAS increasingly is regarded as a prime destination by intelligent and highly motivated students.
Strengthening the Student Experience: Focusing on Student Success
The College of Arts & Sciences works hard to attract great students and is committed to making sure they stay once they get here.
Strengthening Graduate Education
Graduate students in the College of Arts & Sciences learn that a critical component of their education is the need to apply what they learn to the benefit of their communities.
Enhancing The Research Mission In The College Of Arts & Sciences
The research trajectory of the College continued its upward climb this year.
Strengthening Our Connections to the Community and the World
In keeping with the collaborative teaching and research culture that exists across BU, CAS partners in many graduate programs across the University.
Managing Our Financial Resources
The current economic downturn has had a real impact on resource development initiatives at colleges and universities nationwide.
Nurturing Our Connections with Alumni and Friends
Strong, vital connections with alumni are critical to our being able to realize the goals we have indentified in our strategic planning and beyond.
Celebrating the Class of 2010
Seniors and their families, faculty, trustees, and other members of the BU community celebrated the 137th Commencement of Boston University at Nickerson Field on Sunday, May 16.
Appendix