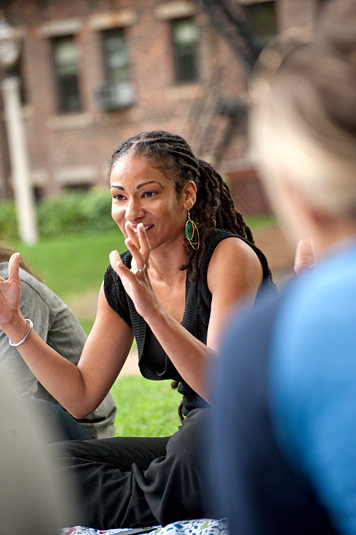 Ruha Benjamin

, Assistant Professor of Sociology
The strength and reputation of Boston University and CAS as a world-class teaching and research institution rest on the quality of its faculty. Among the College's highest priorities are to recruit, retain, and nurture the careers of the best teachers and researchers.
New Faculty
The College has leveraged Boston University's relative fiscal strength during the economic downturn to recruit 27 outstanding new tenured and tenure-track faculty in 18 departments.
Although at various stages in their academic careers, these new faculty members have demonstrated their intelligence, creativity, and productivity as scholars. The new faculty members profiled below are representative of the College's latest class of educators.
Andrea Berlin, James R. Wiseman Professor of Archaeology. Berlin is an archaeologist specializing in the Near East in the millennium between the Achaemenid Persian Empire and the Moslem conquests (c. 500 BCE–640 CE). She currently co-directs the excavations at Tel Kedesh, in Israel's upper Galilee, and consults on projects in Cyprus and Turkey. She is especially interested in the nitty-gritty of daily life, focusing on pottery, and has received numerous fellowships, including a Fulbright-Hays fellowship to Greece and a Samuel H. Kress fellowship to the Albright Institute of Archaeological Research in Jerusalem. Recent books include Gamla I: The Pottery of the Second Temple Period (Jerusalem, 2006) and The First Jewish Revolt: Archaeology, History, and Ideology (Routledge, 2002). She has a PhD in art and archaeology from the University of Michigan.
Edward Cunningham, assistant professor of geography & environment. Cunningham earned his PhD in political science from MIT and was a research fellow at the MIT Industrial Performance Center and at Harvard's Asia Pacific Policy Program. As a Fulbright fellow, he was a visiting scholar at Tsinghua University's School of Public Policy and Management studying China's energy challenge. Cunningham majored in Chinese at Georgetown University and earned a master's degree in East Asian studies from Harvard. He wrote a chapter for the first Let's Go travel book for China and has worked in Beijing for The Economist. He is fluent in Mandarin.
Wiebke Denecke, assistant professor of modern languages & comparative literature. Denecke comes to CAS from Barnard College, where she was assistant professor of Asian and Middle Eastern cultures. Denecke's scholarly interests center on the thought and literature of pre-modern China and Japan, on comparative studies of the ancient world, and more broadly on world literature. Her book The Dynamics of Masters Literature: Early Chinese Thought from Confucius to Han Feizi (Harvard University Press, fall 2010) recaptures the development of early Chinese philosophy as a history of the traditional genre of "Masters Literature" (zishu). Her current work includes a comparative project that examines how writers of younger cultures are affected by the presence of an older "reference culture." Professor Denecke is co-editor of the third edition of the Norton Anthology of World Literature (in preparation). She has BA and MA degrees from George August University, Göttingen, Germany, and a PhD degree from Harvard University.
Ruha Benjamin, assistant professor of sociology. Benjamin's innovative dissertation, "Culturing Consent: Science and Democracy in the Stem Cell State," analyzed the California stem cell initiative as a social and cultural stage on which actors vie for symbolic and material resources to define the credible parameters of public participation. This study became the foundation of her postdoctoral work, an ethnographic account of the potentials and pitfalls of having state institutions mediate the socio-ethical issues raised by biotechnologies. Benjamin's other research includes an investigation of the role of DNA in police work and a comparative study of genomics initiatives that are being used to address health disparities in India, Mexico, and South Africa. Benjamin received her PhD and MA degrees in sociology from the University of California, Berkeley, and a BA degree from Spelman College.
Pankaj Mehta, assistant professor of physics. In terms of his research profile, Mehta is extremely well trained and versatile, having made important contributions to strongly correlated electron physics and to systems biology. His doctoral research at Rutgers University on calculating the properties of out-of-equilibrium quantum impurities was characterized as "solving an outstanding problem" by a faculty member at Rutgers who was not his thesis advisor. With his classical training in theoretical physics, Mehta will be able to respond quickly to rapid and unexpected developments in his discipline, a feature that typifies the progress of research in the burgeoning area of biological physics. Mehta's current research is focused on applying information-theoretic ideas to understand signal processing in cells. The ultimate goal of this effort is to understand the phenomenon of quorum sensing, in which a population of cells develops collective responses to external stimuli whose efficacy far outstrips the possible responses of single cells in isolation in the same environment. A noteworthy feature of Mehta's current research is that he has already won a prestigious NIH K25 Fellowship, an award that augurs well for his future academic success in raising extramural funding and for his research program in general.
Last year's (2009/10) class of new faculty members already have established themselves within the BU community through their teaching and other professional and personal contributions. Many of them have already attracted important new research funding to CAS and have won reputations as popular teachers.
Supporting Faculty Excellence in the Early Career
Achieving faculty excellence requires investing substantially in the careers of faculty members from the very start. This investment involves not just tangible resources such as salary support, facilities, help with research, and other professional development needs; we must also make sure we have in place the policies, practices, and administrative infrastructure to allow faculty members to perform and achieve to their full potential. This year, CAS made significant progress toward meeting those needs.
CAS now assigns every new assistant professor a senior professor mentor as part of an initiative to provide a solid first-year experience for new faculty members. This past year, CAS also launched a peer-guided orientation program for new faculty members. The program included a half-day session at the start of the year during which new assistant professors met in small groups to share their experiences with the Dean and with colleagues who just completed their first or second year of service at BU. The new faculty members also met with seasoned professors who shared their perspectives on how to successfully manage careers in higher education.
New faculty orientation concluded with a breakfast session at the end of the first year, giving the new professors an opportunity to talk candidly with their peers across disciplines and with the Dean and other representatives from the senior College leadership about the challenges and opportunities they encountered during their first year. The Dean has invited any feedback that will help improve the early-career experience for faculty at BU, and the response to date to these new initiatives has been overwhelmingly positive.
Mentoring and assessment go hand-in-hand. The College introduced a new mid-tenure review process this year, rescheduling the process to occur earlier than before, allowing more time for mid-course adjustment. The new CAS mid-tenure review is more intensive and detailed to help junior faculty become better at professional self-assessment and to give them more precise feedback from senior faculty to help them improve their career strategies on their way to tenure.
Faculty Promotions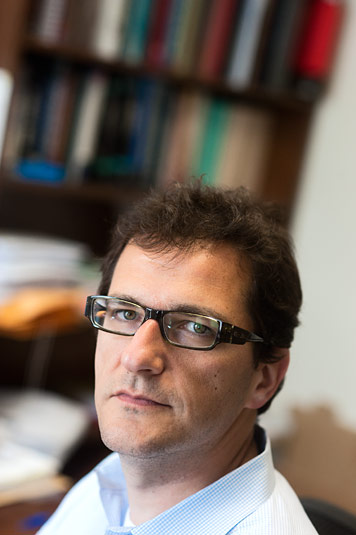 Daniele Paserman

, associate professor of economics
With excellence in hiring, mentoring, and developmental assessment, it is not surprising that the majority of faculty members who go through the tenure process are successful. During 2009/10, the following individuals were tenured and promoted to the rank of associate professor:
Richard Averitt

, Physics

Robert Chodat

, English

Sergio Fagherazzi

, Earth Sciences

Ivan Fernandez-Val

, Economics

Eugenio Menegon

, History

Erin Murphy

, English

Henrik Selin

, International Relations

Sunil Sharma

, Modern Languages & Comparative Literature

Alice Tseng

, Art History

Zsuzsanna VÁrhelyi

, Classical Studies
Also last year, Daniele Paserman, associate professor of economics, was granted tenure.
The following six associate professors were promoted to full professor:
Paul Blanchard

, Mathematics & Statistics

William Grimes

, International Relations

David Marchant

, Earth Sciences

Parker Shipton

, Anthropology

Michael Sorenson

, Biology

Michael Zank

, Religion
Supporting Our Faculty Members Across Their Careers
Endowed Professorships
Endowed professorships are among the highest honors BU and CAS can bestow on faculty members. These positions are offered in recognition of outstanding academic and professional service and can be instrumental in recruiting or retaining prominent scholars with the potential to enhance the reputations of their departments, the College, and the University.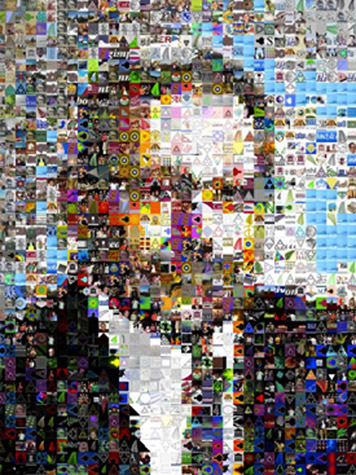 Robert Devaney

, professor of mathematics
The Warren Professorships
Named after the University's first president, the Warren Professorships were established in 2008 on the recommendation of the Faculty Council to recognize the University's most distinguished faculty. According to BU President Robert Brown, the award is the highest honor bestowed upon senior faculty members involved in research, scholarship, and teaching, as well as the University's civic life. To date, the following three CAS faculty members have been named Warren professors:
Nancy Koppel

, William Goodwin Aurelio Professor of Mathematics and Science in the College of Arts & Sciences, is cofounder and codirector of the Center for Biodynamics at the College of Engineering. She earned an AB from Cornell University and an MA and a PhD from the University of California at Berkeley, where she focused on dynamical systems. She joined the BU faculty in 1986 and has applied her knowledge of nonlinear dynamics to fundamental problems in biology, chemistry, and neuroscience. Based on her pioneering work, mathematical biology has developed into a fertile and well-recognized field of research.

Larry Kotlikoff

, professor of economics in the College of Arts & Sciences, is a research associate of the National Bureau of Economic Research, a fellow of the American Academy of Arts & Sciences, and a fellow of the Econometric Society. He earned a BA in economics from the University of Pennsylvania in 1973 and a PhD in economics from Harvard University in 1977. From 1977 to 1983 he was on the economics faculties of the University of California, Los Angeles, and Yale University. He was a senior economist with the President's Council of Economic Advisers from 1981 to 1982. He has been a consultant to numerous corporations and government authorities around the world, including the International Monetary Fund, the World Bank, and the Commonwealth of Massachusetts.

James Winn

, professor of English, is director of BU's Humanities Foundation and a former chair of the CAS English Department. His scholarly work has focused on the literature of England in the Restoration and the early 18th century. Before joining BU, Winn taught at Yale University and the University of Michigan, where he was founding director of the Institute for the Humanities. A prolific author, Winn is best known for his biography of John Dryden, John Dryden and His World, which won the British Humanities Council Prize and the Yale University Press Board of Governors' Award. His most recent book is The Poetry of War.
Feld Family Professorship
Kenneth Feld (SMG'70), Bonnie Feld (CAS'73), and their daughters Nicole and Alana (COM'02) designated $7.5 million from their family foundation to establish three endowed professorships, one in each school attended by a Feld family member: the Feld Family Professorship of Teaching Excellence in the College of Arts & Sciences; the Feld Family Professorship of Marketing in the School of Management; and the Feld Family Professorship of New Media in the College of Communication.
Earlier this year, Robert Devaney, professor of mathematics, was awarded the first Feld Family Professorship of Teaching Excellence at the College of Arts & Sciences for his outstanding accomplishments in teaching, mentoring, and scholarship. Known for his scholarship in the fields of chaos, fractals, and dynamical systems, Devaney has directed the National Science Foundation's (NSF) Dynamical Systems and Technology Project since 1989, which helps high school and college educators use technology to more effectively teach modern mathematics. He has written, cowritten, edited, or delivered more than 100 papers, 13 books, and 1,400-plus lectures. Before coming to Boston University in 1980, Devaney taught at Northwestern University, Tufts University, and the University of Maryland. He earned bachelor's and master's degrees from The College of the Holy Cross and a PhD from the University of California at Berkeley.
Endowed Chairs
This past year, the College of Arts & Sciences appointed two distinguished scholars to endowed chairs in the Departments of Religion and Philosophy.
As the new William Goodwin Aurelio Professor of the Appreciation of Scripture at the College of Arts & Sciences, David Frankfurter is less interested in grand theological ideas than in the way religion is popularly practiced. Frankfurter studies rituals, belief in magic (asking saints' intercessions for earthly goals, for example), "religious kitsch" (such as action figures), and, more somberly, the link between religion and violence. His book Evil Incarnate: Rumors of Demonic Conspiracy and Satanic Abuse in History (Princeton University Press, 2006) won an American Academy of Religion Award for Excellence in the Study of Religion. Frankfurter comes to Boston University as a visiting professor from the University of New Hampshire. He has degrees from Wesleyan, Harvard Divinity School, and Princeton. (Professor Paula Fredriksen is beginning a three-year leave of absence after relinquishing the Aurelio Chair after 20 years to David Frankfurter.)
Charles L. Griswold was named Borden Parker Bowne Professor of Philosophy. Before coming to Boston University in 1991, Griswold taught at Howard University, where he served for several years as acting chair of the Philosophy Department. He has held visiting appointments at the Université de Paris, Yale University, and Georgetown University. He serves on the Editorial Advisory Boards of Ancient Philosophy, Theoria, and the International Journal of the Classical Tradition and was a member of the Advisory Council of BU's Institute on Race & Social Division until the Institute closed in 2004. In 1995, he won the Outstanding Teaching Award from the Honors Program of the College of Arts & Sciences. The chair is named in honor of Borden Parker Bowne, the first dean of the Graduate School and the founder of the Philosophy Department.
The Challenge of Retention
Nothing more strongly exemplifies the need for supporting faculty than the fact that other universities seek to hire our faculty away. During the past academic year, the College successfully deflected 15 out of 19 attempts by competing institutions to recruit CAS faculty members. (Of the 19 attempts, 11 were in Natural Sciences, four were in Social Sciences, and four in Humanities.) The average salary increase for the successful retentions was 23%, and the average increase in professional support was $109,000.
CAS successfully fended off recruitment attempts from such institutions as Harvard, USC, Northeastern, Michigan, Georgetown, Arizona, CCNY, Maryland, and UNC-Chapel Hill, as well as offers from private industry.
Honoring Outstanding Careers in Education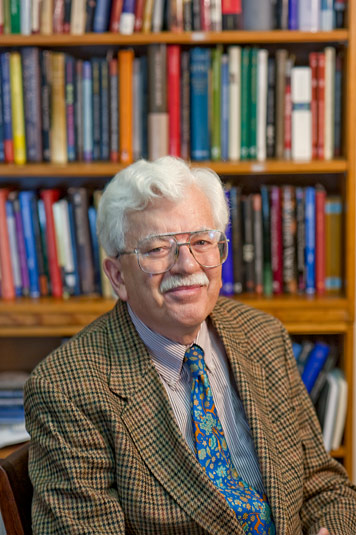 professor of english, emeritus,
David Wagenknecht
Each year, a number of faculty members retire from the University after years of dedicated service to their students and their disciplines. Among that number are a special few who, because of their exceptional scholarship and pedagogic excellence, the University recognizes with the distinction and privileges of professor emeritus. This title, bestowed by the University on candidates recommended by a vote of the faculty, is a demonstration of the respect for colleagues who exemplify the values of the academic profession.
This year, the University honors the following CAS faculty members with the title emeritus professor:
Anthony Barrand

, professor of anthropology and University Professor, emeritus

Uri Ra'anan

, professor of international relations and University Professor, emeritus

David Wagenknecht

, professor of English, emeritus

Betty Zisk

, professor of political science, emerita
Supporting Faculty Excellence: Lecturers
Some of our very important teaching faculty members are not tenure-track professors but instead are faculty lecturers. These professionals are hired specifically because of their skill at teaching, and they play critical roles in undergraduate education in some fields, especially in the Writing Program, the Core Curriculum, foreign languages, and mathematics. The corps of full-time lecturers in CAS plays a critical role in maintaining the quality of our undergraduate education.
During 2009/10, the College initiated policies to significantly enhance support for its lecturers. CAS introduced a new career-track process for lecturers that provides opportunities to advance from the rank of lecturer to senior lecturer to senior lecturer/master level. Promotion includes a title change, a salary increase, and the ability to serve as a principal investigator for purposes of seeking extramural funding. This year, the College promoted or appointed the following individuals to the rank of senior lecturer: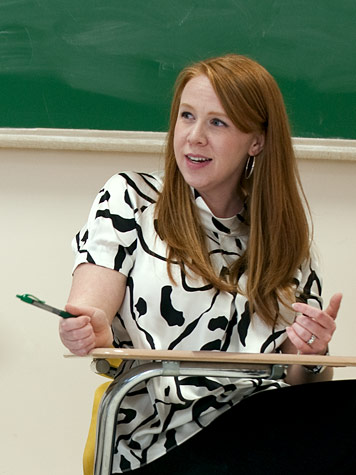 senior lecturer,
Allison Adair
Allison Adair

, Writing Program

Beate Alhadeff

, Modern Languages & Comparative Literature

Michael Degener

, Writing Program

Martin Fido

, Writing Program

David Green

, Core Curriculum/Writing Program

Susan Griffin

, Romance Studies

Paula Hennessey

, Romance Studies

Mariko Henstock

, Modern Languages & Comparative Literature

Christina Luke

, Writing Program

Underwood Thomas

, Writing Program

Claretta Tonetti

, Romance Studies

Xiaoyang Zhou

, Modern Languages & Comparative Literature
In addition, a new CAS policy recognizes length of service. In the past, lecturers who served for five years received an added $1,000 salary increase. Beginning in 2009/10, lecturers also will receive career service salary increases for every 10 years of service up to 30 years. The career service salary increase was awarded retroactively to lecturers based on their previous service.
New Dean's Office Structure
Another significant development in support of CAS faculty is this summer's restructuring of the Dean's Office to provide faculty members with comprehensive administrative support.
Faculty Actions
The Faculty Actions Office, responsible for the entire faculty career life cycle—including recruitment, professional development, and promotion and tenure—has been completely reconfigured. The position of Associate Dean of Faculty Actions has been reassigned to three Associate Deans of the Faculty (ADF), each holding a divisional responsibility for, respectively, the humanities, natural sciences, and social sciences. This new structure allows for more coherent and comprehensive approaches to supporting CAS faculty, ensuring deeper and more responsive support from the Dean's Office for all faculty-related matters.
The new Associate Deans of the Faculty are as follows:
Patricia Johnson

, Humanities. Johnson has been a member of the Classical Studies faculty since 1996, where she has served as DUS, DGS, Associate Chair, and coordinator of the annual Boston Area Roman Studies Conference.

Geoffrey Cooper

, Natural Sciences. Cooper has stepped back from his long service as chair of the Department of Biology to take up this position. As a professor of biology, his research centers on the molecular mechanisms that control the growth and survival of human cells and how abnormalities of these processes lead to the development of cancer.

Strom Thacker

, Social Sciences. Thacker is a professor of international relations and has served as director of the Latin American Studies Program. His research focuses on political economy, governance, human development, and the politics of trade and international financial flows.
Annual Report 2009/2010
Strengthening the Quality of the Faculty
The strength and reputation of Boston University and CAS as a world-class teaching and research institution rest on the quality of its faculty.
Attracting and Nurturing the Best Students
By maintaining high standards of academic quality and integrity and adhering to the best liberal arts traditions, CAS increasingly is regarded as a prime destination by intelligent and highly motivated students.
Strengthening the Student Experience: Focusing on Student Success
The College of Arts & Sciences works hard to attract great students and is committed to making sure they stay once they get here.
Strengthening Graduate Education
Graduate students in the College of Arts & Sciences learn that a critical component of their education is the need to apply what they learn to the benefit of their communities.
Enhancing The Research Mission In The College Of Arts & Sciences
The research trajectory of the College continued its upward climb this year.
Strengthening Our Connections to the Community and the World
In keeping with the collaborative teaching and research culture that exists across BU, CAS partners in many graduate programs across the University.
Managing Our Financial Resources
The current economic downturn has had a real impact on resource development initiatives at colleges and universities nationwide.
Nurturing Our Connections with Alumni and Friends
Strong, vital connections with alumni are critical to our being able to realize the goals we have indentified in our strategic planning and beyond.
Celebrating the Class of 2010
Seniors and their families, faculty, trustees, and other members of the BU community celebrated the 137th Commencement of Boston University at Nickerson Field on Sunday, May 16.
Appendix