2008/2009 Annual Report
Related Links
The Difference a Year Makes
From the Dean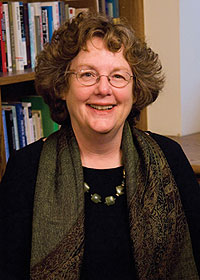 Layoffs. Home foreclosures. Stock market tumbles. There was no escaping the turbulent surf of the global financial crisis during the past year. Universities certainly shared in the woes. We continue to hear about the extreme measures many universities have taken to cope, including deep budget and program cuts, salary and hiring freezes, furloughs, asset sales, and lowered expectations.
I am delighted to introduce this Annual Report of the College of Arts & Sciences with this clear message: Boston University and the College and Graduate School of Arts & Sciences are in good shape. We are healthy and strong and have continued to make steady progress toward the goals laid out in BU's strategic plan, Choosing to be Great, which serves as the blueprint for everything we do.
What did we accomplish during this past year, my second as Dean of Arts & Sciences? Consider some examples:
We hired 32 impressive new faculty. Of these, 19 replaced professors who retired or left BU, and 13 expanded our numbers to add strength in critical areas of research and teaching as we continued our progress toward adding 100 new faculty to CAS over 10 years.
We launched important new degree programs. A BA in Comparative Literature, a collaborative major drawing on faculty and coursework in the departments of Classical Studies, English, Romance Studies, and Religion, is distinctive for the enviable breadth of engagement it affords with major works of the Western, Middle Eastern, and East Asian traditions. Its three required foundational courses will also initiate students in the scholarly methods and approaches that make comparative literary studies rigorously and rewardingly comparative. A BA in Chinese Language and Literature serves a national need for college graduates with linguistic proficiency and deep knowledge of Chinese culture. Closely modeled after our successful degree in Japanese, the program responds to the growing importance of China in the world economy and international affairs—and the centrality of Asia to the university's strategic planning for globalization of research and teaching.
A Task Force on the First-Year Experience studied principles and best practices that should guide the curricular and co-curricular experiences and opportunities we give our freshmen from the moment they step foot on campus until the end of their first year to give them the firmest possible foundation for success in and beyond college. Its report advised me on directions for the next few years, and we have begun next steps.
We have continued transforming our classrooms and laboratories, enabling us to offer CAS students state of the art teaching, and provide our researchers facilities they need to make path-breaking research contributions.
We attracted more alumni engagement than ever before through their participation in events, learning opportunities and their financial contributions despite the difficult times.
How did we enable this progress and financial health? When the severity of the global economic crisis became clear, President Brown took swift and decisive action to protect the University's financial integrity. He froze staff hiring and capital projects to make sure there would be funds to continue hiring faculty, reserve sufficient funds to cover increased need for student financial aid, and guard against the need to reduce spending by ordering extensive layoffs.
We in campus and college leadership worked together to identify ways to protect and leverage more power out of our resource bases in the face of critical resource challenges. Faculty, staff, and students pitched in. And context is important: BU is challenged by its relatively modest endowment compared with peer institutions, but because we did not depend on endowment income to support basic day-to-day operations, the financial decline did not pull the floor out from beneath our operations as happened among some of our peers.
So, this year tested the mettle of our college and university and found it strong and flexible. Please explore this annual report to learn more about our many academic and scholarly achievements of the past year. You will learn more about how vibrant this great learning community is, even in these challenging times.
Virginia Sapiro
Dean of Arts & Sciences