2008/2009 Annual Report
Related Links
Protecting Our Financial Strength
The global economic downturn that began in earnest in September 2008 had a real impact upon resource development initiatives at institutions of higher education nationwide. While many institutions, both private and public, are struggling to absorb deep operational budget cuts in the context of decreased gift revenues, BU is bucking the trend by proving it enjoys uncommon financial strength. As a result of prudent fiscal management, the University is in a strong financial position.
Budget and Operations
The College and Graduate School of Arts & Sciences achieved a balanced unrestricted expense budget of $88,604,641 at the close of the 2009 fiscal year. The College provided almost $750,000 in one-time restricted funds to its departments and centers to support needs identified as priorities during the FY 2009 budget planning exercise. Roughly $382,000 of annual giving funds were used to support laboratory equipment and supplies, more than $202,000 in unrestricted endowment income was used to support computing needs and faculty travel, and approximately $163,000 of indirect cost recovery funds were provided to support research needs and miscellaneous operating needs.
The College and Graduate School generated $269,858,385 in tuition revenue, which represents a 3.82% increase over the previous academic year. Revenues from graduate school application fees decreased by 1.36%, with total income of $460,145.
FY09 Hiring Freeze
The staff hiring freeze implemented on October 1, 2008, had a significant impact on several departments within CAS. Eleven positions were instantly pulled from the job postings, with several additional positions frozen as they came open. To maintain operations, most departments hired additional student employees, temps, or casual employees. The College returned to the University 25% of the salary savings realized for October 1 through December 31, a total of $22,584.
CAS focused its attention on defining critical priorities in staffing including making sure that we protected critical operations, positions that assure the safety of our personnel and facilities, and those that assured the quality of our students' education. A few critical positions were approved to be filled during the freeze, with the remaining positions and any new positions that came open on hold until the end of the 2009 fiscal year. As part of the College's FY10 budget, we eliminated 2.5 FTE, reduced the weekly hours for several open clerical positions, and reduced the assignment duration for a few other positions from 12 months to 10 months.
CAS remains attentive in managing staffing resources. We continue to assess our administrative staffing, analyze each position that comes open, and fill only those that are critical, with the goal to reduce headcount through thoughtful reorganization.
Gifts and the Annual Fund
The international economic crisis creates special challenges for efforts to seek financial support for the University from alumni and other friends. Gift revenues to Boston University were down 5%, considered a relatively slight decline in FY09. Specifically, gift revenues to the College and Graduate School of Arts & Sciences were down 16.5%. But due to the growing connections between Boston University and its alumni, and the skill and good work of the University development staff, the past year ended up being more successful in fundraising than anyone might have expected under the circumstances. For example, pledges (future gifts) to be paid in one to five years, were up 12%, which gives us good confidence in our future over the next few fiscal years. A most gratifying sign of financial health is that gifts to the CAS/GRS Annual Funds (unrestricted gifts to the College) increased 9%, reflecting renewed, successful outreach to alumni, parents, and friends of the College. Let us look at this more closely.
The Arts & Sciences Annual Funds provide critical operational support to virtually every area of the College. Gifts to the Arts & Sciences Funds flow to our core mission and priorities at the College and departmental levels: improving our academic programs; supporting excellence in teaching and research; ensuring that we attract, retain, and nurture the work of our faculty; improving our facilities; and enriching the student experience. In FY09, gifts to the Arts & Sciences Annual Funds totaled $893,958. This figure represents an increase of 9% over FY 2008 giving.
Donors to the Arts & Sciences Annual Fund join the Arts & Sciences Leadership Giving Society when they make unrestricted gifts of $1,000 or more within a single fiscal year. Alumni within 10 years of their graduation date may join by giving $500 in one fiscal year.There were 170 individual members in FY 2009, accounting for 44% of the total dollars.
FY09 % of Total Annual Fund Giving from AFLGS Members
The Arts & Sciences Annual Funds have grown steadily over the past 7 years. In FY09, gifts to the Arts & Sciences Annual Funds totaled $893,958, an increase of 9% over FY08 giving.
Arts & Sciences Annual Fund Giving (FY03-FY09)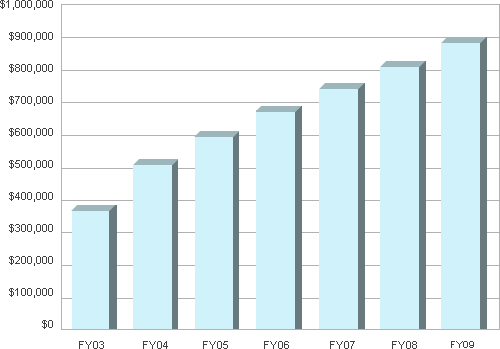 Feltenstein Annual Fund Challenge
A challenge from University trustee and entrepreneur Sidney J. Feltenstein (COM'62) and his wife, Lisa—matching, dollar for dollar, all new and increased annual fund donations up to $1 million between April 1 and June 30—resulted in 13 donors who gave $50,000 or more. Two of those gifts were made to the CAS Annual Fund. This leadership level contribution sets an outstanding example for the College's more than 65,000 alumni.
Leadership Gifts
Arts & Sciences received significant leadership gifts from alumni and friends of the College in FY09. One of the most exciting examples was given by Robert Hildreth, vice-chair of Boston University's Board of Overseers and a member of the CAS Leadership Advisory Board. Mr. Hildreth donated $2 million to the Creative Writing Program. One-half of the $2 million will create an endowed professorship in honor of Professor Leslie Epstein— the "Leslie Epstein International Visiting Professorship"—which will host eminent international writers to mentor students in the Creative Writing Program and other literature programs. The other half will benefit the Robert Pinsky Global Fellowship Fund in Creative Writing, which will send students in the Creative Writing Program to international destinations as a capstone experience for their graduate work. Gifts like this make a critical difference to the quality of CAS programs.