BA in Marine Science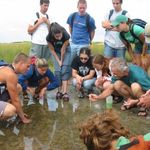 The requirements for the Marine Science concentration include eight (8) courses distributed between the departments of Biology, Earth Sciences, and Geography & Environment, as well as eight (8) other science courses identified to provide specific expertise in the marine sciences. A grade not lower than C is required in all required related, core introductory, marine breadth, and Marine Semester courses to receive concentration credit.
Each marine science major will be assigned a permanent advisor through the program manager of BUMP. This advisor will meet with the student at least once a semester to help set up and implement a program of study.
For more information contact either the Director of the BU Marine Program, Biology Professor Finnerty (jrf3@bu.edu), the Associate Director, Earth and Environment Professor Fulweiler (rwf@bu.edu), or the BUMP Program Manager, Julia Hammer Mendez (hammer@bu.edu).
Required Related Courses (8)
Biology (2)
BI 107 I Evolution, Ecology and Behavior
BI 108 II
Chemistry (2)
CH 101 and 102:  For science majors and premedical students, (recommended track for Marine Science majors), OR
CH 109 and 110:  For biochemistry and molecular biology majors, OR
CH 111 and 112:  For chemistry majors and well-prepared science and pre-medical students, OR
CH 171 and 172: This is a terminal sequence
CH 171 and 174: This sequence allows students to also take CH 273
Calculus (2)
MA 123 and MA 124 (or the single semester equivalents of MA 127 or MA 129).
Statistics (1)
Physics (1)
Core Introductory Course. One course in oceanography , ES 144, including the discussion section for Marine Science concentrators.
Marine Breadth Requirement. Three courses chosen from the following four options:
One course in marine biology. BI 260, including discussion section.
One course in marine chemistry, ES/BI 423.
One course in marine geology, ES 331, or ES 440.
One course in physical oceanography, GE/ES 507.
Marine Semester. Participation in at least one four-course Marine Semester is required. If a student's schedule permits, participation in additional Marine Semesters is encouraged. Students seeking admission to a Marine Semester must have completed at least one of the four "Marine Breadth Requirement" classifications and must have junior standing or consent from the director. Preference for admission into the Marine Semester will be given to Marine Science concentrators. Marine Semester courses currently include:
BI/GE 523 Marine Urban Ecology
BI 531 Ichthyology: Behavior, Ecology and Evolution of Fish
BI 546 Marine Megafaunal Ecology
BI 547 Marine Invertebrates of the New England Coast
BI 550 Marine Genomics
BI 563 Sensory Biology of Aquatic Animals
BI 569 Tropical Marine Invertebrates
BI/GE 578 Marine Geographic Information Systems
ES 543 Estuaries and Nearshore Systems
ES 557 Oceanography of Stellwagen Bank
ES/BI 558 Coastal Biogeochemistry
MR 510 Marine Science Policy, Resource Management, and Public Debate
See Courses for more detail. This suite of courses may be modified annually and students are encouraged to contact the BUMP office for the latest offerings. Students may also enroll in Directed Study in either Biology, Earth Sciences, or Geography & Environment, for one block per Marine Semester, with written permission from the Director of BUMP (Professor Finnerty, Biology, jrf3@bu.edu).
Students are also encouraged to investigate complementary minors in Biology and Earth & Environment.