Recent News
Congratulations to the following students who were chosen to receive the prestigious Warren McLeod Fellowship awards!
Tina Barbasch – Annual Award Winner
"Conflict is a pervasive feature of animal societies. Conflicts arise whenever the interests of interacting individuals are not wholly aligned, yet many social interactions require individuals to reach some compromise. Parental care is a classic example of an interaction that is rife with conflict yet requires cooperation because both parents benefit from shifting the burden of care to the other. The outcome of conflict between parents has been modeled using economic game theory models, which assume that individuals act in their best interest but that their optimal behavior depends on how others behave. Studying how conflict among caring parents is resolved is critical to understanding why animals, including humans, form such alliances.
The goal of my research is to test plausible alternative hypotheses for the factors that govern how parents negotiate the amount of care to provide to their offspring, and create a more general framework for understanding conflict resolution. To accomplish this goal, I will build on existing empirical and theoretical work to test alternative hypotheses for how parents negotiate care utilizing a tractable study system: the clown anemonefish. Experiments will be conducted in a natural population of anemonefish (Amphiprion percula) in Papua New Guinea. The anemonefish system allows tests of alternative hypotheses simultaneously, where previous studies have only tested them in isolation. Furthermore, the majority of negotiation studies have been conducted in birds, so developing A. percula will function to test the generality of theoretical predictions. In sum, my research uses a tractable study species together with a rigorous alternative hypothesis testing approach to determine the factors that influence the outcome of negotiations. This research will help to create a more general framework for studying conflict resolution and potentially transform our understanding of negotiations over offspring care."
Karina Scavo – Summer Award Winner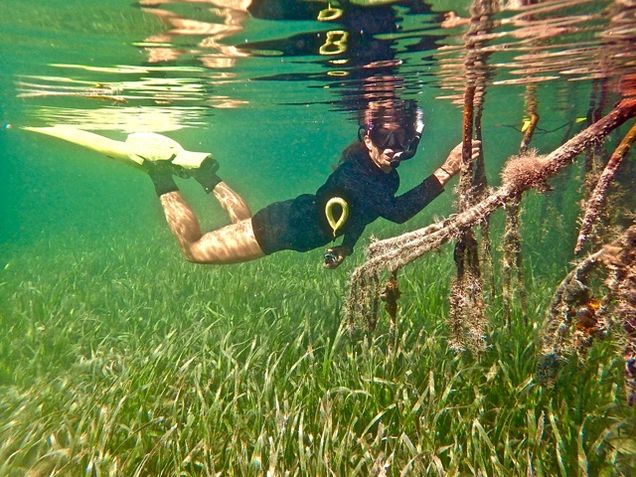 "Mangrove habitats have recently been proposed as climate refuges after reef coral species survived a bleaching event on nearby reefs. For this mangrove-refuge hypothesis to be true, mangroves must act as ecological sources, which would entail that they can support viable and self-sustaining coral populations, and that individuals within mangrove and reef habitats can acclimate to each habitat. This work seeks to shed light on this mangrove-refuge hypothesis by determining the long-term growth, survival, and self-recruitment capacity of a mangrove population of the thin finger coral,Porites divaricata in Calabash Caye, Belize. It also seeks to explore how these demographic processes are affected by spatial variation in the mangrove environment. This work will also explore the degree to which mangrove and reef colonies P. divaricata individuals can acclimate to a different habitat both at the morphological and molecular level, by evaluating how/if colony form and gene expression are altered after being transplanted to different environments. While evidence for the mangrove-refuge hypothesis is growing, the capacity for mangroves to act as a source has yet been studied. This work will help test the validity of the mangrove-refuge hypothesis and may be critical to the design of marine protected areas by revealing the significance of protecting and preserving the connectivity between mangrove and coral reef habitats which could have profound implications for future reef recovery."
Emily Chua – Summer Award Winner
"For my Ph.D. research, I am helping to develop an underwater instrument to investigate biogeochemical processes occurring in marine sediments.  The sediments are key sites of nutrient recycling and removal and act as a filter of reactive nitrogen from the coastal ocean. Human perturbations (e.g., sewage discharge, warming water temperatures) are affecting coastal ecosystems with potentially adverse consequences on the functioning of marine sediments.  Currently, very little is known about the direction and magnitude of nitrogen fluxes in the sandy sediments which are prevalent in coastal marine ecosystems. This knowledge gap is due to the fact that it is notoriously difficult to sample in sandy sediments.  Previous sampling methods fail to accurately represent the natural flow field of the interstitial water. This "porewater advection" is important in transporting solutes and reaction end-products in sandy sediments and must be accounted for in order to accurately estimate chemical fluxes.  In collaboration with SRI International (St. Petersburg, FL) and Skidaway Institute of Oceanography (SkIO), I am working on a porewater sampler coupled to an underwater mass spectrometer – the POSUMS – which measures the concentrations of biologically-important dissolved gases (e.g., N2, N2O, O2, CO2, CH4) in the interstitial water of sandy sediments in situ.  My role in this project is to guide the development of the POSUMS, from benchtop prototype to fully field-deployable instrument, and to use this instrument to better constrain nitrogen cycling in a local, anthropogenically-impacted estuary, Narragansett Bay (RI).  Our ultimate vision is that the POSUMS will be deployed on the continental shelf and provide biogeochemical data which can improve global climate models."
Nicholas Ray – Summer Award Winner
"My dissertation research is focused on how oysters and different oyster habitats change biogeochemical cycling in a temperate estuary (Narragansett Bay, Rhode Island). Oyster populations are increasing along the East Coast of the US primarily because of growing oyster aquaculture and to a lesser extent because of restoration efforts. Oysters can be described as ecosystem engineers – altering the environment they live in by the way they filter the water column and metabolize food. Because of their amazing filtering capacity (around 170 L per day!), they have the power to transform and recycle carbon and nutrients with profound impacts on water quality and sediment characteristics, with implications for coastal biogeochemistry. I am specifically interested in the influence of oysters on biogeochemical cycling of nitrogen, silica, and greenhouse gases. In my research, I have recorded how different oyster habits and the length of time oyster aquaculture gear has been in place influences these cycles. I hope that my work can be used to better understand the important role oysters play in coastal systems, and potential impacts of restoring oyster populations."