NOVEMBER 9, 2017: DR. ERIN DUNN PRESENTS AT LAB MEETING
Dr. Erin Dunn joined us at lab meeting to present about her research using "Cross-Classified Multi-Level Models," which focuses on disentangling the influence of neighborhoods and schools on adolescent heath and mental health. To learn more about Dr. Dunn and her research, visit thedunnlab.com
OCTOBER 30, 2017: TEAM MEMBERS PRESENT AT TECBD CONFERENCE
Dr. Jennifer Greif Green, doctoral student Rachel Oblath, and SED colleague Dr. Liz Bettini recently presented at the Teacher Educator's Conference for Children with Behavior Disorders in Tempe, Arizona. They spoke about "Racial and Ethnic Inequities in Educational Placement Youth with Mental Health Disorders." 
OCTOBER 26, 2017: DR.GREEN GIVES KEYNOTE ADDRESS AT NY CEC CONFERENCE
Dr. Jennifer Greif Green gave the keynote address at the NY state Council for Exceptional Children conference last week in Binghamton, NY. Her address was entitled "Addressing mental health in schools: Challenges and opportunities." She also led a session about "Childhood bullying and the transition to college." Great job, Jen!
OCTOBER 25, 2017: JAVIER GUZMAN PRESENTS AT CSMH CONFERENCE
Last week, Javier Guzmán Piña presented at the Center for School Mental Health conference in Washington, DC. He and his fellow presenters discussed  "What We Can Learn About Promoting School Mental Health from the World's Biggest Programs." Congrats, Javier!
OCTOBER 24, 2017: DR. GREEN PRESENTS AT SCHOOL MENTAL HEALTH RESEARCH SUMMIT
Dr. Jennifer Greif Green presented last week at the School Mental Health Research Summit in Washington, D.C. about "Engaging middle and high school teachers in identifying and responding to studentmental health needs." Afterwards, she and doctoral student Javier Guzman had a chance to catch up at the Center for School Mental Health Conference! 
OCTOBER 23, 2017: CHELSEY BOWMAN PRESENTS POSTER AT AASP CONFERENCE
Doctoral Student Chelsey Bowman recently presented at the Association for Applied Sports Psychology in Orlando, Florida. Her poster was entitled "Sexual Violence on College Campuses:
Male Student-Athletes and Rape Myth Acceptance." Congratulations Chelsey!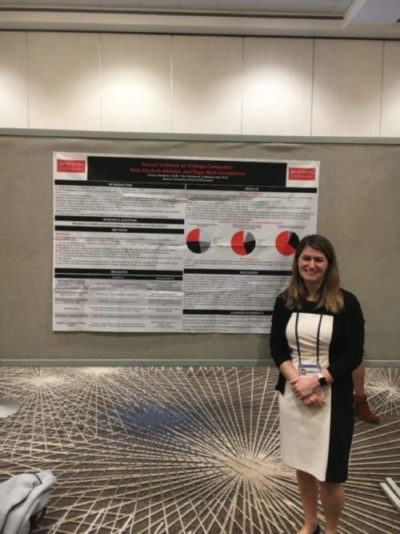 OCTOBER 16, 2017: RACHEL OBLATH PRESENTS POSTER AT SSHD CONFERENCE
Team member Rachel Oblath recently presented at the Society for the Study of Human Development in Providence, Rhode Island. Her poster was entitled "Heterogeneity in Youth Bullying Experiences"
OCTOBER 11, 2017: LAB MEMBER AWARDED WITH UROP FUNDING
Junior Claire Lawry, who has been a research team member since January 2017, was awarded UROP funding for the Fall 2017 semester!  Claire is working with Dr. Jen Green and doctoral student Rachel Oblath to explore youth access to summer mental health services in urban settings and barriers to service receipt. 
OCTOBER 5, 2017: CHELSEY BOWMAN PRESENTS AT NCAA HEADQUARTERS
Lab member and doctoral student Chelsey Bowman recently presented the findings of her National Collegiate Athletic Association (NCAA) graduate student grant at the NCAA headquarters in Indianapolis, IN. Her work examined bystander behaviors related to sexual violence among Division I male and female student-athletes. Specifically, she looked at individual and contextual predictors of bystander behaviors among male and female student-athletes.