Can Big Brother Search Cell Phones Incident to Arrest?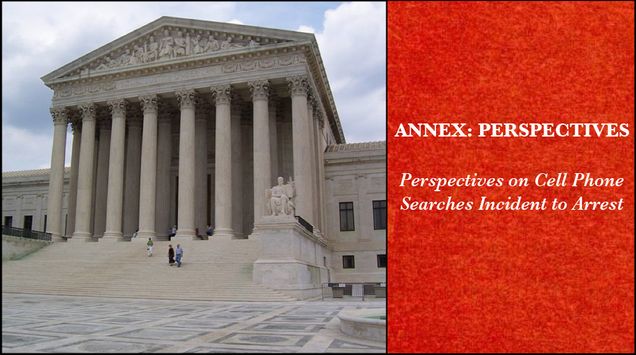 Editor's Note: To learn more about Annex: Perspectives and to preview the pieces of Perspectives on Cell Phone Searches Incident to Arrest, please click here. For the official .pdf version of this piece, please click here. This is the fourth of four short articles scheduled for publication on this topic. Perspective I by Professor Tracey Maclin is available here, Perspective II by Professor Adam M. Gershowitz is available here, and Perspective III by Professor George C. Thomas III is available here.
Annex: Perspectives
Can Big Brother Search Cell Phones Incident to Arrest?
The question of whether the police may search an arrestee's cellphone, like all search issues, must be resolved in light of basic principles regarding privacy and the right of a person to be free from intrusion by the government.  The Fourth Amendment to the United States Constitution generally requires a search warrant issued by a neutral and detached magistrate before the government may search a person, his effects, or a place in which he has a reasonable expectation of privacy.1  The government's failure to obtain such a search warrant properly will often lead a court to apply the "exclusionary rule," which courts created to deter police misconduct by depriving the government of the use at trial of the evidence discovered by such a search.2  Of course, like every general rule of law, there are exceptions to the Fourth Amendment warrant requirement.3  Among these are the exigency doctrine, which dispenses with the warrant requirement in some emergency situations,4 and the search-incident-to-arrest doctrine, which permits a warrantless search for weapons or a search to prevent the concealment or destruction of evidence that is within the area of, and accessible to, the arrestee.5  The Supreme Court will soon determine whether and to what extent these exceptions to the warrant requirement apply to cellphones.6

Privacy advocates, on the one hand, will cite a sympathetic example, such as a police officer arresting a teenager for trespassing and conducting a warrantless search of the teen's cell phone, exposing the teenager, literally, by discovering compromising photographs or web searches saved on the phone that have no relevance to the crime of arrest.7  Law-and-order advocates, on the other hand, will point out that disposable, nontraceable "burner" cell phones are the ubiquitous means of communication among terrorists and hardcore criminal elements.  According to such advocates, police must conduct near instantaneous cell phone searches to identify and arrest co-conspirators promptly before they carry out violent attacks.  Each of these scenarios accurately describes a situation encountered by law enforcement.
The need for prompt action to apprehend dangerous conspirators or to locate and disable weapons should be resolved by application of the emergency exception to the warrant requirement.8  There is an expanse of data on cell phones that could be relevant in such a scenario.  Map applications, photographs, videos, emails, or an individual's web history can yield data on targets, confederates, explosive devices, and other weapons.  The potential exclusion of evidence at a future trial will not deter a search when, at the time of the search, the officer conducting the search miscalculates the imminence or gravity of potential harm to either an identifiable victim or to the public.9  Neither the public nor the judiciary would want to require the police to calculate such risks finely before briefly examining the contents of a cell phone to ensure public safety.  Perhaps in a true emergency, society does not recognize any reasonable expectation of privacy.  If and when a true emergency doctrine case reaches the Supreme Court, there is no doubt that such a search will be countenanced. 
The vast majority of criminal investigations and arrests, however, will not involve emergencies posed by cell phone carrying criminals.  Setting aside the hypothetical juvenile trespasser, everyday crimes, such as drug dealing, almost always result in police seizure of cell phones.  Cell phones, like firearms, have long been recognized as tools of the trade at every level of drug dealing.10  Drug dealers arrange a vast numbers of illicit transactions by text or call, and so it is likely that every cell phone seized during an ordinary street level drug arrest will contain evidence related to that particular deal, as well as other deals and crimes. 
Criminals, like others engaged in commercial enterprises, need to keep records. Inventory, prices, customers, suppliers, dates, times, and places are all part of the business.  It is important for a criminal to retain some of these records for an extended period of time, like the contact information for a good supplier or the typical price for a given product.  By comparison, criminals are more likely to delete periodically data related to the criminal's most recent retail order, such as a client's name and contact information, the quantity ordered, and the meeting location.  Dealers once kept much of this information in paper form, in small books or diaries, and often carried this information on their person.  Those media have now been replaced by electronics that store and transmit the same data.  The cell phone is essentially a container, like a wallet, purse, or briefcase, that stores information. How does the search-incident-to-arrest doctrine apply to such a container?
Initially, a police officer could conduct a warrantless search incident to arrest of an arrestee's person and effects if the officer conducted the search in order to find weapons or to prevent the destruction of evidence on the arrestee's person.11  The Court based this rule on the truism that an arrested person, and whatever he is carrying, is not afforded any real expectation of privacy.12  The Supreme Court has applied the rule to permit searches of small containers carried by an arrestee,13 as well as searches of motor vehicles and "any containers therein" when "the offense of arrest" makes it "'reasonable to believe evidence relevant to the crime of arrest might be found.'"14  Indeed, the Court in United States v. Edwards even permitted the search of an arrestee's clothing the morning after his arrest, reasoning that, "[w]hile the legal arrest of a person should not destroy the privacy of his premises, it does—for at least a reasonable time and to a reasonable extent—take his own privacy out of the realm of protection from police interest in weapons, means of escape, and evidence."15  Thus, the search-incident-to-arrest doctrine is not dependent upon the potential destruction of evidence before a warrant can be secured.  Rather, the doctrine is properly understood to permit a reasonable search of an arrestee's person because an arrestee has no privacy interest in his effects or in a container on his person that may hold evidence of the crime of arrest if the container is in police custody by virtue of the arrest.16  While the doctrine has time and space dimensions,17 Edwards and Gant demonstrate that standard arrest procedure or a reasonable likelihood of discovering evidence of the crime of arrest can extend these dimensions considerably.18

Permitting the search of a cell phone's contact list, outgoing calls, photographs, and other data, however denominated, is a logical application of the search-incident-to-arrest doctrine.19  Gant's reasoning applied to searches of cell phones indicates that an officer may search a cell phone as long as the officer reasonably expects that the cell phone contains evidence of the crime of arrest.20  A cell phone is likely to yield information that will help to ascertain and verify the identity of the arrestee,21 as well as evidence related to at least some crimes, such as drug dealing.  Nonetheless, the searching officer should not conduct an unrestrained foray into the various applications on the cell phone once it becomes clear to the officer that those applications do not contain evidence of the crime of arrest.  Some degree of police intrusion into otherwise private information is inevitable, but by committing a criminal act (and having been caught), an arrestee sacrifices a degree of the privacy and liberty that law-abiding citizens enjoy.22  The fact that a police officer may see extraneous information while conducting a lawful search does not render the search-incident-to-arrest doctrine inapplicable to cell phones.
Frequently, the argument is made that cell phones are qualitatively different from other containers due to the vast amount and divergent types of data that cell phones store and maintain.23  It is of course true that, without a search warrant, police may not search an arrestee's home, or another home within which the arrestee was arrested, for more than weapons and persons posing a danger to police.24  Yet a motor vehicle is subject to search for evidence of a crime of arrest despite the fact that motor vehicles can hold ample private or embarrassing information.25  The Court, as arbiter of policy, must decide whether to recognize an arrestee's right of privacy in a container that may contain evidence of the crime of arrest but that may also reveal irrelevant and potentially embarrassing information.  Perhaps the Court will simply require a search warrant once the arrestee is secured and cannot access the cellphone.26

Any warrant requirement the Court imposes should not pose much of an obstacle to a relatively prompt search, if the police and judiciary adopt the same technologies that seem to be causing the quandary.  That is, police officers should carry ready-to-hand affidavits that explain and justify the need to search a cell phone as an instrumentality and source of evidence for a number of crimes, including drug dealing. Such an affidavit by an expert could be used in nearly every case, and would be supplemented by a shorter affidavit incorporating the police report that details the particulars of the arrest and the seizure of the arrestee's cell phone.  Moreover, the need for a police officer to appear in person at a judge's doorstep at midnight so that the judge can swear an oath can give way to communication through Skype or videoconference, especially in rural areas.  The Supreme Court's explicit or implicit acknowledgement that such methods satisfy the Fourth Amendment warrant requirements would prompt late technology adopters in the government to leap forward in this regard, thereby protecting the principles of the Fourth Amendment.
---