Boston University School of Management – Organizational Behavior 221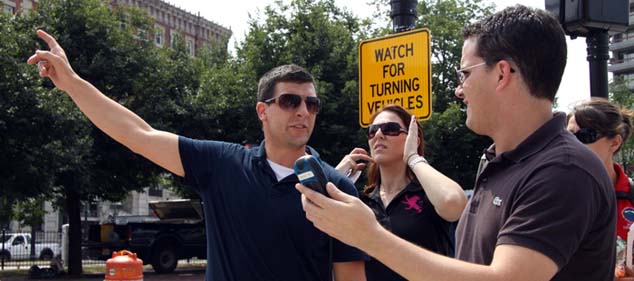 Teamwork is essential in the School of Management's Organizational Behavior 221: The Dynamics of Leading Organizations. As part of this required undergraduate class, students will work closely in a team of 5-6, conducting research, designing a contract, and presenting a final project, but their team development begins on the streets of Boston through a BUEE GPS teambuilding program.
After a little help from a short intro video, the students race out of the School of Management in their newly formed teams to complete challenges and find their way around the city, by any means necessary. Some hop the T, others borrow a car, others just run as they find each of their six locations during the two hours they have to complete the adventure. On the way, they take advantage of their smart phones, tourist info, and each other's resourcefulness in order to complete their challenges and get back to the classroom in time. After a short debrief, the students put together a power point presentation with photos and captions that explains what they learned and what they accomplished on the adventure. Faculty members then utilize this experience throughout the semester, comparing these early interactions to those at the end of the project.
Objectives:
The students will be able to demonstrate their team skills and build a foundation for the working relationships that they will need throughout the semester.
Numbers:
385 students in groups of five to six over three class sessions.
Time:
The actual team experience occurs within a three-hour class period, but the follow up and debriefs take place over the following weeks of class.