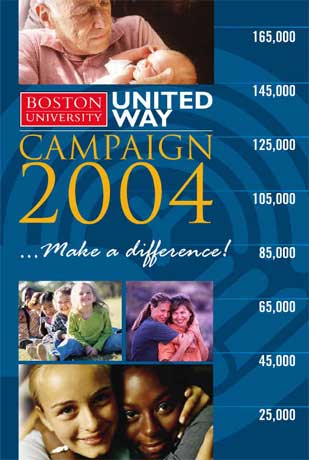 There is still time to give to the United Way, and participants who contribute $75 or more ($1.45 a week) are eligible to win the grand prize in BU's 2004 United Way campaign, a travel package for two to any location in the continental United States. The grand prize drawing takes place at the University Holiday Party on December 16.
All employees received a pledge card in the mail on September 29, with an accompanying pamphlet listing the agencies and programs for which donors can earmark their contributions. Through the drive an employee can also give to a group that is not affiliated with the United Way, as long as it is a 501(C)3 not-for-profit health and human service agency.
As of December 3, Boston University employees had contributed more than $155,900 to the United Way Campaign, representing 94 percent of BU's $165,000 campaign goal. For more information on giving to the United Way, call 617-358-UWAY, or visit www.uwmb.org.